When my kids were young, we used to like to do what we called "food projects" — baking, cooking, planting seeds, making art out of food, and the like. A book like The ABC's of Fruits and Vegetables and Beyond* by Steve Charney & David Goldbeck would have been perfect for us, providing many hours of after-school and vacation fun in ways that helped celebrate and appreciate fresh produce.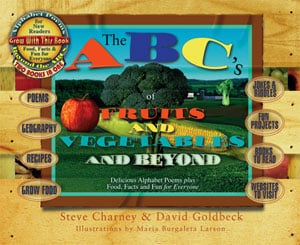 Written by children's entertainer Steve Charney and longtime vegetarian food writer David Goldbeck (who, with his wife Nikki, has written nine food books, most recently Healthy Highways,* plus one on his own, The Smart Kitchen*), and illustrated by Maria Burgaleta Larson, this book is packed with fun ways to enjoy fruits and veggies.
These include jokes and riddles (many groan-worthy, but the kids will likely love them), easy vegetarian and vegan recipes (the vegetarian recipes are easy to convert), growing and craft projects, and fascinating facts.
Featuring a kind of two-books-in-one set-up, the first half is more of the traditional ABC book, with each an illustrated spread featuring one type of produce (from Apple to Zucchini) with a poem. The action really begins in the "Beyond" section, where each selected fruit or vegetable is presented on a two-page spread that's packed with fun.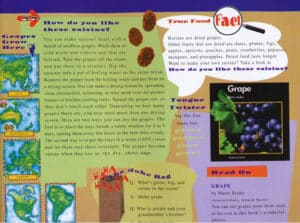 "Beyond C," for example, features carrots, starting with some basic info, then presenting two recipes — Carrot Cookies and Carrot Coins, and also offers a project on how to grow carrot tops into a pretty plant; making carrot curls for your salad, recommending a book and web site, and finally, a joke. Beyond H features herbs, and gives easy recipes for Quick Dill Pickles (see link below) and Guacamole, plus info on how to get seeds to become an herb gardener, tips on how to make tea from fresh herbs, and finally, a project for making herb-decorated greeting cards. Here's a sample page from the "Beyond" part — showing just how much is contained in every page, while still being well designed and highly readable. You can click this image to enlarge it if you'd like a closer look.
Kids gain an appreciation for foods when they know more about them and can participate in making something edible themselves (or with the help of a parent if they're still young). I highly recommend The ABC's of Fruits and Vegetables and Beyond* as a kitchen staple for home schoolers, and for families with school-aged kids at home for the summer, looking for fun projects to do together. Working your way through the alphabet you can guide your kids through exploring two or so fruits or veggies per week — quite a worthy accomplishment!
Following is one each of the book's recipes and food projects:
Read more of VegKitchen's book reviews.
*This post contains affiliate links. If the product is purchased by linking through this review, VegKitchen receives a modest commission, which helps maintain our site and helps it to continue growing!