Tess Masters (aka The Blender Girl) has just published her much anticipated debut cookbook, The Blender Girl: Super-Easy, Super-Healthy Meals, Snacks, Desserts & Drinks*, and it's a beauty. This is one colorful collection of 100 gluten-free, vegan recipes that all incorporate the use of a blender. And so, it should come as no surprise, that Tess's philosophy of life is all about blending. "Blended" is a metaphor.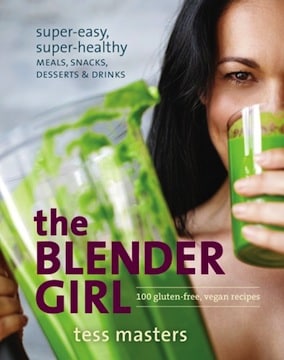 For those of you who have followed Tess's blog, Healthy Blender Recipes, you already know how dynamic Tess is both in her persona and also her food writing. What I learned from reading her book is how flexible she is on both fronts as well. While she is a self-professed zealot, she is no preacher. For Tess, "the way" is a winding path, and it winds in a different direction for each and every one of us. So, this is not a "Gluten-Free" cookbook, or a "Vegan" cookbook, just a celebration of whole foods and a really great way to coax more fruits and vegetables into your daily diet.
Living in a world of fads and trends, it's refreshing to have a cookbook author admit that there is no one diet that suits all, or even one diet that suits all of us, all the time. For example, Tess eats a lot of raw foods during the warmer months, but eats more cooked foods during the colder ones.
She puts forward the concept of bio-individuality. And while she makes no secret of the fact that she could "easily live without teeth", this is not a prescription for others.  It would be easy to assume that there would be rigidity to a vegan, gluten-free, (raw foods) cookbook full of recipes all made in a blender, but the opposite is actually true. This book will open your mind to endless new possibilities. I was delighted by the creativity and ingenuity of these recipes. "Optional" is a key word in this book, because whether you add an ingredient or not is up to you. But why wouldn't you want to add the suggested ingredients, when what Tess has created is so perfect? I'm pretty sure that while Tess herself is not dogmatic or didactic, others will be tempted to make her their guru and follow her teachings to the "T" for Tess.
And speaking of "T" for Tess, one of my greatest takeaways from this book was the revelation that a blender-based diet is defined by the four Fs. It's fun, fast, flexible, and forgiving.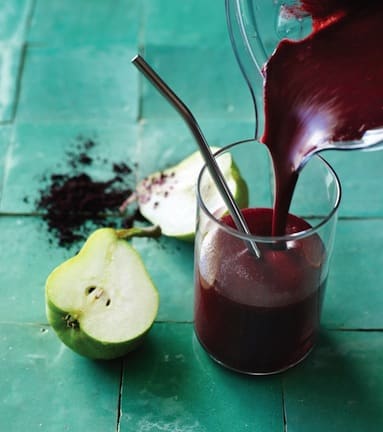 While it might seem odd to focus so much attention on the prevailing philosophy of this cookbook, I think it's important to recognize that it's carving out a new genre. The blender isn't just for smoothies anymore. It's become a central kitchen tool in our busy, hectic, and often toxic lives, helping us create nutritionally dense, and delicious meals in a very short amount of time.
The Blender Girl: Super-Easy, Super-Healthy Meals, Snacks, Desserts & Drinks* is packed with one healthy mouth-watering recipe after another.  All made with natural flavors and sweeteners, all vegan, gluten-free and many raw. Many are also nut-free, soy-free, corn-free and sugar-free.
So what's in the blender if you've excluded all that? A myriad of fantastic flavors melded into all kinds of exotic concoctions.
Highlights of the book are the "Love your Blender" chapter in which I learned more about blenders than I ever knew possible, (I was delighted to realize I own 3 types of blenders!). And yes, I too am smitten with longing for a Vitamix.
I also give a nod to her instructions for dehydrating – and I learned a lot from the soaking and sprouting tips. I also just adored the "Milk it baby!" chapter in which Tess walks readers through making your own vegan milks, of which there are countless varieties.
And here are a few shout outs: hats off to the super gorgeous inventive salads. To the "butters" and jams, to the dips, the smoothies, the chips, the fruit leather, the drinks chapter (love), the condiments and sauces, and of course, the desserts. In particular, the "Key Lime" Pudding, made with the incredibly simple and inventive combo of agave nectar, lemon and lime juice, avocado, bananas, and citrus zest. I loved this recipe because it got me thinking about "dessert" in a totally new way.
Here are two recipes from Tess Masters' The Blender Girl*:

This review was contributed by Cybele Pascal blogs at The Allergy-Friendly Cook. (TM)
*This post contains affiliate links. If the product is purchased by linking through this review, VegKitchen receives a modest commission, which helps maintain our site and helps it to continue growing!