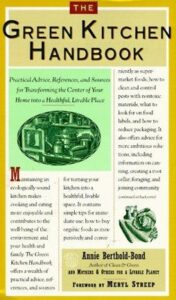 Annie Berthold-Bond, an expert on green living, gives you everything you need to know about making your kitchen a healthier and more ecological place to live and cook, regardless of your food choices and eating habits, in The Green Kitchen Handbook.* Whether you know it or not, your kitchen is the heart of your home; it's where your family and friends come together and sets the tone for the rest of your house. A more organized and environmentally friendly kitchen may seem a bit intimidating a first, but with a book like this it is an easy and exciting transition.
Berthold-Bond makes a green kitchen simple by breaking it all down step-by-step. And although you can jump around the book, instead of reading from start to end, you should at least start by reading the foreword (by Meryl Streep), preface (by Wendy Gordon, Executive Director, Mothers & Others for a Livable Planet) and the Introduction. The Intro gives a great overview of what to expect, how to prepare and how to succeed; making it a little less scary to a beginner in green living.
The base of having a healthy and green kitchen is eating organically and locally grown foods.  When first thinking of the switch, one can become overwhelmed and feel like it will be too hard to find or too expensive and that maybe organic and local foods don't make a difference. But the first four parts of the Handbook guide you through the reasons why it's a better, healthier choice for you and your family, where to find these foods, how to pick them out and how to prepare and store them. Best of all, there's an entire section on ways of preserving (freezing, drying, canning and root cellars) and their benefits.
The final section focuses on the most important part of having an entirely environmentally sound kitchen: what you use to clean and what equipment you're using and how it can be harmful to your food, your body and your family. Berthold-Bond gives every detail on perfecting recycling and composting; two things you can do that not only benefit your kitchen, but help the world around you. She also covers energy savers, cleaning with baking soda and organic pest control.
The Handbook even includes a nutritional appendix, at the end, for beans, flours, grains, soy products and nuts and seeds.
Read these excerpts from Green Kitchen Handbook on VegKitchen:
For more about Annie Berthold-Bond, visit her website. And find The Green Kitchen Handbook* (Harper Perennial, 1997), as well as her other books on living green on her Amazon.com page.*
*This post contains affiliate links. If the product is purchased by linking through this review, VegKitchen receives a modest commission, which helps maintain our site and helps it to continue growing!