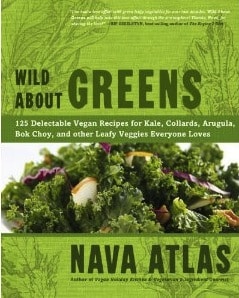 I was invited by the wonderful and prolific Robin Asbell to participate in this game of cookbook author tag, in which we each choose a few of our colleagues and answer the same questions about our foodie lives. Such fun to be in this great company! Aside from working on a new cookbook, I'm also traveling around like a crazy person, still promoting my previous two cookbooks, Wild About Greens and Vegan Holiday Kitchen; working on some juicy art projects which include my limited edition artist's books (I'm excited and honored to be speaking on the subject at Duke University's Perkins Library later this month); I just relaunched The Literary Ladies' Guide to the Writing Life web site; and when I'm finished with my next cookbook manuscript I want to get back to an engrossing nonfiction project I've been working on forever.
What is the title of your upcoming book?
It's titled Plant Power: How to Practically and Joyfully Transform Your Kitchen, Plate, and Life. It will be both a guidebook and a cookbook for people who want to adopt a more plant-based way of living, starting with their own kitchen. The recipes will be vegan, of course, but we're aiming for those who want to rethink their eating habits in a more plant-strong direction, even if they don't go fully vegan.
Who is publishing your book and what is the expected release date?
HarperOne in San Francisco; it will come out in the summer of 2014. I'm in the throes of it now; the manuscript and photos are being worked on as we speak. It's being gorgeously photographed by Hannah Kaminsky, who I've chosen to tag on this blog hop!
How long did it take you to research and write this book?
I usually take a full year or more, but this one has a tighter deadline. All told, about 8 months.
What inspired you to write this book?
I was actually approached by the executive editor of HarperOne who came to me with this almost fully formed concept, title and all, and thought I'd be the right person to do it. I was flattered, and accepted!
What is your favorite aspect of writing a cookbook?
I think it's the challenge of finding new ideas and new food concepts, after having done this for so long. It's amazing how every year, there seem to be new ideas about food, cooking, and health, to wrap one's head around.
What is the hardest aspect of writing a cookbook?
Same answer as the previous!
What interesting things would we find in your refrigerator right now if we were to open it?
Nothing all that interesting; there is, however, an explosion of greens and other leafies: Kale, collards, baby spinach, romaine, pea shoots … when it comes to greens, I really walk the talk.
What is your favorite sound in the kitchen?
That's odd, I would have asked what is my favorite food aroma in the kitchen. But in either case, I have no idea at the moment.
What three ingredients can't you live without?
With a vegan diet, I feel like our repertoire of foods is so diverse that it's hard to choose three. One food group I'm never without in the fridge, no matter what the season, are  the aforementioned leafy greens. I tried to give up coffee, but I'm seriously addicted. And I'm also an avocado addict as well. Other than these, I enjoy diversity from one week to another, one season to another.
So do you have an agent?
Oh yes, the lovely Lisa and Sally Ekus of the Lisa Ekus Group.
Which actors would you chose to play your main characters in the rendition of this book?
I wouldn't want to cast a cookbook, but I am working on a creative nonfiction book project that's on hiatus at the moment while I work on Plant Power. But I can totally see Kate Winslet as the female lead. The male lead is tougher because of his very unusual self-identification; but I'm thinking Matt Damon. The actress who played Julia Child's sister in Julie and Julia would be a good Eleanor Roosevelt. And Angela Bassett would be good in the role of the male protagonist's beleaguered first wife. Of course, in answering this, I come off like someone quite delusional, and perhaps I am!
I'm tagging the following lovely ladies to continue in this blog hop, as I know they are all working on their next big thing, and as they post their answers, I'll turn these into live links:
Hannah Kaminsky
Kathy Hester
Others who have already participated in this hop include: