Healthy Eating Tips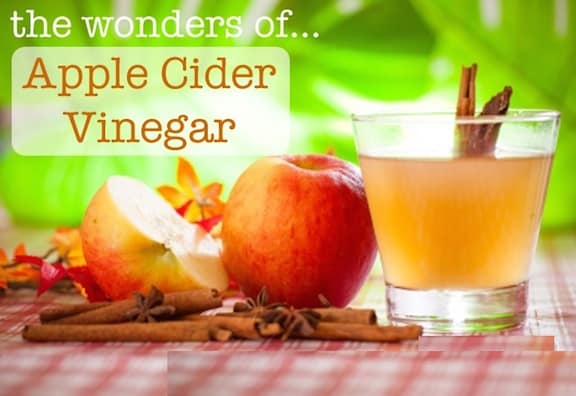 Many of you have already heard that raw, organic, and unfiltered apple cider vinegar can assist in weight loss and overall well-being. The apple cider vinegar diet is probiotic, and has many additional health benefits. Here we explore how the apple cider vinegar diet as part of a healthy lifestyle can help you lose weight while at the same time, acting as a tonic for the body.
Although many fad diets that create rapid weight loss have come and gone over the years, it is encouraging to note that the apple cider vinegar diet leads to gradual weight loss. It would be nice if we could shed pounds quickly and never see them again, but experience has shown that weight that leaves easily comes back easily.
The apple cider vinegar diet
If you lose weight quickly, your body will oblige you by kicking in mechanisms to make it more likely this weight will slip back on in no time. But if you can be patient and do not expect instant results, your fat cells will adjust to their new size more willingly and not insist on contributing on your waistline. The apple cider vinegar diet is perfect for this. more→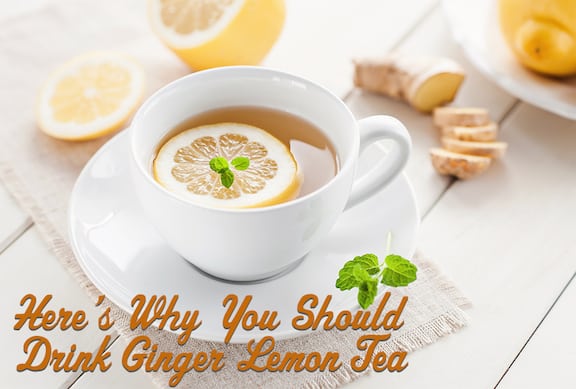 Are you searching for a way to give your immune system a boost? How about a drink that can relieve stress? Well, if you're holding a cup of lemon ginger tea in your hand, then you're on the right track! Sweet, spicy and one of the best drinks to have during the winter, this tea is power-packed with some incredible health and body care benefits too! And here's how to make your own Fresh Ginger-Lemon Tea (which is actually an infusion, not really "tea.")
Let's see how:
It Boosts Your Immune System: On top of the list of benefits of lemon ginger tea is its ability to strengthen your immunity. This is due to the presence of high levels of anti-oxidants in ginger. Lemons are an excellent source of vitamin C which can heal wounds and preserve the strength of bones and teeth. In the onset of cold and flu, the tea can act as an effective anti-biotic. The bioflavonoids that lemons contain help to prevent cancer cells from growing and spreading. The anti-oxidants in the lemons help in reducing inflammation and arthritis symptoms. The powerful anti-oxidants can reduce free radicals in the body. Ginger also increases blood circulation in the body that is vital for optimum health.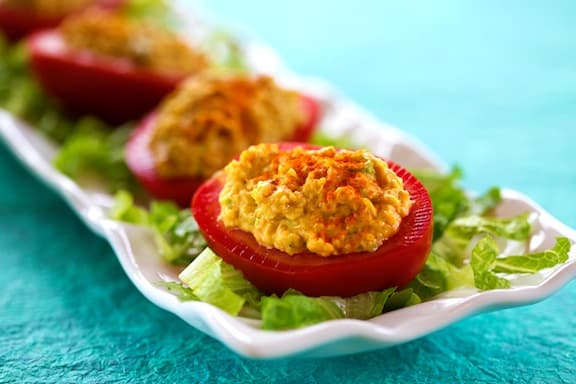 VegKitchen offers an array of easy, healthy vegan snacks, appetizers, and dips for the grazing pleasure of adults and kids alike! Here is our listing of tasty and nutritious vegan snacks, from everyday to celebratory, many of which are based on vegetables, grains, and other whole foods. Photo by Hannah Kamnisky depicting Deviled Tomatoes (see recipe listed below). more→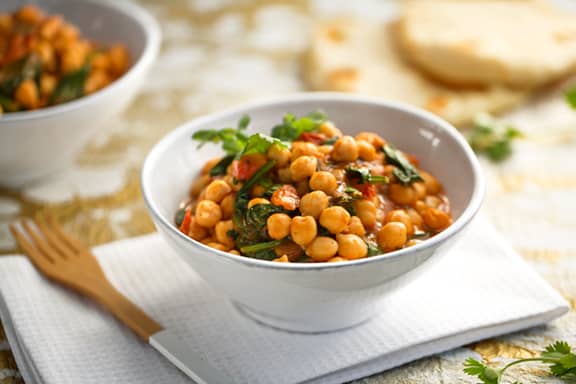 Even people who say they don't like beans often like chickpeas. Here are some of our favorite healthy chickpea recipes —  easy, tasty, and vegan. Chickpeas are among the most flavorful of the legume family, and add flavor, protein, and texture to so many kinds of dishes — soups, stews, pastas, salads, and sandwiches. Add them to your repertoire today! more→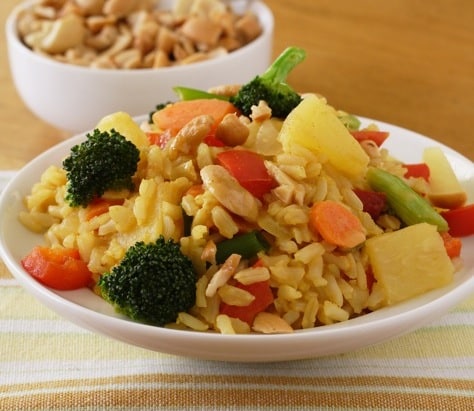 VegKitchen readers love brown rice for its versatility, and its superior nutrition profile as compared to white rice. And while there are more whole grains to choose from today — quinoa, farro, spelt, and others — brown rice seems to hold its own as a favorite staple. It's inexpensive (especially bought in bulk) and so versatile. Here are some of our best brown rice recipes — healthy, easy, and of course, vegan. If you'd like even more, see our extensive list of brown rice recipes.
Colorful and luscious, Thai Pineapple Stir-Fried Rice (at top) can be made easily at home, using brown rice, pineapple, and veggies like broccoli, bell peppers, and carrots. more→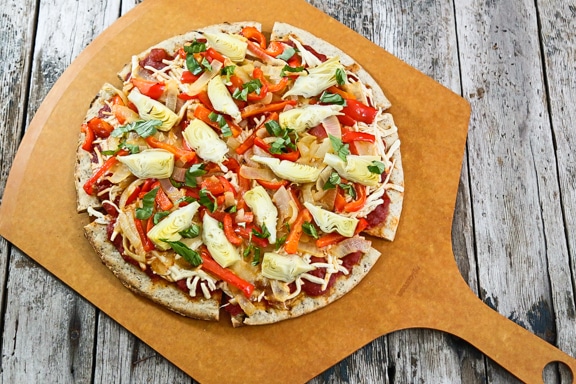 You provide your favorite vegan dish and there it is—the wrinkled nose from your non vegan partner. Soon the comments about life not being worth living without meat and cheese start. But this can be a good opportunity to introduce your non vegan partner to the wide world of vegan cooking, which can often look like more traditional cooking. Vegan diets aren't without hot dogs, pizza, favored Chinese restaurant dishes and even facsimiles of bacon, of course. So it's time to show your non vegan partner what vegan cooking can do. Below are several good vegan recipes for a non vegan partner. more→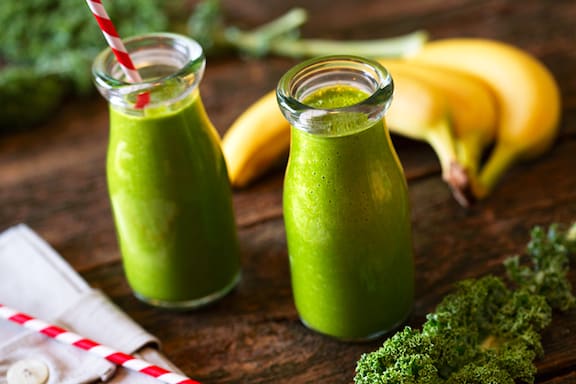 The benefits of green smoothies are many and varied — they're easy to digest, keep you hydrated, increase your energy, get your skin glowing, and more. They can include spinach, lettuce, kale, and collard greens.
For the more advanced green smoothie drinker, you can also add parsley, dandelion greens, watercress — really, any leafy green veggie your palate can handle, and enjoy. Bananas, apples, pears, avocado, and mango are great companions in these beverages. Here's a brief introduction to the many advantages of drinking green smoothies on a daily basis. more→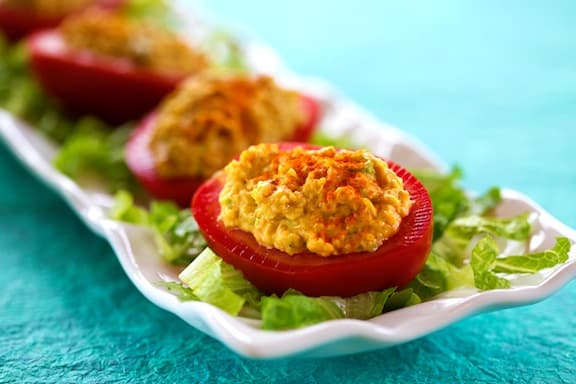 It's easier than ever to enjoy eggless vegan "egg" recipes — classics you thought you'd have to give up once you went plant-based. When it comes to dishes that taste like vegan "eggs," substitute tofu and chickpea flour for surprisingly egg-like results. Here are some of our favorites. These are also great for those with egg allergies, or who are watching their cholesterol.
Deviled Tomatoes (at top) are filled with a combination of chickpeas, nutritional yeast, and vegan mayo, adding up to a fairly egg-like flavor and consistency. Similar idea, also based on chickpeas — Thug Kitchen's Deviled Chickpea Bites, which will bring your buffet table into the twenty-first century. Going one step further, Baked-In presents Vegan Deviled Eggs that not only approaches the taste of a deviled egg, but looks exactly like one, too! And Mouthwatering Vegan Recipes similarly presents Ultimate Genius Vegan Eggs. more→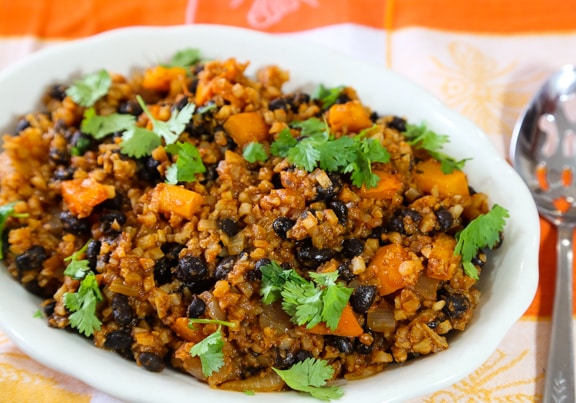 Here's a selection of cauliflower "rice" recipes (and a few cauliflower "couscous" recipes as well) that are easy, tasty, and just happen to be vegan. Cauliflower "rice" and "couscous" are clever ways to get a nutritious vegetable into your regimen, and good for anyone who avoids grain foods for any reason. It's also a good way to disguise vegetables for your picky eaters!
Some people simply have trouble digesting grains; others argue that cauliflower rice is more Paleo-friendly than real rice, possibly forgetting that cauliflower is a cultivated crop and wasn't available when our distant ancestors were doing cave painting and hunting with spears. They didn't have food processors back then, either. more→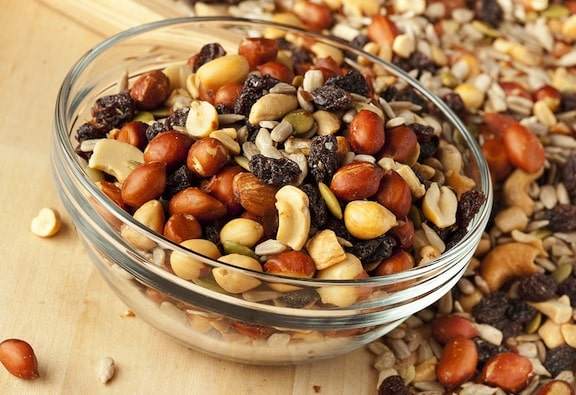 When it comes to the best hiking snacks, whether for a day trek or a longer backpacking trip, you want to choose foods that increase your energy and endurance. They should also be sturdy enough to hold up to a variety of temperatures, and stay fresh without refrigeration. And it wouldn't hurt if they're tasty and fun to eat, too! Here are 10 nutritious, totally vegan snacks for hiking — a fun mix of homemade and store-bought. more→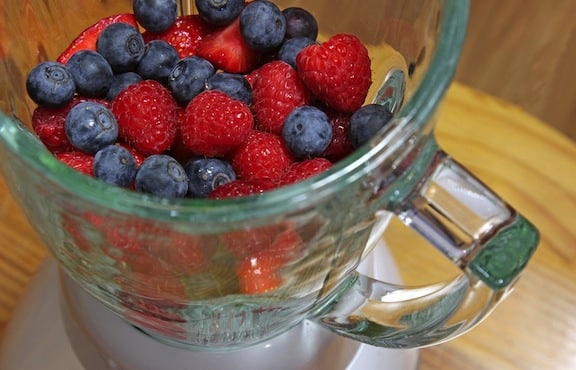 Have you ever wondered how much time you spend in preparing meals? If you're like me, I wouldn't want to spend most of my time in the kitchen. Here's a list of 5 essential kitchen tools that make meal prep easier! Cooking is more likely to become a pleasure instead of a chore.
Food Processor
One of the home appliances you can't do without is the food processor which truly makes cooking life easier. It allows you to do a variety of things such as slicing or chopping vegetables, shredding, grating and pureeing, all in just one machine. more→
This useful infographic shows you tips for how to cut 7 tricky vegetables: artichoke, cassava, sweet corn, kohlrabi, beets, spaghetti squash, and celeriac. A well-prepared vegetable is a tasty and nutritious thing. Eating a wide variety is a great way to keep mealtimes interesting while looking out for your health. There are some weird and wonderful vegetables to choose from, how can you eat them when you're not even sure how to slice them?
You know the feeling. You've bought an interesting to add variety to your evening meal. But faced with an artichoke, celeriac or squash, you don't know where to begin! These vegetables don't come with instructions, and if you don't know what you're doing you could end up in a mess. more→