Healthy Eating Tips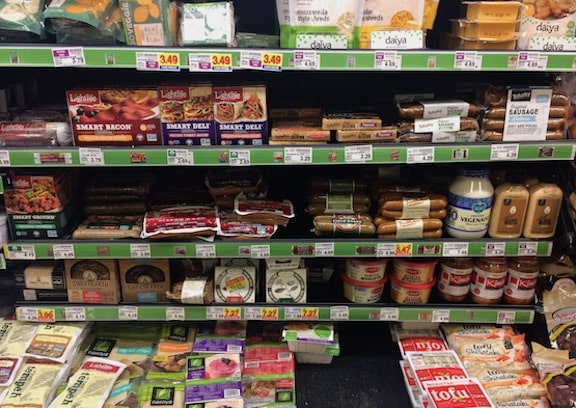 If you're new to plant-based cooking, you may be looking for a guide to vegan substitutions to swap into favorite non-vegan recipes. Thankfully, there are plenty of products vegans can use in place of animal ingredients that will make vegan cooking a breeze. Let's cover how to replace animal ingredients with vegan ingredients.  more→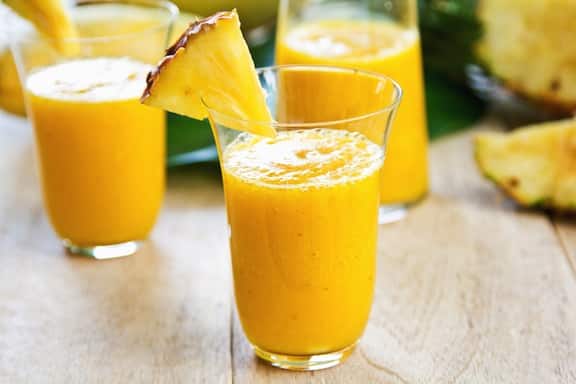 On our popular page featuring apple cider vinegar and weight loss, many readers are seeing the results of adding ACV to their daily regimen, not only for possibly losing pounds, but improving energy and well being. The biggest complaint about ACV? Many readers don't enjoy its flavor when mixed with just water. Fortunately, there are lots of ways to make apple cider vinegar drink recipes that are not only tolerable, but actually quite tasty!
Whether you want to try apple cider vinegar drinks for detox, weight loss, or general well being, you'll want to use the raw, unfiltered, organic kind of ACV, a fantastic probiotic. You'll be pleasantly surprised at the many benefits attributed to this super-ingredient. You might also like our round-up of 12 apple cider vinegar recipes. more→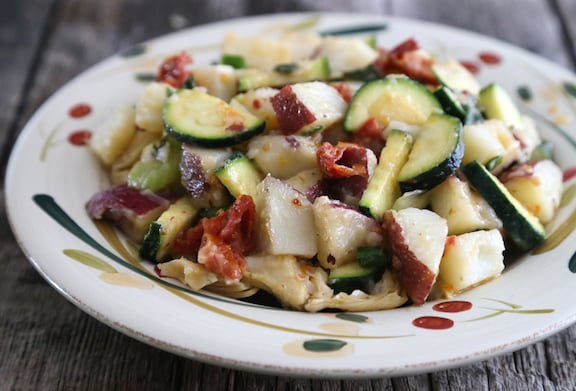 Eating produce all year round — both cooked and raw — is one of the healthiest habits on earth. Salads take care of the latter, but they're not exactly crave-worthy in the winter when most of us would rather have warm foods like soups and stews (or starchy comfort foods).
Something that works like a charm to make cool weather salads more enticing is adding something warm or even piping hot to them. And in some cases, serving them warm altogether. Here are 10 seriously delicious warm winter salads that will keep you eating your veggies all season, and coming back for more! more→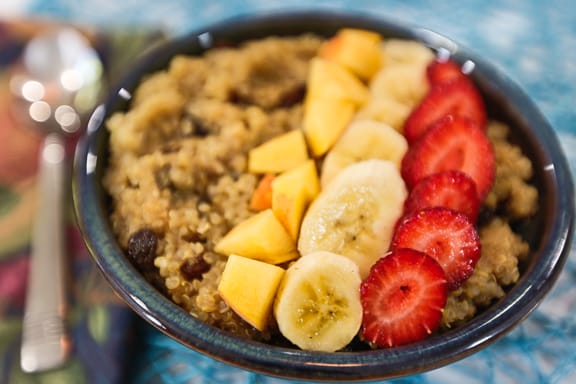 Good Karma eating is as simple as can be: comprise your meals of plants instead of animals, and most of the time choose unprocessed plant foods, meaning that they got from the garden or orchard or field to your kitchen with minimal corporate interference.
This way of eating gives you good karma in two ways. The first is self-explanatory: by eating foods of high nutrient density and avoiding the animal products and processed foods your body can have trouble dealing with, you'll reap the rewards of improved health. The second is a bit more mystical: you do good and you get good back. more→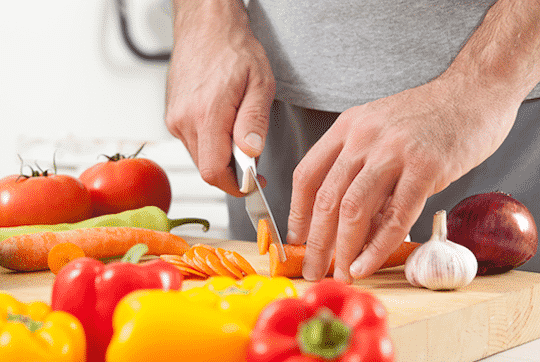 We've all been there. You get home late after that less-than-productive evening meeting, and throw open the fridge, hoping that food will have magically appeared there somehow in the last ten hours. Or maybe you have a pantry stuffed with healthy staples—all of which need to be cleaned, cut, and cooked before they're fit to consume—and all you can think about is sinking down into the couch for the next three hours. more→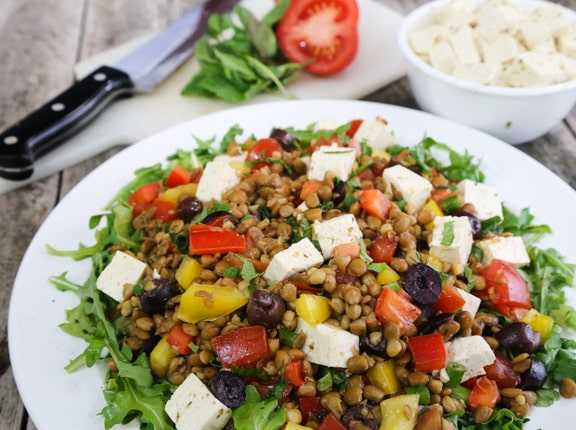 Today, January 18, 2017 is Global Pulse Day, a worldwide event building on the movement that began with 2016's International Year of Pulses. The UN's Food and Agriculture Organization (FAO) wants to inspire us all a fresh look at a group of ancient food crops known more commonly as legumes. Get in on the global action with hashtags #GlobalPulseDay and #LovePulses if you want to share this or your own posts on social media! more→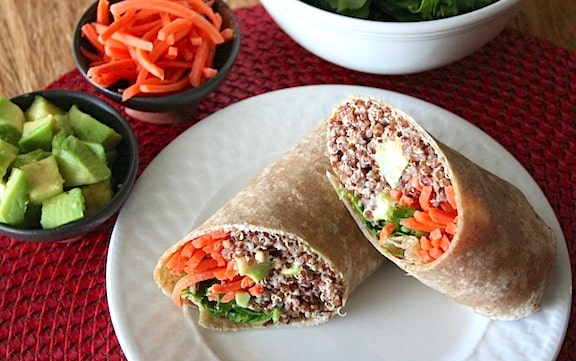 For some people, myself included, there isn't enough salad in the world. Others won't touch them with a ten-foot pole. We all know that eating at least some fresh raw veggies on a daily basis is a good thing. And even for salad devotees, cold weather is kind of a disincentive — soup and warm foods become more crave-worthy.
So what to do about that, and about eaters to whom even the word "salad" is a turn-off? Be sneaky, that's what. These simple preparations don't even have the word "salad" in their titles, so no one will be the wiser. Take for example Asian-Flavored Quinoa Wraps, above. Filled with plenty of raw carrot, arugula, and avocado, they're definitely salads in disguise. more→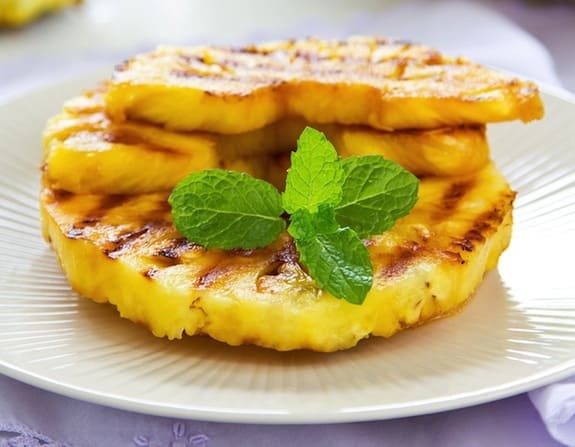 With more varieties of fruits becoming available year-round, it's tempting to bring them home — only to have them sit on the table or in the fridge. Rather than ponder how in the world to cut up healthy treats like coconut, pomegranate, passion fruit, pineapple, mango and others, this visual guide will have you prepping them like a pro. And as a bonus, see the end of this graphic for a few more clever hacks that will help you make the most of your fruits. more→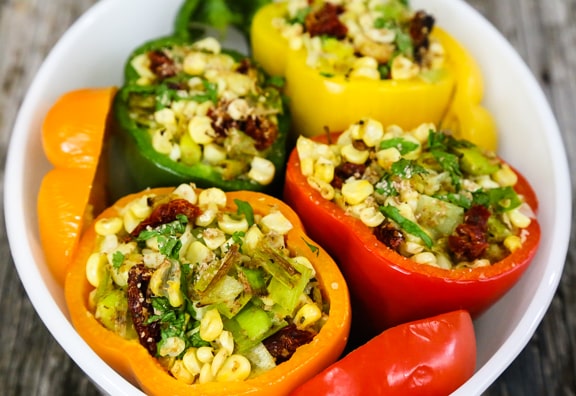 The holiday season is a time for celebrating the ones you love, giving back to your community and eating—and for many people, that means a lot of meat. As with many traditions, just because it's what everyone does year after year, doesn't mean it has to continue. In this case, discontinuing the traditional meat consumption during the holidays, or prepping your big holiday meal sans a ham or turkey, is a smart way to deviate from the norm without losing any of the excitement or charm of the season. more→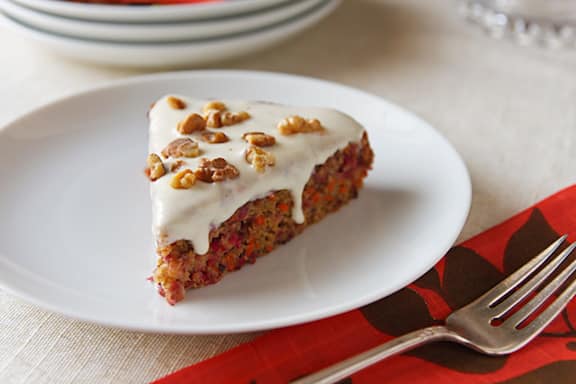 If you can't get your family (or yourself!) to eat enough vegetables, you can try sweetening the deal — literally. By incorporating the orange-fleshed fall/winter veggies — carrots, sweet potato, pumpkin, and winter squash into these vegan cakes, pies, muffins, and cookies, you'll be adding a dose of vitamins A and C to your desserts, and a host of antioxidants and fiber. But you and yours won't taste any of those — just some lovely sweet flavors that will please everyone.
Cranberry-Carrot Cake (at top) is festive and luscious, but with a minimum of fat and a plethora of fresh fruit (and a vegetable!) in the batter, not the least bit guilt-inducing. It's a nice alternative to pumpkin pie as a Thanksgiving and Christmas dessert. more→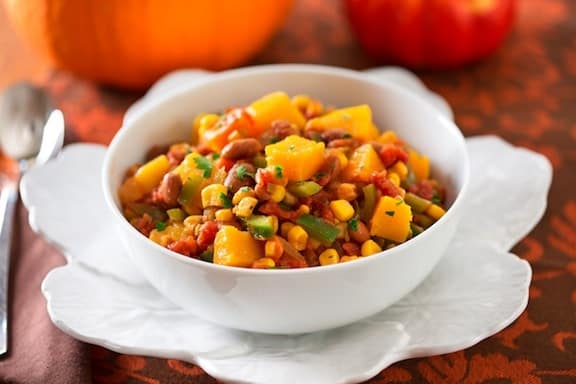 In this insanely busy world, most people — even Grandma — would be daunted by the prospect of preparing an entire Thanksgiving or Christmas feast for a crowd. And with so many dietary preferences to accommodate — vegetarian, vegan, gluten-free — holiday meal prep can start to feel overwhelming. Whether you're going to be a host or a participating guest, here are some tips that will help simplify your holiday meal prep so that you can feel festive rather than frazzled when the company starts to gather. Need ideas for what to make? We've got you covered. Here's our full list of Thanksgiving and Christmas recipes to mix and match. more→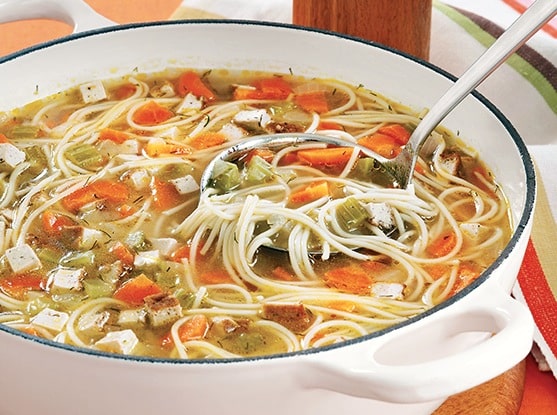 Vegans need comfort food just as much as anyone else. Salads and smoothies are great, but during sad or difficult moments, or when you're under the weather, they just don't do the trick. Warm and soothing, comfort foods also contain just the right amount of nostalgia — and love. Take this this simple, tasty Mock Chicken Noodle Soup; it recalls a comfort food from my childhood — minus the poor bird. There's a Yiddish proverb that goes: "Worries go down better with soup." How true! more→