Natural Foods Guides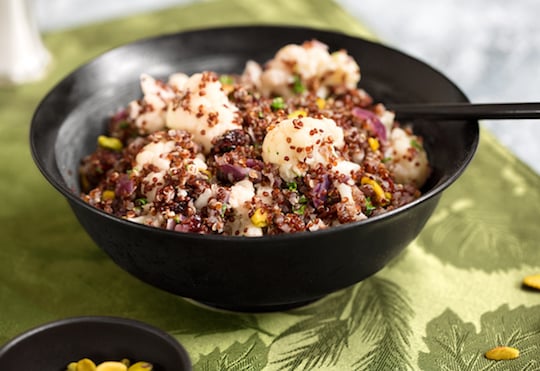 When you need a grain to cushion stews and stir-fries, to stuff into vegetables, or to power pilafs, chances are you reach for rice. And while there's nothing wrong with rice—especially if you've made the switch to brown rice —exploring a variety of whole grains can expand your culinary horizons and add even greater nourishment to your family meals.
Aside from adding character to meals, whole grains are superb sources of fiber and protein. Because the bran and germ are left intact, they also are fine sources of B vitamins, vitamin E, and an array of minerals.  It's certainly possible to be health-conscious and never eat bulgur or quinoa. But why miss out on one of the richest sources of nourishment available?
Here are a few common whole grains everyone should be using more of. Give them a try to boost your everyday meals! Shown at top: Quinoa with Cauliflower, Cranberries, and Nuts. more→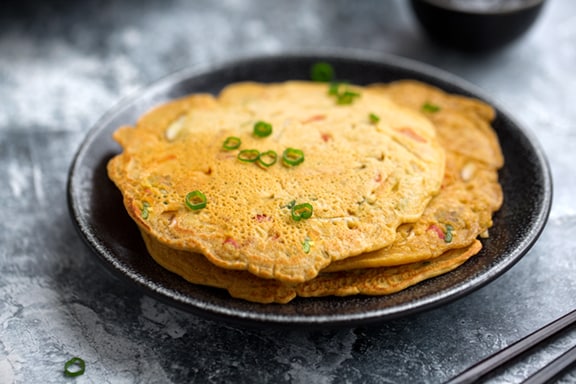 Chickpea flour is a great alternative to grain flours, though it doesn't "behave" like grain in the usual sense. It doesn't rise and become fluffy like wheat flour, for example, but it's wonderful for making pancakes, crepes, and vegan frittatas. Here's a quick guide, followed by tasty and easy chickpea flour recipes for you to enjoy.
Going beyond its traditional use in Indian cuisines, chickpea flour is now readily available in natural foods stores and well-stocked supermarkets. It's sold either in bulk or packaged. One widely available brand is  Bob's Red Mill. Either way you buy it, keep it in a tightly lidded jar or container in a cool, dry place. Truth be told, I like to refrigerate it, as it stays fresh longer and doesn't run as much risk to go rancid. more→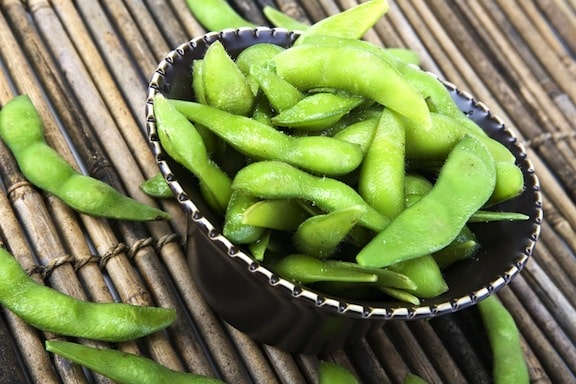 Commonly used and well-loved as a vegetable in Asian cuisines, edamame, or fresh green soybeans come in fuzzy green pods containing two of these bright green beauties. Read on to get to know more about them, learn how to cook them, and explore some easy and tasty edamame recipes.
If you haven't prepared them at home, you might have encountered edamame in Japanese restaurants, where they're listed among the appetizers. Popped out of their pods and lightly salted, they're quite addictive! Their flavor is kind of a cross between fresh green peas and fresh baby lima beans — but better. more→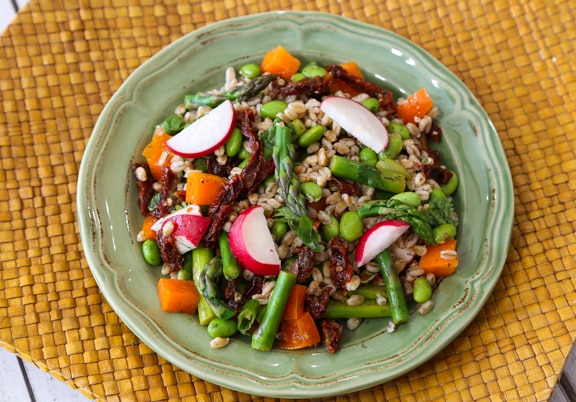 If you keep up with food trends, you've likely heard about farro, one of several ancient grains that have made a comeback in recent years. Farro takes its place among grains like quinoa, einkorn, kañiwa, teff, and others that have been around for millennia, and which have become more widely available in the general marketplace. Following are tips on how to cook farro and enjoy it in recipes.
While farro is new to most of us, it's believed to be one of the most ancient of wheat varieties, along with einkorn. And like einkorn, it's lower in gluten than modern varieties of wheat, though please note, not gluten-free. Shown at top, Spring Farro Asparagus Salad. more→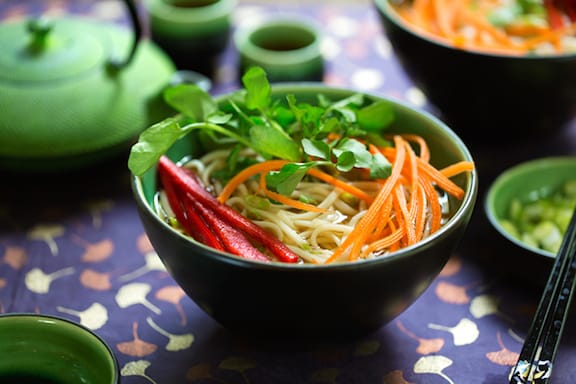 Here's a beginner's guide to Asian noodles, which are easy to find these days. Ten years ago, soba, udon, bean-thread and rice stick noodles, among others, were rare finds. Now, many well-stocked supermarkets carry these authentic noodles. Here's a brief lexicon of the most commonly used varieties. Shown above, Udon Noodle Soup with Crisp Vegetables. more→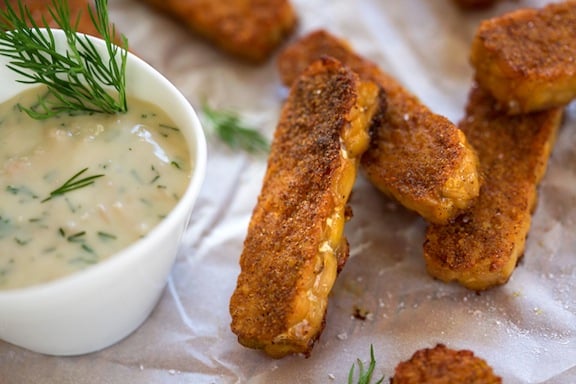 Tempeh (pronounced tem-pay), a traditional Indonesian food, is made of cooked and fermented soybeans. Sold in cellophane-wrapped packages, it's even higher in protein than tofu. Tempeh is also quite versatile, but has a more distinct flavor and a dense, chewy texture. Though somewhat of an acquired taste, once you do, you'll be a fan for life. Pictured above, Tempeh Fries with Horseradish-Dill Mayonnaise.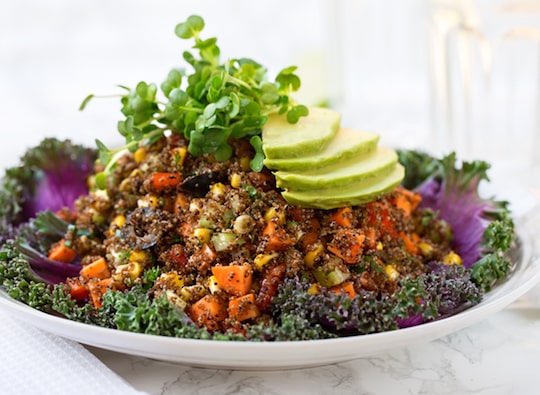 What is kañiwa? Simply put, this relative of quinoa, is similarly a South American superfood grain making a splash in the North American market. Like quinoa, Kañiwa grows in Peru and Bolivia. It's an excellent source of protein and amino acids, is exceptionally high in iron, and is gluten-free. Dark reddish-brown in color and about half the size of a tiny quinoa seed, it cooks up quickly to resemble a smaller version of red quinoa. Find out lots more information in Kañiwa: A "New" Ancient Superfood.
One major difference between the two is that kañiwa doesn't have saponins, the coating that gives quinoa a soapy, slightly bitter flavor if not rinsed properly. A good thing, as I can't imagine a sieve fine enough for its tiny size.
Quinoa brought to market has already been rinsed of much of its saponins, as otherwise it would be quite unpalatable (this procedure is done with a strong alkaline solution). But it's always recommended that quinoa be rinsed well again at home to remove any remaining bitterness. Kañiwa is actually easier to process due to the absence of saponins.
It's recommended to toast the grain on a dry skillet or saucepan first, then cover with water in twice its volume. Like quinoa, the water absorbs in 15 to 20 minutes. Truth be told, both times I used it so far I forgot to toast it, and it was just fine (it has a mild, nutty flavor similar to quinoa's).
A few simple ways to use kañiwa
Add 1/2 to 1 cup cooked kañiwa to pancake or waffle batter (depending on the size of the batch)
Serve it as a sweet breakfast bowl with a maple syrup to taste, chopped nuts, and dried or fresh fruit. Finish with a dusting of cinnamon.
A savory breakfast bowl is good too, with a little vegan butter and a sprinkling of nondairy cheese shreds. Sweet or savory, a it keeps you full for hours.
Like many a nutritious grain, kañiwa works well in warm pilafs and room-temperature salads.
Come fall holiday meals, like its slightly larger cousin, a pilaf makes a nourishing and attractive stuffing for squashes and peppers.
Nutritionally, kañiwa's profile is remarkably similar to quinoa's. It's a good source of complete protein, and is a good source of a wide range of vitamins and minerals. One advantage it has over quinoa is that it's an even better source of iron.
How to cook kañiwa
Kañiwa and quinoa can be used interchangeably, and are cooked in the same proportion to liquid (2 parts liquid to 1 part kañiwa; it cooks in 15 minutes, like quinoa, or just a bit quicker). To that end, please explore our article, How to Cook Quinoa — and Some Great Ways to Use It. You might also enjoy We Love Quinoa, a volume in our Best of VegKitchen affordable e-book series featuring the 30 most popular quinoa recipes on this site, along with many color photographs.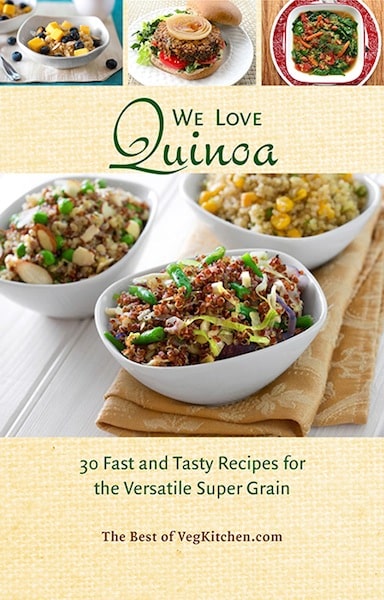 Kañiwa is available from online retailers, you can ask your natural foods retailer if they can order some for you.
For a recipes, see Kañiwa Confetti Salad (shown at top).
*This post contains affiliate links. If the product is purchased by linking through this review, VegKitchen receives a modest commission, which helps maintain our site and helps it to continue growing!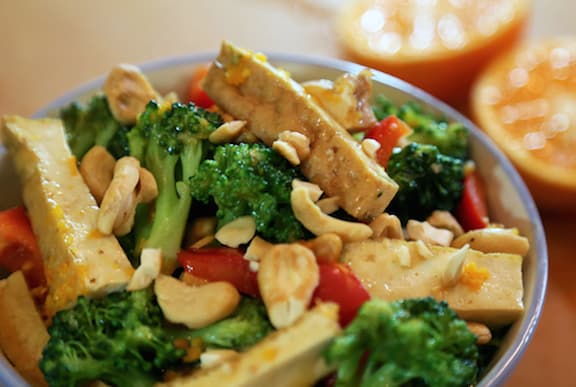 I've long considered marinated baked tofu a great product and have wondered why it has taken so long to make its way onto supermarket shelves. Finally, it's getting there! As always, it's easy to find at any natural foods store, usually shelved alongside the tofu tub varieties.
If you're unfamiliar with marinated baked tofu, it's a firmer, chewier, flavored variety. It comes in cellophane-wrapped packages (usually 8 ounces), and is ready to eat as is or to combine with other ingredients in hot or cold dishes. Here are 5 simple ways to use this fantastic product. more→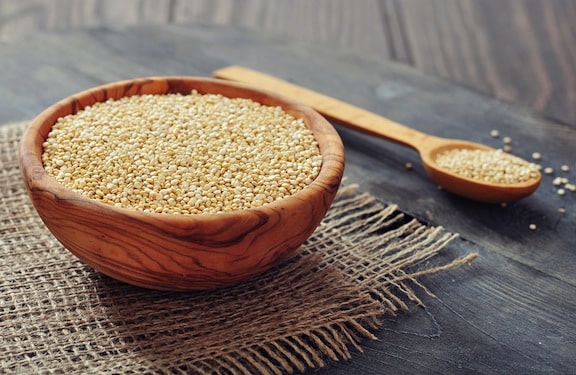 When you open your pantry, do images of the rugged mountains of South America, the colorful tablelands of Africa and the fertile river valleys of the Middle East dance before your eyes? If not, you have yet to discover amaranth, quinoa, spelt, kamut and teff, the quintet of nutritional powerhouses known as the ancient grains. The legends behind their origins many millennia past, their loss over time and their ultimate modern revival literally tell the story of civilization. Another great ancient grain to discover (or rediscover) is einkorn. more→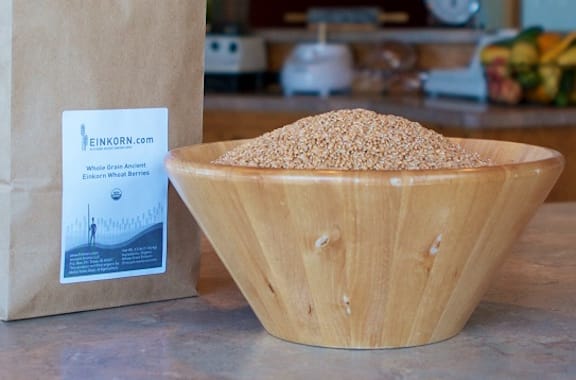 Einkorn wheat, one of the latest of ancient grains to be revived for contemporary consumers, is actually the most primitive form of cultivated wheat. Like amaranth, quinoa, and spelt, and farro, einkorn is taking its place as a nutrition-packed superfood. It's earth-friendly, too. The grain's hull makes it resistant to pests, so it's easy to grow organically. And for a specialty grain, it's surprisingly economical, comparable to organic brown rice and often less costly than quinoa. For lots more on einkorn's history, nutritional profile, and more, explore einkorn.com. more→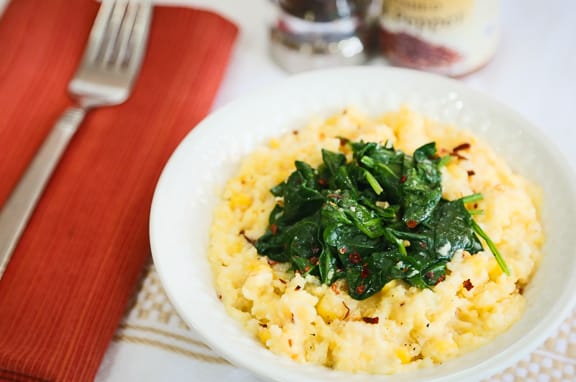 Grits, or hominy grits, are hulled, dried, and cracked corn kernels. To add variety to your grain repertoire, do try them! Please seek out stone-ground grits, which are much more flavorful than the stripped-down quick-cooking grits sold in supermarkets. They make a soft bed of (naturally gluten-free) grain for bean and vegetable dishes. or even as a pleasant side dish. Grits can also play a starring role in simple preparations, rather than just being used as a bed of grain.  more→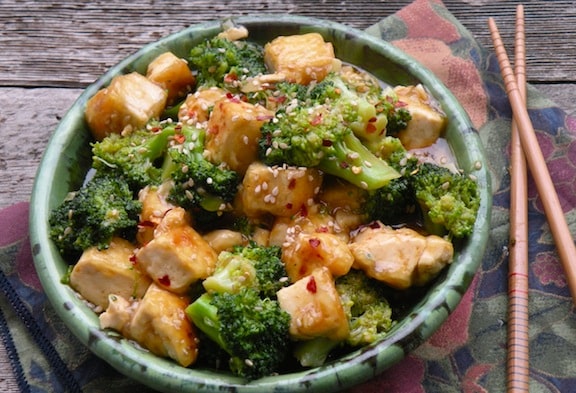 Tofu has been such a plant-based staple for decades (not to mention the millennia in which it played a starring role in Asian cuisines) that it's easy to forget that there are still plenty of newbies discovering it all the time. That alone merits this primer, though even for tofu aficionados, fresh inspiration is always welcome.  more→