Natural Foods Guides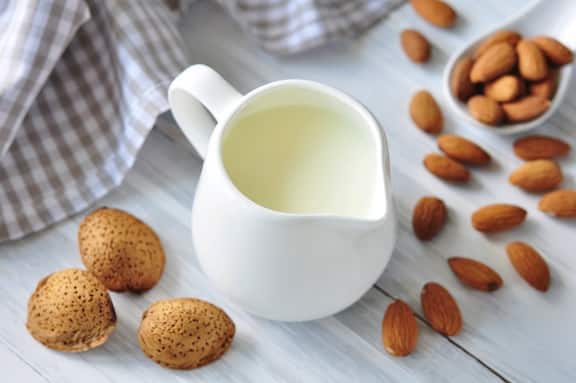 Are you looking for some healthy vegan milk alternatives that can please your taste buds at the same time? Well, the market is flooded with dozens of non-dairy milk beverages and quite a few of them are worth trying. Sounds interesting? Read on below to learn more:
Why Vegan Milk is a Good Choice for You?
No matter whether you are a vegetarian or a non-vegetarian, picking non-dairy milk alternatives over the regular ones is always beneficial for you. Let us dig a bit deeper and find out why one should go for vegan milk choices:
Being free of lactose, it is non-allergenic. So, if you are allergic to cow milk, going vegan will help you a lot.
If you have lactose intolerance, the chances are big that you experience acid reflux, abdominal gas, bloating, etc. frequently. Dairy-free milk substitutes can eliminate these symptoms fast and easily.
Acne and regular milk always go hand in hand. The risk becomes even greater in case of skimmed milk. But when you replace your dairy consumption with the vegan alternatives, you get rid of it.
When the milk is produced from a cow non-organically, it gets contaminated by the antibiotics and hormones injected into the animal's body. The unnatural production process of milk also causes mastitis to cows, which results into the presence of pus in milk. All these lead to hormonal imbalances and various other ailments in human beings. However, when you opt for non-dairy milk, you can always stay away from these worries.
Most of the vegan milk alternatives can be made easily, quickly and economically at home and you can even add lots of flavor to it.
8 Best Vegan Milk Alternatives You Should Try
Soy Milk
It is prepared by pounding and processing dried soybeans with water. You can find a variety of flavors including light, sweet, full-cream, vanilla, chocolate, etc. in the market. The density and creaminess of the milk may also vary greatly and it tastes even better than regular milk.
Qualities:
The protein content is almost similar to cow milk (around 8 grams a cup).
High in dietary fiber, calcium, potassium, magnesium, vitamin B1, vitamin B2, vitamin D, plant-based omega-3 fatty acid, antioxidants, phytoestrogen, manganese, selenium, phosphorus, choline, folate, etc.
Very low in saturated fats and sugar
Lactose and cholesterol-free
Prevents prostate cancer, osteoporosis, cholesterol transportation, etc.
Strengthens blood vessels
Eases menopausal symptoms
Oat Milk
This nutritious milk is made by pre-soaking the grains of oatmeal in water and straining the concotion carefully. It is sweet in taste and thick in consistency. A variety of flavor is available in the market and you are free to pick your favorite one.
Qualities:
Fulfills almost 35% of our daily requirements of calcium
Works as a 'protein powerhouse'
Fat and sugar content is very low.
Contains no cholesterol or saturated fats
Rich in soluble fibers, iron, vitamin A, vitamin D, folate, phytochemicals, etc.
Prevents a number of cancers
Improves cardiovascular health
Promotes digestion and prevents constipation
Increases 'good cholesterol' level and reduces 'bad cholesterol' level
Makes the immune system stronger
Keeps skin clean and acne-free
Rice Milk
This thin and naturally sweetened milk substitute is prepared from brown rice grains and is considered as extremely healthy. You can also avail its vanilla-flavored version from your local supermarket.
Qualities:
Has perfect proportions of protein and carbohydrate
Great source of antioxidants, B-vitamins, vitamin D, calcium, etc.
Gluten-free milk
No saturated fat and cholesterol
Very inexpensive
Almond Milk
This wonderfully tasty vegan milk is made by pulverizing soaked almonds thoroughly. The sweet and nutty flavor and high nutrition make it highly popular among the lovers of dairy-free milk substitutes.
Qualities:
Fulfills 30% of our daily requirements of calcium
Contains 25% of our daily requirements of vitamin D
Very low in calories (one servings offers only 30 calories)
Enriched with proteins, omega-6 fatty acids, antioxidants, dietary fibers, vitamin E, iron, zinc, magnesium, etc.
No saturated fats, cholesterol and lactose
Gives immunity a boost
Makes teeth and bones stronger
Helps in healthy digestion
Perks up the skin texture by offering anti-aging benefits
Encourages weight loss
Coconut Milk
It is another creamy, flavorful and nourishing alternative to regular milk, which is basically prepared by grating the 'meaty' flesh of ripe coconuts as well as extracting the concoction. You can get both 'thick' and 'thin' coconut milk for using as cooking ingredients and both of them are super tasty.
Qualities:
High in dietary fibers, vitamin B-12, vitamin D, iron, calcium, manganese, copper, phosphorus, selenium, etc.
Contains very less amount of sugar
No fructose
Helps in controlling blood sugar
Strengthens both bones and blood vessels
Prevents arthritis and osteoporosis
Gives a feeling of fullness, thereby helping in weight loss
Cashew Milk
Cashew milk has a natural vanilla flavor and it is made of a smooth, rich blend of water and cashew nuts. It is an amazingly tasty, absolutely creamy and highly satisfying milk beverage.
Qualities:
Amazing source of proteins, B-vitamins, calcium, magnesium, copper, etc.
Very low fat content
Free of cholesterol
Increases the production of RBCs (Red Blood Corpuscles)
Promotes healthy metabolism
Helps in tissue and bone formations
Keeps cholesterol levels under control
Enhances cardiovascular health
Hazelnut Milk
Being derived from tasty and savory hazelnut, this milk tastes heavenly. It also has a nutty flavor, which is very much liked by people. Like all other vegan mil substitutes, it also has high nutrition value.
Qualities:
High in healthy carbohydrates, vitamin B-12, vitamin D and calcium
No saturated fats, lactose and cholesterol
Takes care of bones and teeth
Keeps you filled up for a long time
Hemp Milk
It is prepared from the seeds of hemp tree and is regarded as one of the healthiest choices for dairy-free milk. It is widely known for its 'earthy' taste and nutty flavor.
Qualities:
Contains as much as 10 essential amino acids
Has a perfect omega-6 fatty acids to omega-3 fatty acids ratio
Loaded with soluble fibers, proteins, vitamin B1, vitamin B5, calcium, potassium,
Aids in muscle building
Provides immense energy
3 Simple and Easy Homemade Vegan Milk Recipes
What if you need a good vegan milk alternative for cooking or drinking but do not wish to purchase commercial one? Just DIY! We are giving you 3 easy, simple and fast vegan milk recipes to try at home:
(1) DIY: Homemade Almond Milk Recipe
Best-quality raw almonds – 1 cup (organic is even better)
Sea salt – 1 teaspoon
Distilled water – 2 to 4 cups (as per your preference)
Method:
Take the almonds in a glass bowl and pour distilled water into it to soak them completely. Add sea salt to the water and cover the bowl with a lid. Keep it aside for nearly 12 hours.
Rinse the swelled up almonds well under running water to get rid of all sorts of enzyme inhibitors.
Now, put the almonds in a blender and pour rest of the distilled water into it. Blend thoroughly to mash all the nuts.
Strain it or not, your creamy almond milk is absolutely ready!
(2) DIY: Homemade Oat Milk Recipe
Ingredients:
Oats – 1 cup
Agave nectar or maple syrup – 1 to 2 tablespoons (as required for sweetness)
Sea salt – (1/4) teaspoon
Distilled water – 3 cups
Method:
Rinse the oats well and drain them perfectly before placing them in a bowl.
Add water to it and cover with a lid. Let the oats soak for 8 to 10 hours so that they get softer as well as easier to process.
Once again, rinse the oats well and remove the oat slime completely.
Shift them to a blender and pour distilled water into it. Blend for some time and sieve it.
Press the semi-pulverized oats with the backside of a spoon in order to take the maximum milk out of it.
Add agave or syrup and sea salt to the concoction and your homemade oat ilk is here!
(3) DIY: Homemade Brown Rice Milk Recipe
Ingredients:
Sea salt – 1 teaspoon
Distilled water – 2 cups
Method:
Clean and wash brown rice properly and soak it in water for a couple of hours.
Cook it as usual.
Now, place the cooked brown rice inside a blender jar. Also, add sea salt and distilled water to it.
Blend until a smooth, thick milk is formed. Voila!
So, are you ready to switch to vegan milk alternatives?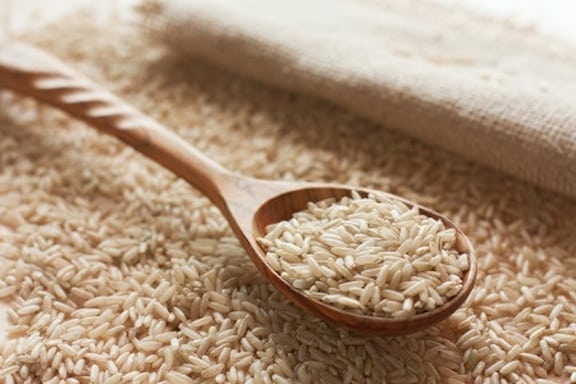 References
http://vegetarian.about.com/od/vegetarianvegan101/f/MilkSubstitutes.htm
http://www.peta2.com/lifestyle/vegan-milk-101/
http://www.beautyglimpse.com/almond-milk-vs-regular-milk-which-is-healthier/
Authors Bio
Soni likes to share her knowledge with the world helping others to live a healthier life. She also loves to share her express her views and explore anything and everything that can feed her pen.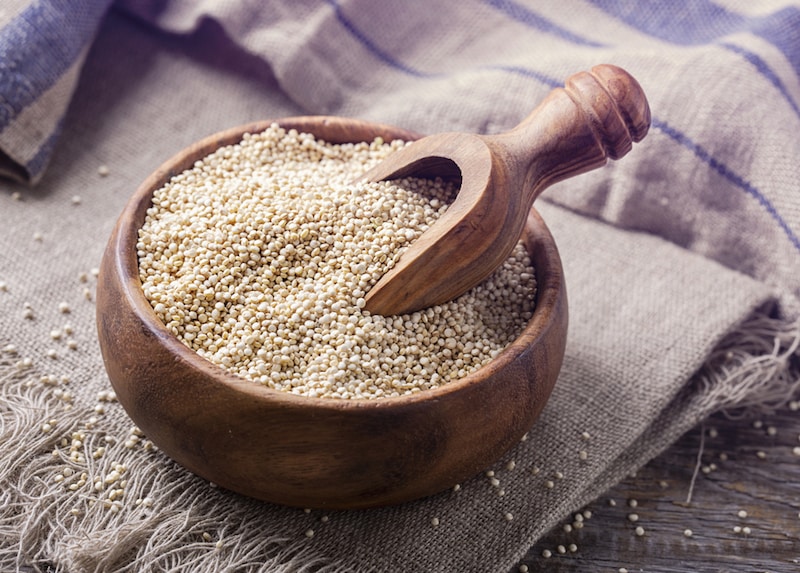 Wondering how to cook quinoa to perfection? Quinoa is a delightfully versatile addition to a vegan diet. Quinoa is high in protein and fiber, and you can add it to salads, chilis or you can make a basic, easy side dish with quinoa. Or you can eat it for any meal as a healthy quinoa bowl. The best part is that quinoa is easy to cook, even easier than rice. Below are several methods on how to cook quinoa just right.
Basic quinoa
If you want to know how to cook quinoa as a basic side dish, it's as easy as boiling pasta. You get a pot of water or veggie broth boiling, and then stir in your quinoa. You want one part of uncooked quinoa to two parts liquid. Then you simply simmer the quinoa on low heat until it's done. This usually takes roughly fifteen minutes, but check the consistency of the quinoa. Just don't open the pot too much as that can affect cooking times.
You'll know it's done when all the water is absorbed or it's the level of softness you like. You can play with the texture by adding some water to make a more porridge consistency or you can use a little less water for a drier grain that separates. When you're finished, you can also fluff and separate the grains a bit for some added presentation.
Toasting quinoa
A cool little trick to get a more rich, toasted flavor is to brown your raw quinoa in a pan before you boil it. It gives quinoa even more of a nutty flavor. You'll simply add oil to a pan over medium-low heat and then add your quinoa. Make sure there's enough oil to coat the bottom of the pan and enough quinoa to evenly toast it in one layer. Toss it until it's evenly browned.
Cooking quinoa in a rice cooker
Because quinoa is a grain that's similar in texture to rice, you can also use a basic rice cooker to cook your quinoa. This is also easy, as it requires one part raw quinoa to two parts liquid (water or broth). Add both the liquid and the quinoa to the cooker. Then you simply turn on your rice cooker and let it cook. Usually it takes about thirty minutes with this method. Fluff it with your fork at the end.
The soaking method
There's considerable debate out there as to whether you should soak your quinoa before using it. The theory, outlined at thenourishinggormet.com, states that soaking the quinoa before cooking is supposed to make it more easily digestible and get rid of anti-nutrients.
What the heck are anti-nutrients? These are synthetic or natural compounds that interfere with the absorption of nutrients from food. An example is phytic acid, which is common in grains and can bond with vital nutrients, making them harder for the body to absorb.
Soaking quinoa also makes the grains lighter in texture and easier on the stomach.
You do this by soaking quinoa in warm water in a warm place with an acid enzyme like raw apple cider vinegar. You use one part warm water to one part quinoa for soaking, and add a couple splashes of your raw apple cider vinegar. Let soak for 12-24 hours. Then strain and rinse the quinoa well before cooking.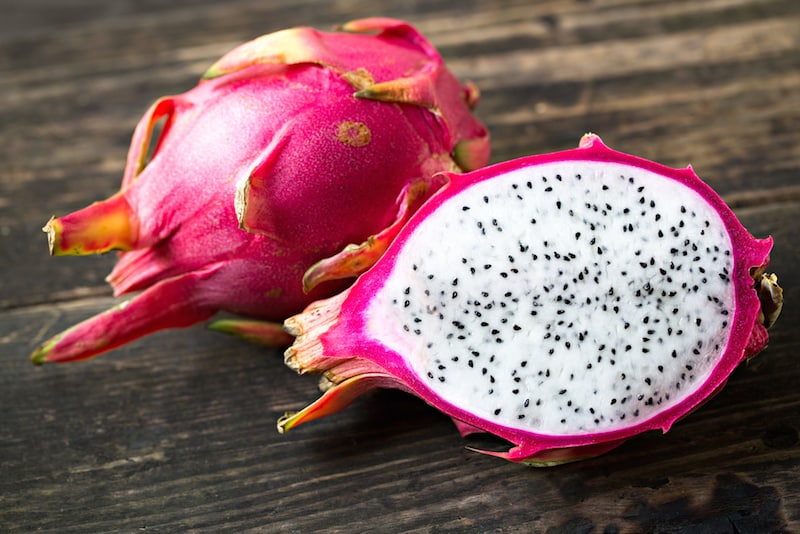 Dragon fruit is probably one of the weirdest fruits you'll come across at the store. From the outside it looks bright pink and green and irregular. When you cut into it, it looks like peppered ice cream. You may even be wondering how to eat dragon fruit.
But dragon fruit is a delicious addition to any vegan diet, as it's high in vitamin C, good fatty acids, B vitamins, carotene and even packs in some protein. Meet your new favorite superfood. Here's some background on the fruit and, of course, how to eat dragon fruit.
Some background
Dragon fruit comes from Central America and is also called the pitya. It's also grown in Southeast Asian countries like Thailand and Vietnam. It grows off a cactus-like plant. It's crunchy and has a mild sweet taste like a more muted kiwi. The little black seeds in the fruit are totally edible, again, like the kiwi.
For the basics of how to eat dragon fruit, you just cut into it, right down the middle. Then you scoop out the white fruit, which comes out very easily. It's commonly served up in its own skin as a bowl, since the bright pink makes a great presentation. You can also quarter it and peel off the pink skin, since the skin will taste bitter. From there you can cube it, slice it or ball it. Then add it to your favorite fruit salads or just eat it by itself plain. Many people eat dragon fruit chilled, as that's said to bring out the flavor better.
If you're in the store looking for a dragon fruit, the fruit should feel slightly soft as you press your fingers into it. (Like a mango.) Just make sure it doesn't feel mushy. The fruit itself should look bright pink, and make sure there are no dark spots or bruises.
Creative ways to eat dragon fruit
Once you're familiar with the basic fruit itself, you may be wondering what else you can do with it. There are several great uses for dragon fruit. For instance, a popular use for dragon fruit is to add it to a tropical fruit salad. You merely cube the dragon fruit, along with pineapple, mango and banana.
A neat idea for parties is to make a tropical fruit kabob with cubed dragon fruit and kiwi on a skewer. Then you simply stick the skewers on the grill until there is a nice little browning of the fruit where the grill grates were. You can end by sprinkling them with sugar.
It also makes a sweet addition to any fruit smoothie or smoothie bowl. You can blend it up with soy or almond milk. You can also optionally add anything else you'd like, such as berries, sugar, juice or even nut butters. Melon-balled bits of dragon fruit make a wonderful garnish on top, too.
Dragon fruit even makes a wonderful frozen treat. You can juice or blend the fruit alone or with other fruits, and then add it to a popsicle mold. A neat idea is also serving a basic vegan sorbet scooped into a halved, frozen dragon fruit that has a little bit a dip cut into the middle. Than you can eat the sorbet with the frozen fruit for a refreshing treat.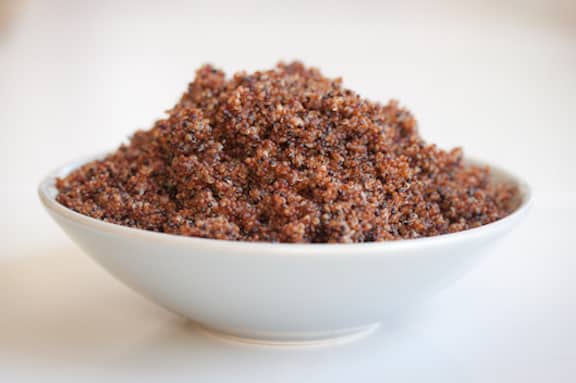 Contributed by Aimable Johnson. Quinoa is a food that has been embraced by the health food crowd. A 'superfood' grain from South America, it has become extremely popular due to its numerous uses. With quinoa established, now it's time to meet its cousin, kañiwa. more→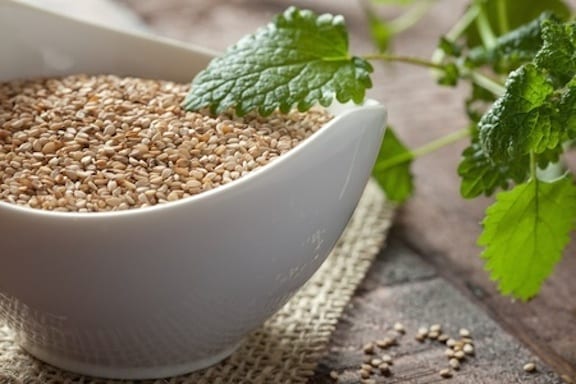 Sesame seeds are worth more than their weight in gold! Sesame seeds' health benefits and uses in the kitchen are plentiful. Their flavor is mild and nutty, though it greatly intensifies when expressed into oil or are ground into a paste (known as tahini) or into a butter.

When buying sesame seeds, look for the whole, unhulled variety, which have not been stripped of their nutritious, deep-tan hulls. If they look shiny and white, this tips you off that they've ben refined. Look for black sesame seeds as well. They add visual interest to simple dishes. Whole sesame seeds will keep well for many months in a tightly lidded jar in a cool, dry place. Refrigerate them during the summer.  more→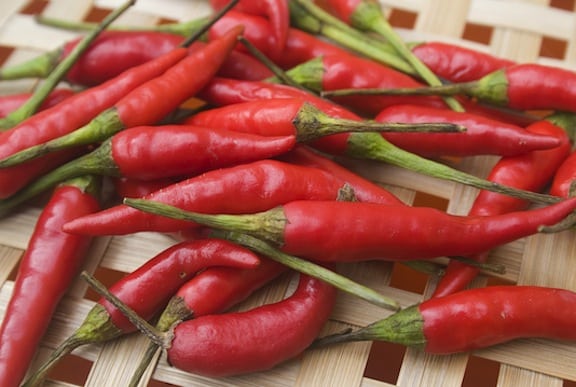 Excerpted from Hot Vegan: 200 sultry & full-flavored recipes from around the world * by Robin Robertson/Andrews McMeel Publishing, LLC © 2014. Reprinted by permission. To put the "hot" in "hot and spicy," we generally look to chiles as the world's most universally popular heat source. Erroneously called chile "peppers," attributed to an error by Christopher Columbus, chiles are not peppers at all, but actually fruits. They are used in a wide variety of cuisines throughout the world in a variety of forms. You can buy them whole, fresh, dried, canned, and jarred in the form of chili oil, paste, and powder, as well as hot red pepper flakes and ground red pepper, or cayenne. Many hot condiments are made with chiles, and these include chili sauce, hot bean sauce, salsas, and various chutneys. Tabasco, a particularly popular brand of hot chili sauce, is in such wide use that it goes by its brand name. more→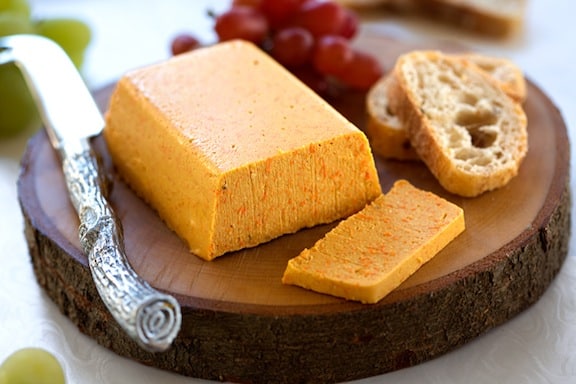 There's no dairy in these vegan cheese recipes, but even your dairy-eating friends will be amazed by them! A good vegan cheese seems impossible, but certain ingredients lend a cheesy flavor. One of my favorites is nutritional yeast. It tastes good, and it's good for you. Cashews, which are delicious just plain by the handful, create a magical texture that is reminiscent of goat cheese. Make sure to scroll to the end to see each one of these 8 vegan cheeses, all of which will knock your socks off!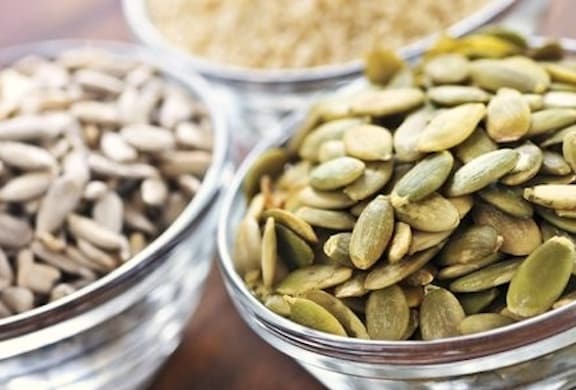 Pumpkin seeds are high in protein and have a unique flavor that makes them especially enticing to eat as a snack, unadorned. When buying pumpkin seeds, you can choose between raw or roasted, shelled or unshelled, salted or unsalted. Roasting brings out their flavor and crunch, and you can easily roast them at home. Roasted pumpkin seeds are often marketed as pepitas. more→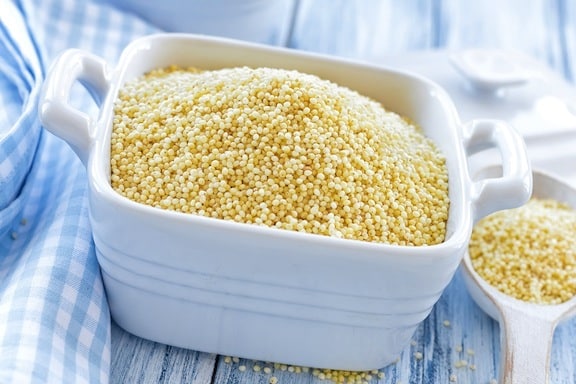 Bland in flavor and rather mushy in texture, is no cause for culinary excitement, but it is nonetheless versatile and nourishing. It is available in natural-food stores as well as Indian food shops.  more→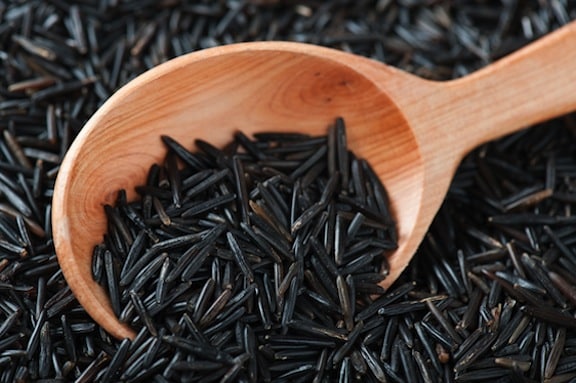 Wild rice is actually the seed of a tall aquatic grass that is not a form of rice, nor even a grain at all. Native to North America, most of our domestic crop is harvested by Native Americans in and around Minnesota and other Great Lakes states, where it thrives in freshwater lakes or rivers. The fact that wild rice is literally a wild grass has made attempts at large-scale commercial cultivation difficult. Its relative scarcity makes it very expensive. Because its flavor is quite pronounced, however, it can be successfully mixed with regular rice. Even in small quantities it lends elegance to any meal. The most economical way to buy wild rice is in bulk.  more→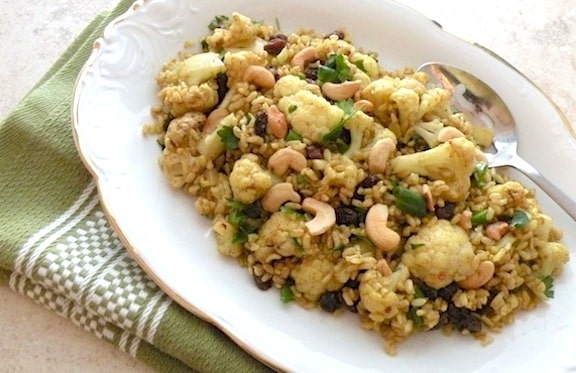 If you're looking for healthy brown rice recipes (that happen to be vegan and most are also gluten-free), here are lots of easy, tasty choices. For information on brown rice nutrition and how to cook brown rice, visit our Brown Rice: Cooking Tips and Varieties page; and for even more on the nutritional benefits of brown rice, see Top 10 Health Benefits of Brown Rice. And if we have to choose our favorites, they'd be  6 Filling and Flavorful Brown Rice Recipes.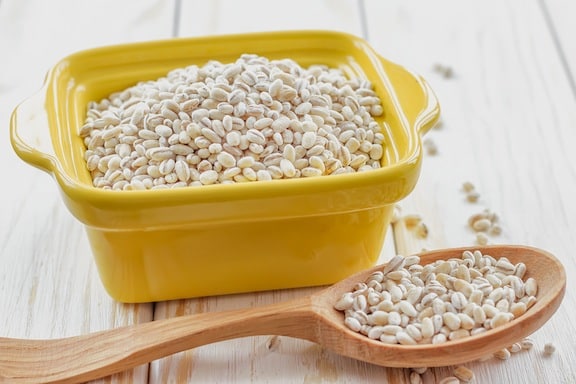 Two kinds of barley are available in natural food stores: pearl barley  and pot barley, sometimes called Scotch barley. Unhulled barley is occasionally available, but it is not recommended except for the purposes of sprouting , since it takes a very long time to cook–and to chew. The most familiar form of barley is the pearled variety. Pearling is accomplished by grinding off the tenacious hulls of the grain with the use of abrasive disks called carborundum wheels. Pearl barley goes through five or six pearlings, removing all of the hull, plus most of the bran and germ. To make pot or Scotch barley, the grain goes through three pearlings to remove the most of the hull and some of the bran. It is therefore more nutritious than pearl barley. more→