Raw Vegan Kitchen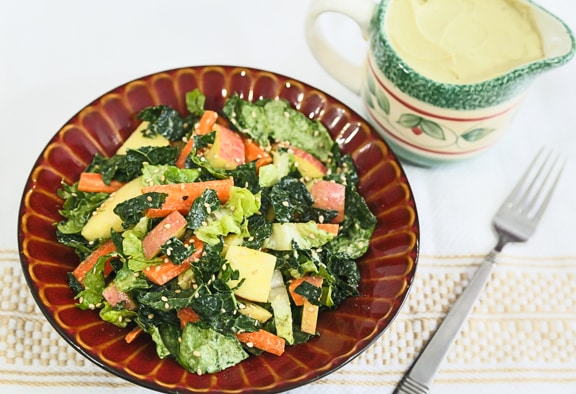 Here's a fresh and crunchy kale salad with a double dose of sesame (tahini and seeds). Did you know that sesame seeds are a good source of calcium? This salad goes with just about any kind of meal — bean and grain dishes, stews, chilies, veggie burgers. Photos by Evan Atlas. more→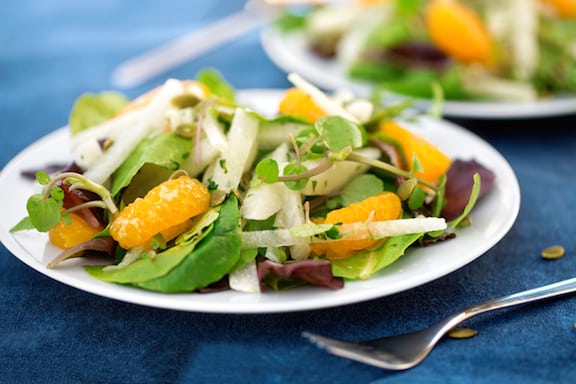 The human race learned long ago that cooking meat before eating it would protect them from parasites. Since then this practice of cooking has grown to include all types of foods and is now considered an art. The average meal generally doesn't include many raw elements, except for the leafy green salad. Here we'll consider 10 benefits of eating raw food.
However, the advantages of eating raw foods bring nature's intentions into focus. When I speak of eating raw I'm referring to fruit, nuts, and vegetables, which taste good to the majority of humankind in their basic simplicity direct from tree, bush or vine.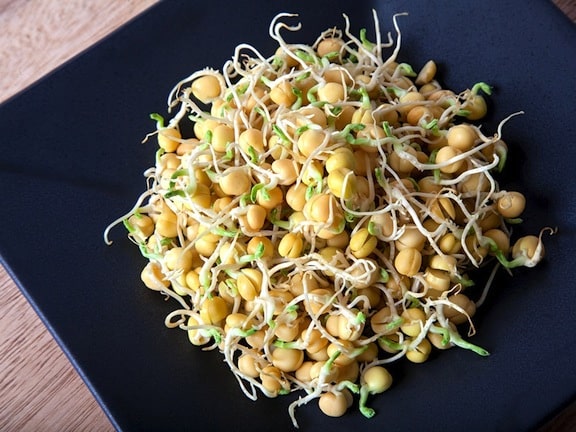 Have you heard? The National Cancer Institute, a member of the U.S. National Institutes of Health, recommends consuming 5 portions of fresh fruits and vegetables everyday. And they recommend sprouts as a good way to help you achieve that goal. We'll explore the many healthy benefits of sprouts here; they're also easy to grow at home.
Sprouts are unique in that they are the only form of agriculture available in all four seasons that can be locally grown—-and that means anywhere in the world, from Africa to Alaska! Their harvest cycle, from seed to salad, is only one week. Not only that, one pound of alfalfa seed, for example, yields 10-14 pounds of fresh "mini-salad" greens. more→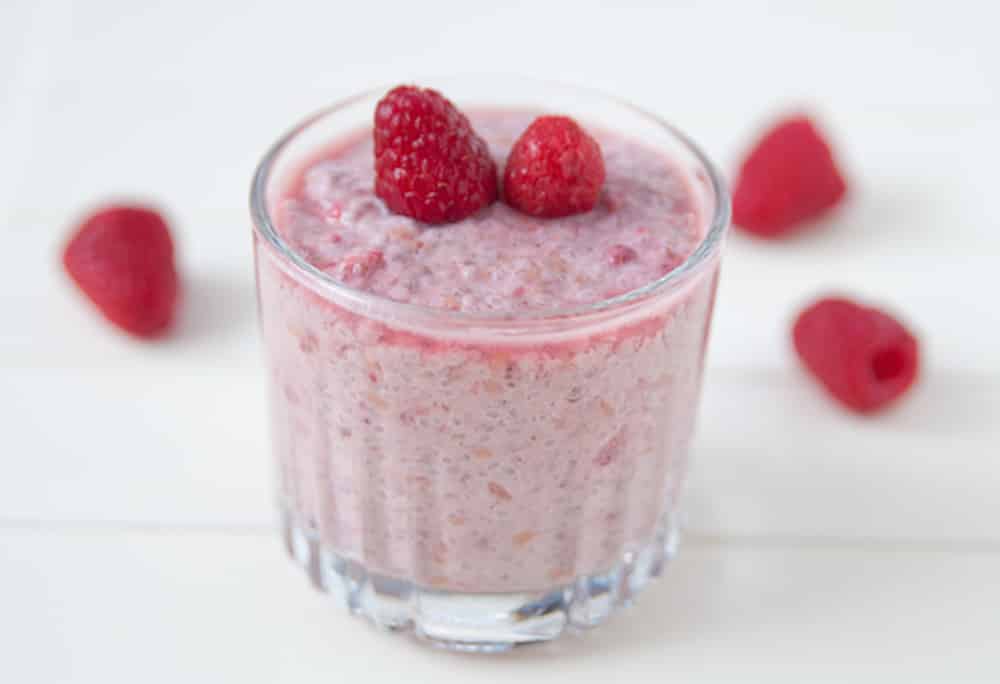 Chia seed pudding has become a popular dessert and breakfast option in the last few years. With the versatility of chia seeds, the wide selection of non-dairy milks on the market, and the hundreds of possible variations of this treat, there's no end to the flavors that you can experiment with. Here we have gotten together some of our favorite chia seed pudding recipes for you to try. And, make sure to learn more about the nutrition benefits of this small but mighty seed in Chia Seeds: Frequently Asked Questions. more→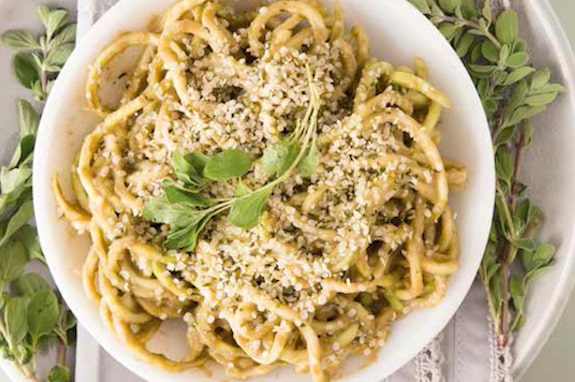 This creamy pesto zucchini noodles recipe is truly noteworthy. The combination of avocado, broccoli, and mushrooms gives the sauce a fluffy yet rich texture that's beautiful to look at. Not a broccoli fan? Opt for a more traditional pesto flavor and use fresh chopped basil instead of the broccoli. For added flavor and texture, garnish with hemp seeds, as seen here.
Excerpted from Cook Lively! 100 Quick and Easy Plant-Based Recipes for High Energy, Glowing Skin, and Vibrant Living—Using 10 Ingredients or Less. Recipes and photos by Laura-Jane Koers. Copyright © 2017. Available from Da Capo Lifelong Books, an imprint of Perseus Books, LLC, a subsidiary of Hachette Book Group, Inc. more→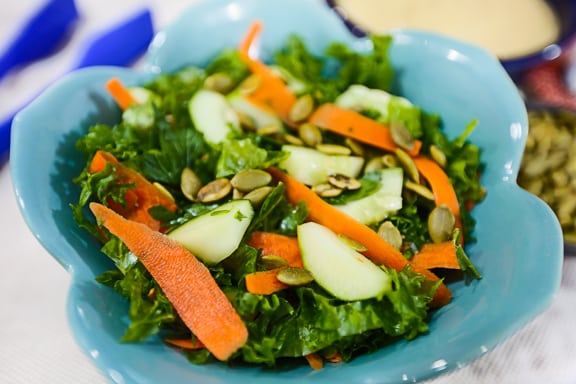 Massaged kale served simply with cucumbers, carrots, and a luscious dressing of avocado and tahini is an incredible treat. It's fantastic as a lighter and more refreshing kale salad to serve in warmer weather, though you can enjoy this any time of year. Adapted from Wild About Greens by Nava Atlas. Photos by Evan Atlas. more→

Source: Fix.com Blog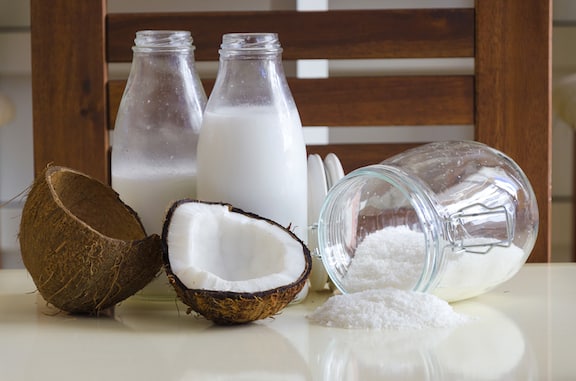 Though you can buy pre-made coconut milk beverages in stores, I love making my own, and it only takes a few minutes. Plus, this doesn't have carrageenan and other questionable thickeners and emulsifiers. Instead, I use sunflower lecithin powder to keep the coconut fat from separating and hardening. Also, make sure to use only unsweetened and preservative-free shredded coconut. Note that this is not the same thing as canned coconut milk, which is very concentrated. This recipe makes about 4 cups (1 quart). Recipe and photo from Raw and Simple Detox by Judita Wignall, @2015 Quarry Books, reprinted by permission.  more→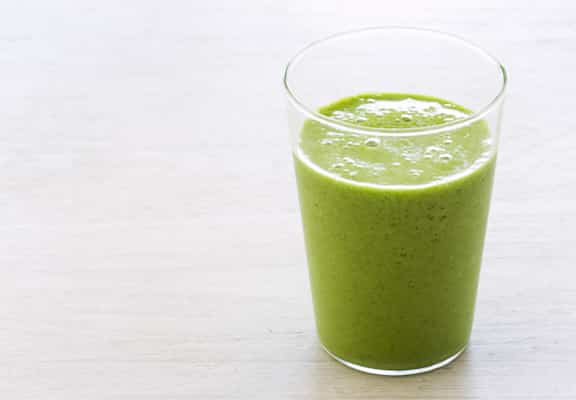 This is a cold-and-flu buster and potent detoxifier, all in one zesty cocktail! The bromelain in pineapple suppresses coughs and loosens mucus, while mint clears respiratory congestion, soothes sore throats, and alleviates nausea. The vitamin C in limes has antibiotic power, anti-inflammatories in kale and pineapple combat arthritis, and ginger boosts immunity, aids digestion, and adds a powerful zing. Reprinted with permission, from The Blender Girl Smoothies © 2014, 2015 by Tess Masters. Photographs copyright © 2014 by Erin Kunkel. Published by Ten Speed Press, an imprint of Penguin Random House LLC. more→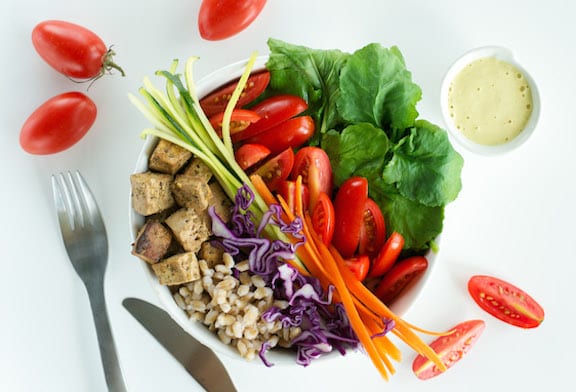 Weekends are my days for loosening up on what I eat. So on Saturday and Sundays after lunch I enjoy dessert and a big soy latte and a little something sweet post-dinner. By Sunday evening I usually feel ready to get back into full-on healthy mode and a simple "bowl" filled with good grains and lots of vegetables makes me feel slightly virtuous and ready for the week ahead. Recipe and photo by Ann Oliverio of An Unrefined Vegan, from Crave, Eat, Heal: Plant-Based Whole Food Recipes to Satisfy Every Appetite* reprinted with permission © 2015 Front Table Books. more→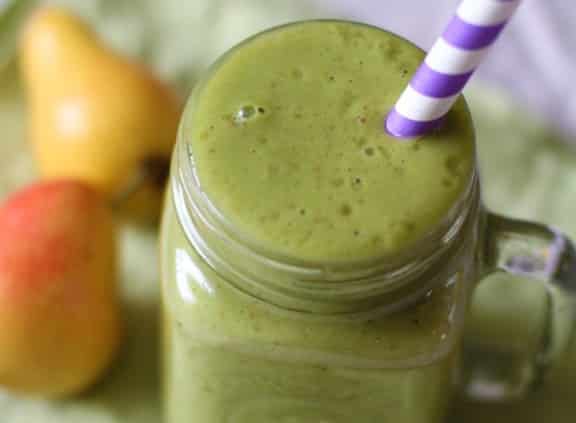 I used forelle pears for this smoothie, as they are cute and adorable and bite-size. Okay fine, not only because of that, also they are quite sweet and have a bit of a cinnamon spice flavor (making them perfect for kid-friendly snacks or smoothies). This variety is only available from about September until December, so use another kind of nicely ripe yellow pear at other times or if unavailable. I call this smoothie my winter blend; because of the pear variety and also because it's not a freezing cold drink. If you want to make it colder, go ahead and add a few ice cubes. This makes 1 large or 2 moderate smoothies. Recipe and photos contributed by Sophia Zergiotis of Love and Lentils.
more→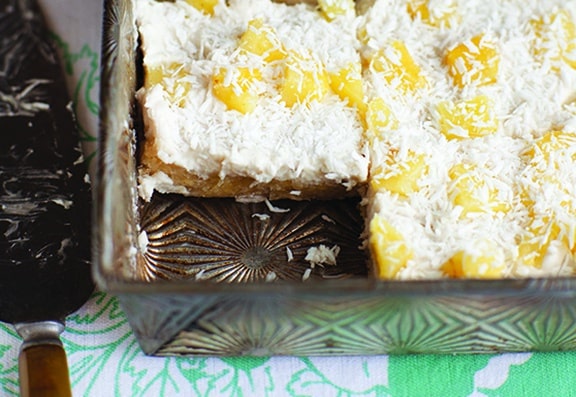 These treats aren't too sweet if you use unsweetened coconut. Alternatively, you can substitute 2 to 3 tablespoons of sweetened coconut for part of the unsweetened coconut and omit the confectioners sugar. If you don't have dark rum, use ½ to 1 teaspoon rum extract and make up the rest of the liquid (to equal the 1 tablespoon) with pineapple juice or a little water or almond milk. Recipe from Vegan Without Borders* by Robin Robertson/Andrews McMeel Publishing, LLC ©2014, reprinted by permission. Photos by Sara Remington.