Raw Veggie "Noodle" Dishes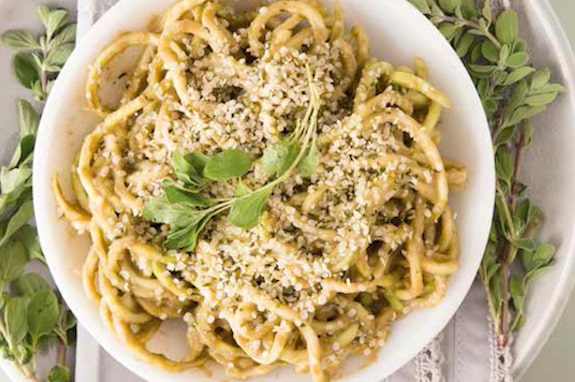 This creamy pesto zucchini noodles recipe is truly noteworthy. The combination of avocado, broccoli, and mushrooms gives the sauce a fluffy yet rich texture that's beautiful to look at. Not a broccoli fan? Opt for a more traditional pesto flavor and use fresh chopped basil instead of the broccoli. For added flavor and texture, garnish with hemp seeds, as seen here.
Excerpted from Cook Lively! 100 Quick and Easy Plant-Based Recipes for High Energy, Glowing Skin, and Vibrant Living—Using 10 Ingredients or Less. Recipes and photos by Laura-Jane Koers. Copyright © 2017. Available from Da Capo Lifelong Books, an imprint of Perseus Books, LLC, a subsidiary of Hachette Book Group, Inc. more→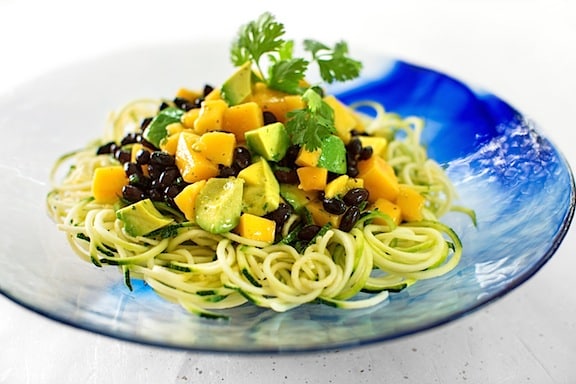 Mango and avocado salad is a summertime classic. In this recipe, I take that one step further by adding black beans and cilantro. I then pile it on top of spiralized zucchini for a quick, easy, and refreshing meal. From Choosing Raw: Making Raw Foods Part of the Way You Eat by Gena Hamshaw. Reprinted with permission from Da Capo Lifelong, © 2014. Photo by Hannah Kaminsky.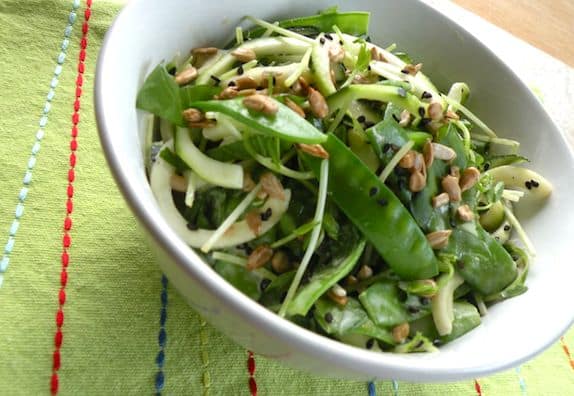 This very green salad has a contrast of flavors and textures, from the crunch from the snow peas to the tender raw zucchini "noodles." Though nice and light, the sesame dressing and two kinds of seeds — sesame and sunflower — give it substance.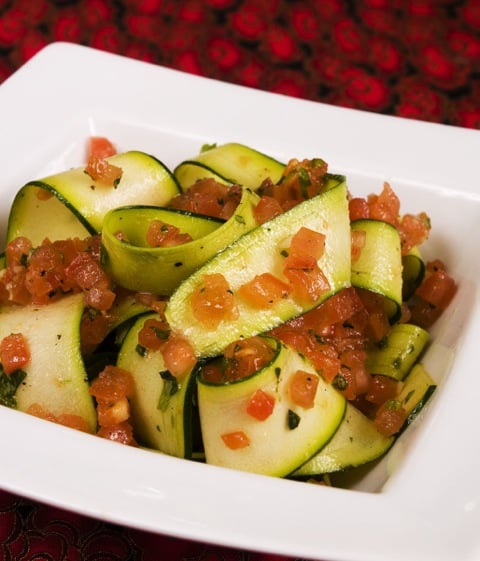 This raw zucchini noodle side dish is low in calories, a breeze to prepare, and fabulous fare on a hot summer night. The zucchini strips really do look and taste a lot like fresh pasta. Recipe contributed by Laura Theodore, from Jazzy Vegetarian, Lively Vegan Cuisine That's Easy and Delicious  (Book Publishing Company), reprinted by permission. Photo by Warren Jefferson. more→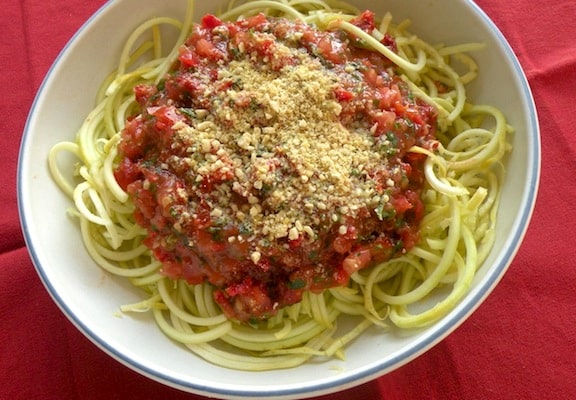 Making raw spaghetti-like "noodles" with a spiral slicer (I got the one made by World Cuisine* and enjoy it quite a bit) is all the rage among those who have adopted raw food diets. It's also a boon to those who've gone gluten-free, as well as gardeners who have more squash than they know what to do with. For anyone else who just wants to eat lighter and fresher during the summer, it's just plain fun. more→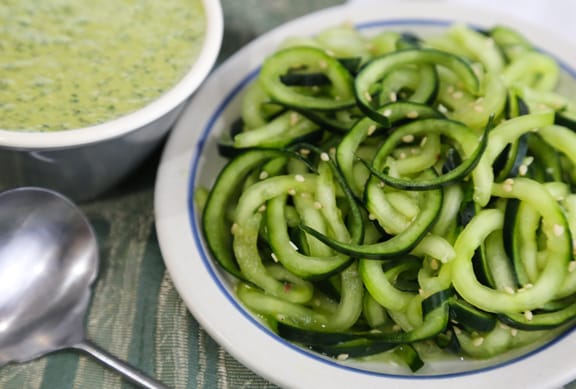 Here's a fun salad (I love when the words "fun" and "salad" appear side by side!) to make with a spiral slicer. Cucumbers become practically calorie-free "noodles," gently embellished with lime, agave, and sesame seeds. Though good just as it is, if you'd like to add another flavor dimension, serve with Green Goddess Dressing. Photos by Evan Atlas. more→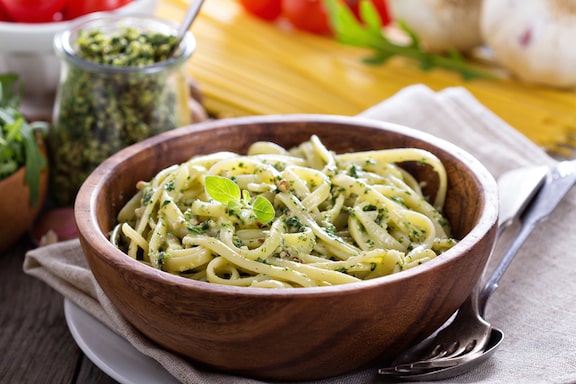 This delicious pesto turns ordinary carbs into special meals. You can use this as suggested below for serving with pasta, pizza, or potatoes. Or skip the carbs as I've done here, and toss this pesto with "noodles" made of raw zucchini and/or yellow summer squash made with a spiral slicer. No matter how you use it, this pesto, made greener with spinach, imparts a rich, briny flavor from the addition of miso.  more→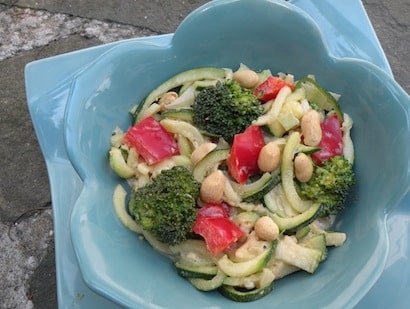 When the heat gets this intense, I try to make meals that don't require much if any heat (even if the AC is on!). I've really enjoyed my spiral slicer, which makes instant "noodles" from raw zucchini. Now, don't get me wrong — I have no problem with pasta, but in the summer heat, zucchini noodles just feel lighter. And they're ready pretty much instantly, with a few cranks of the lever, and no heat needed. If you don't have a spiral slicer, you can use your favorite noodles — rice noodles, bean-thread noodles, soba, or linguini —this works with all of them. more→