Tofu, Tempeh, and Vegan Sausage Main Dishes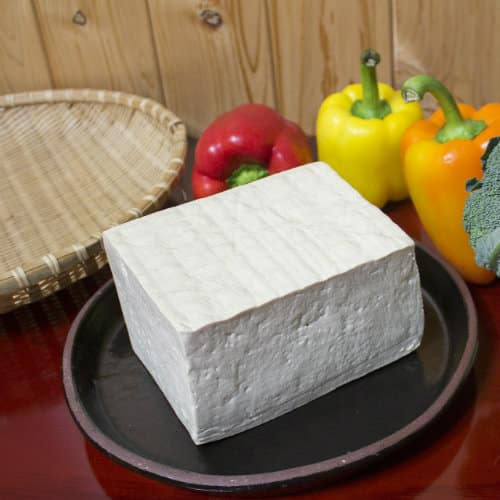 Tofu has become very popular in the United States, and it is an essential element in most vegan diets. The soy-based product is incredibly versatile, and it can be used in several cuisine applications. But, where did it come from and how is it made?  Here is a little history and some fun facts about tofu that you may not have known about this food that we love.  
more→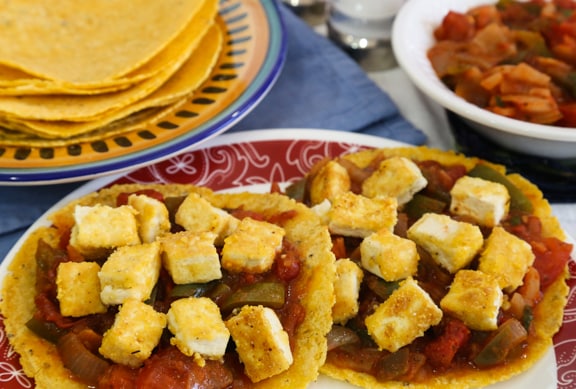 A veganized version of huevos (eggs) rancheros, this dish of tofu prepared with Southwestern flavors and nestled on corn tortillas, makes a nice brunch or light dinner dish. Serve with a simple potato or bean dish (shown here with Beer-Stewed Pinto Beans) and a platter of sliced avocado and oranges for a complete meal.  more→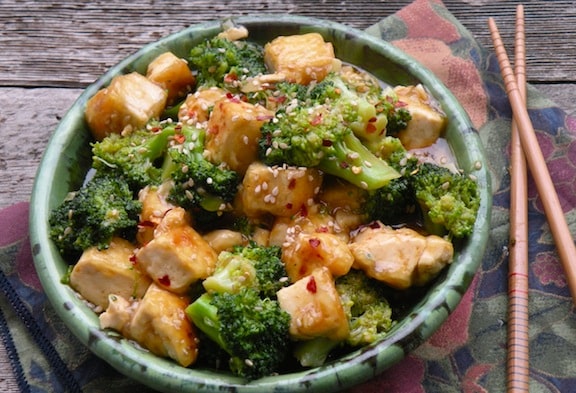 This stir-fry is inspired by General Tso's Tofu, but dispenses with the cornstarch-battered, deep-fried tofu. I've tried it that way and find this version, with pan-sautéed tofu, plenty of broccoli, and a savory, sweet, and spicy sauce even more appealing. It's easy and fast, too.  more→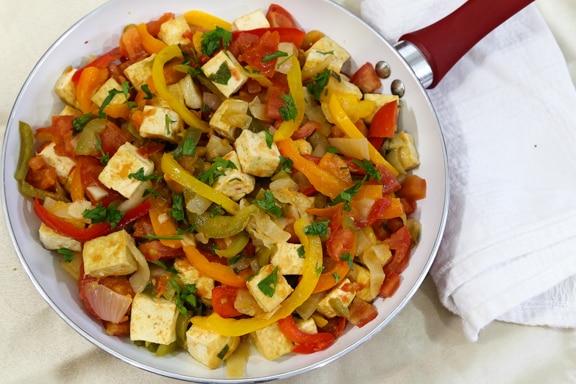 Here's an enticing way to showcase tofu with colorful peppers in a stovetop sauté. It's a good summer main dish when you want dinner on the table quickly. Serve with a simple cooked grain or potato dish and a big fresh salad. Photos by Evan Atlas.  more→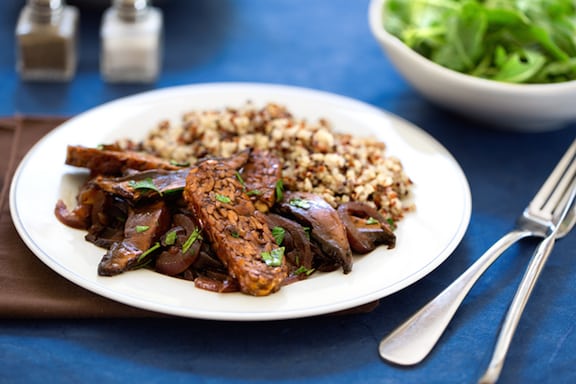 Tempeh, portobello mushrooms, and miso contribute a "meaty" heartiness to this dish, and balsamic vinegar provides a bit of tang. Serve this sumptuous stew-like sauce over a cooked grain—a mixture of long-grain rice with kasha or wild rice is one of my favorites—or on pasta. Contributed by Susan Jane Cheney, from Stir Crazy!* Reprinted by Permission. Photos by Hannah Kaminsky.   more→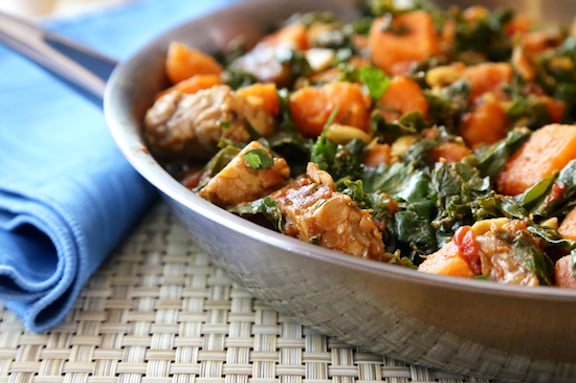 This supremely nourishing trio of ingredients — tempeh, kale, and sweet potatoes — are the basis of a quick, colorful, and comforting meal. It's an adaptable dish, too—don't like tempeh? Use tofu, seitan, or a can of chickpeas or white beans instead. It's great with chard in place of kale, as well. Great served with any of the slaw recipes on this site. Photos by Evan Atlas.   more→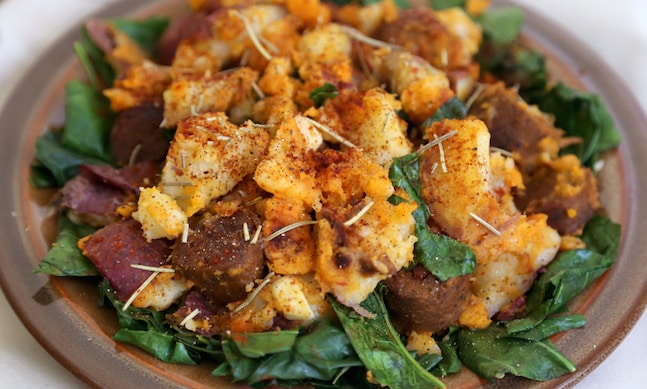 Here's a hearty dish of potatoes and vegan sausage, highlighting calcium-rich collard greens. It's so hardy, that all you need is a simple salad or slaw to complete the meal. Photos by Evan Atlas.
Serves: 4 to 6
4 medium-large Yukon gold or red-skinned potatoes
1 large sweet potato
2 tablespons extra-virgin olive oil
3 to 4 cloves garlic, minced
1 good-sized bunch collard greens (8 to 10 ounces)
2 links Tofurky or Field Roast vegan sausage, cut into 1/2-inch-thick slices
1/4 cup white wine, vegetable broth, or water
Leaves from 2 sprigs fresh rosemary,
or 1 to 2 teaspoons dried rosemary leaves, to taste
1 teaspoon sweet paprika
1/4 teaspoon dried hot red pepper flakes, or to taste
Salt and fresly ground pepper to taste
Cook, bake, or microwave the potatoes and sweet potatoes until they can be pierced with a fork but still firm. When cool enough to handle, cut in half lengthwise, then cut into 1/2-inch-thick half circles.
Cut away the thick mid-ribs from the collard greens and cut the leaves in half lengthwise. Rinse well, then, stacking several leaves at a time, cut them into thick strips.
Heat the oil in a large skillet or steep-sided stir-fry pan. Add the garlic and sauté over low heat until golden.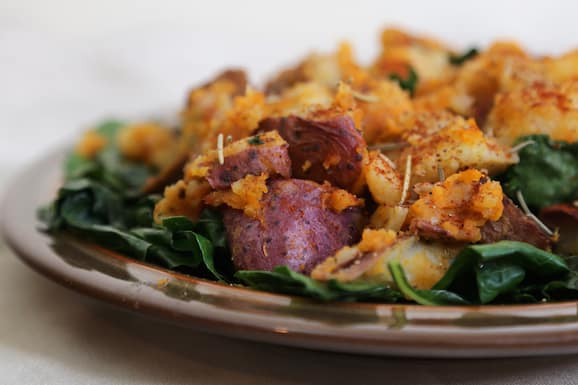 Add the potatoes, collards, sausage, and wine (or broth or water). Turn the heat up to medium high and cook, stirring frequently, until the collards are bright green and tender-crisp and the potatoes and suasage are touched with golden spots here and there.
Sprinkle in the rosemary, paprika, and red pepper flakes and cook for two to three minutes longer, stirring frequently. Season with salt and pepper and serve.
Nutrition Information:
Per Serving (based on 4 servings): 318 calories; 43g carbs; 12g fat; 15g protein; 226mg sodium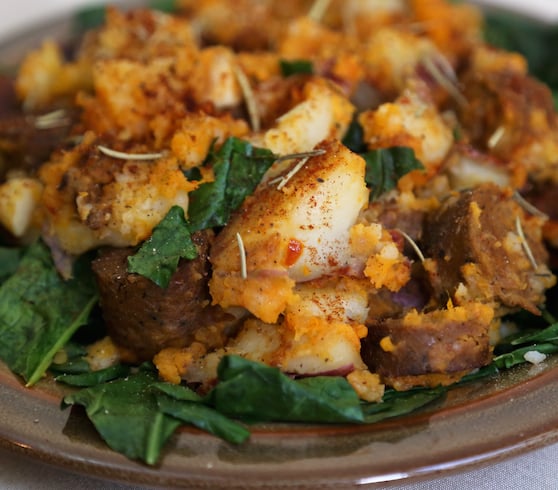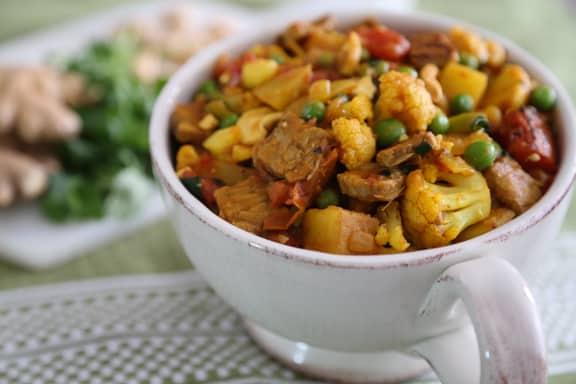 Even those who aren't quite sold on tempeh will be enticed by this delectable, veggie-filled curry. Cauliflower, potatoes, plenty of spices, and tasty cashews add up to a colorful and warming stew. Photos by Evan Atlas.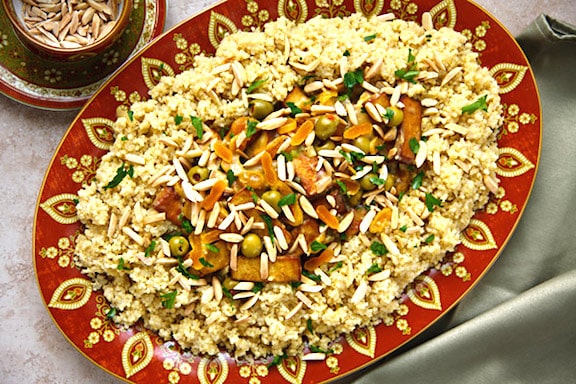 Bursting with an offbeat combination of flavors—salty, sweet, mellow, and tart—this recipe is inspired by a classic Moroccan recipe. This is a wonderful choice for a vegan main dish for a Jewish New Year (Rosh Hashanah) menu. Most of the original ingredients remain in this veganized recipe; the baked tofu stands in for the chicken customarily used in this dish. Don't be daunted by the ingredient list; it's an easy dish that comes together quickly and is also a feast for the eyes. Recipe adapted from Vegan Holiday Kitchen. Photos by Susan Voisin.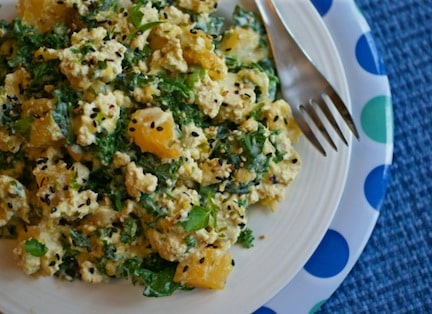 This recipe contributed by Ricki Heller, from Diet, Dessert and Dogs proves that you don't need a ton of ingredients to create a flavorful recipe. This delicious and very pretty tofu scramble features pumpkin or butternut squash and kale, making it perfect seasonal fare for a super-quick dinner (providing that your pumpkin or squash is pre-baked; see VegKitchen's tips here, brunch, or even a hearty breakfast. more→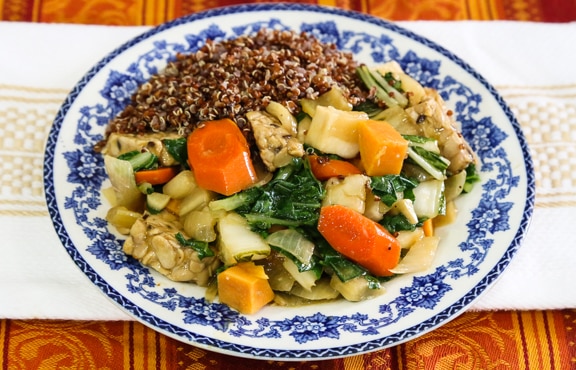 Tempeh soaks up a sweet and sour marinade; then teams up with a colorful combination of autumnal vegetables in this satisfying cool-season stir-fry. Serve over long-grain rice or with quinoa.  Contributed by Susan Jane Cheney, adapted from Stir Crazy! Photos by Evan Atlas. more→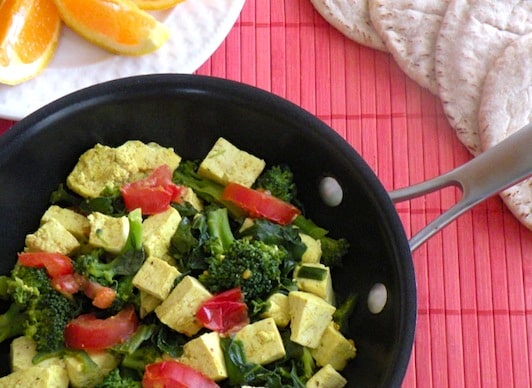 Here's a colorful, veggie-filled tofu scramble that you can enjoy at any meal of the day. You can vary the veggies here according to mood and season. Replace spinach with arugula, kale or chard; substitute zucchini or cauliflower for the broccoli. Sliced mushrooms are always a good addition to scrambles, as well. Serve with fresh fruit and bread for a simple brunch or even an easy dinner. For a heartier meal, add a simple potato dish or baked sweet potato. more→