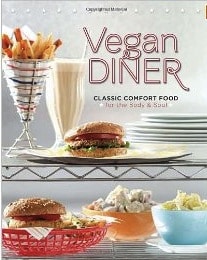 Julie Hasson's new book, Vegan Diner*, recently arrived in my mailbox, and it has been such fun to peruse the recipes as well as enjoy the retro-diner theme of the design and photos. No matter how much us health-nut types love our green smoothies and raw hemp seeds and such, the pull of comfort food is ever strong, and Julie has presented an entire book of comfort food in delicious, healthy vegan renditions.
Allow me to quote myself from the back cover: "From hearty breakfasts to swoon-worthy desserts, Vegan Diner proves that even the coziest of comfort foods can be re-created in fantastic plant-based versions. So enjoy a classic Blue Plate Special or Barbecue Ribz, washed down with a malted and topped of with Banana Pudding Pie. These guilt-free retro recipes are as good for you as they are kind to the planet." This is a really nifty book, packaged so nicely, to add to the growing vegan "canon." Here are some other recipes on my list to try:
Apple Spice Coffee Cake
Blueberry Loaf with Lemon Glaze
Old-Fashioned Tomato Soup
Smoky Seitan Roast
Mushroom Burgers
Double Chocolate Strawberry Pie
I love savory brunch fare and was immediately attracted to this abundant tofu dish, My Big Fat Greek Scramble, a perfect brunch dish any time of year for guests or your own family.
For more on this book, go to its page on Amazon.com.*
*This post contains affiliate links. If the product is purchased by linking through this review, VegKitchen receives a modest commission, which helps maintain our site and helps it to continue growing!