Vegan Dinner Ideas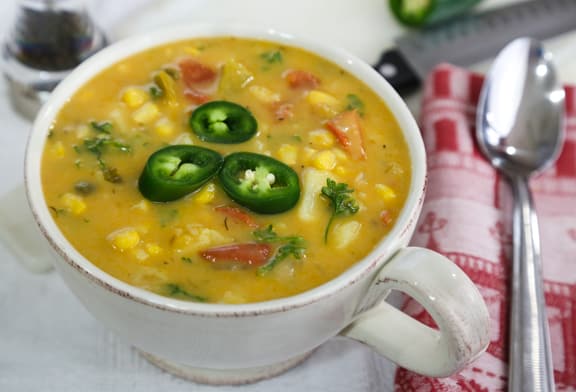 Fall is trying to sneak its way into the air; is your palate is ready? At the first hint of autumn I'm ready to turn on the oven to bake sweet and savory fare, and make soups. Potatoes, Corn, and Green Chile Soup is a perfect transitional soup, making use of fresh corn and tomatoes while at the same time serving as warming and comforting fare. Make a big pot of it and enjoy it for a couple of nights' worth of dinners with a salad or salad-y wraps. more→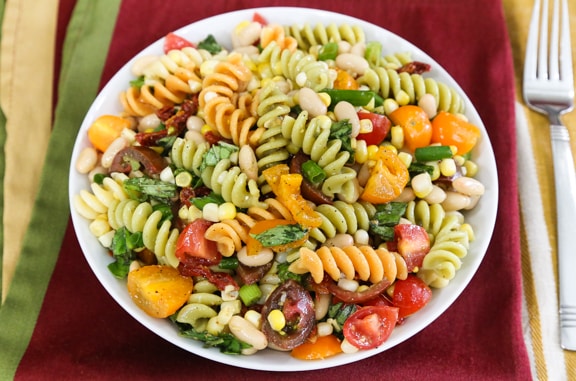 If you live anywhere outside a city, this is the time of year when vegetable garden yields become too much for the gardener. Here are a week's worth of vegan dinner ideas for the late summer harvest. All of us would do well to make good use of tomatoes, corn, zucchini, and other summer squash, August's bumper crops. Pasta Salad with White Beans and Corn, above, is a reliable offering for everyday meals or summer company. Making good use of tomatoes and corn, it's is a delicious accompaniment to grilled or sautéed summer squashes and/or veggie burgers. more→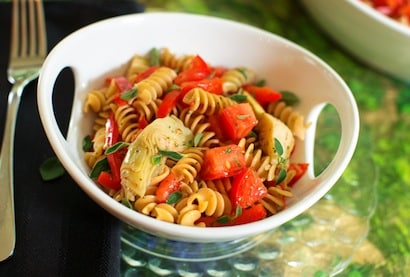 If August's daytime temps have you scrambling to the nearest air-conditioned space, you'll need to get in and out of the kitchen quickly with these cool vegan dinner ideas. It's a good time to use lots of tomatoes and basil, when they're at their most abundant! Let's start with Rotelle with Tomatoes, Artichokes, and Basil. Shown above, it's perfect for using all those ripe, juicy tomatoes from the garden or farm market. Serve with fresh corn. more→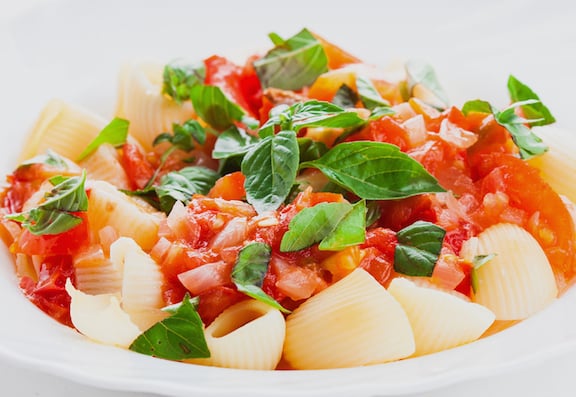 When August rolls around, it's all about the holy trinity of produce — tomatoes, corn, and summer squash (zucchini, yellow squash, and others). This week's vegan dinner ideas focus on these three great late summer veggies for delicious fresh meals. First up, the companionable summer duo—tomatoes and basil—becomes quite a delicacy when teamed with pasta. Serve Cold Pasta with Tomatoes and Basil (above) with corn on the cob for a simple meal. more→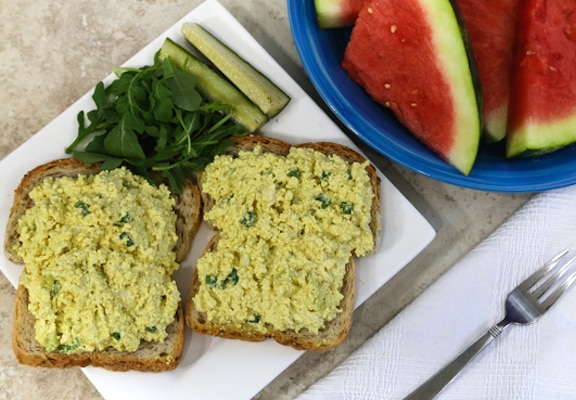 Summer is officially here. Did you know that animal agriculture is one of the biggest contributors to a warming planet? That's why we're presenting these early summer vegan dinner ideas — eating this way is better for the earth and better for you!
This PSA aside, our menus this week require not a single burner to be turned on. Enjoy these cook-free meals, and stay cool as you enjoy delicious meals. First up is a favorite in our home, Tofu Eggless "Egg Salad" that can be spread on fresh bread or stuffed into pitas. Or, if you prefer, dolloped onto a colorful salad. Serve with pickles, salad greens, and fresh fruit for a light and refreshing meal. more→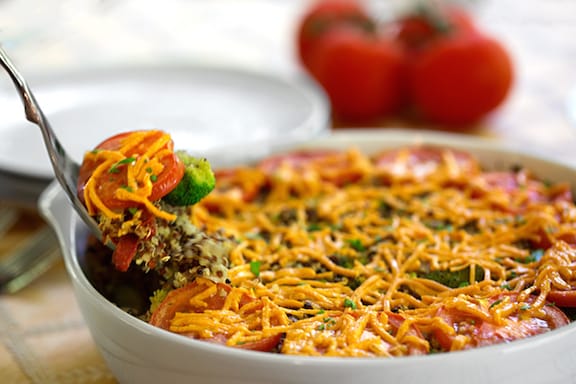 When it begins to look a lot like Christmas (and Hannukah), both in terms of the calendar and according to the weather, I like to precede them by making meals that are purposefully light — kind of in anticipation. So enjoy these vegan dinner ideas, and do some extra exercise in advance, too! Let's start the week with our quick and easy Quinoa, Broccoli, and Vegan Cheese Casserole. Serve with a salad of dark greens and ripe tomatoes. more→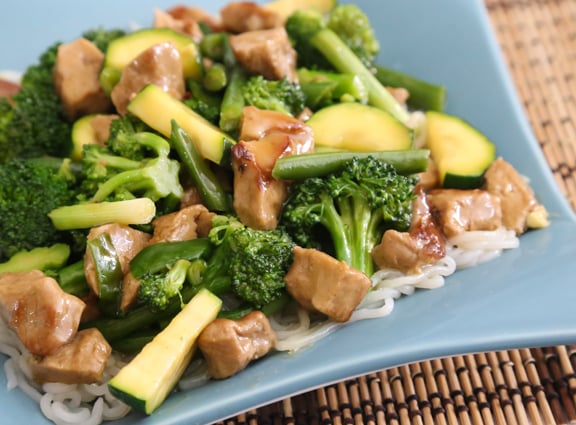 As we head into mid-September, our palates start craving heartier food, even as heat hangs on for a bit longer. Using late summer produce, this week's meals segue from summer to early fall fare —still light but super satisfying. Triple Jade Stir-Fry with Tofu or Seitan is inspired by the dish of the same name served in western Chinese restaurants, "Triple Jade" refers to the three green veggies used — green beans, broccoli, and zucchini. Serve over hot cooked rice or noodles, or on its own. more→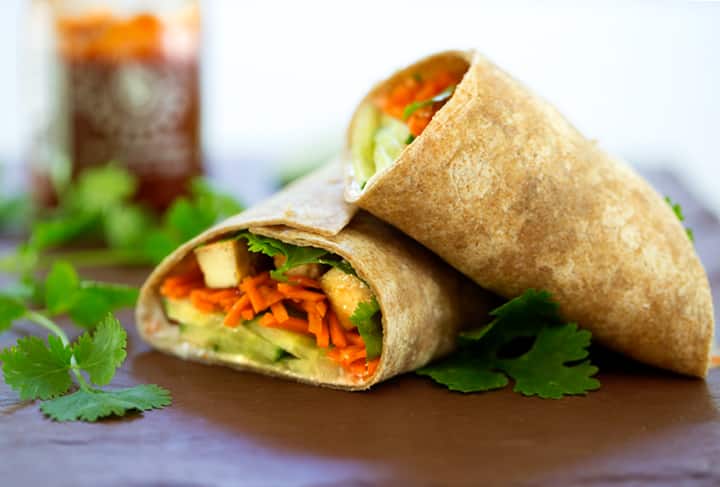 The last full week of August finds many of us getting ready to send the kids back to school, wrapping up vacations, and preparing to get back to the "real world." I'm ready for the crisper days of fall; how about you? Meanwhile, let's enjoy some tasty summer fare with these vegan dinner ideas. Robin Robertson's Vietnamese-Flavored Tofu Wraps (above) have all the bold flavors and textures of bahn-mi sandwiches, but without the French bread. Serve with a simple potato or grain dish. more→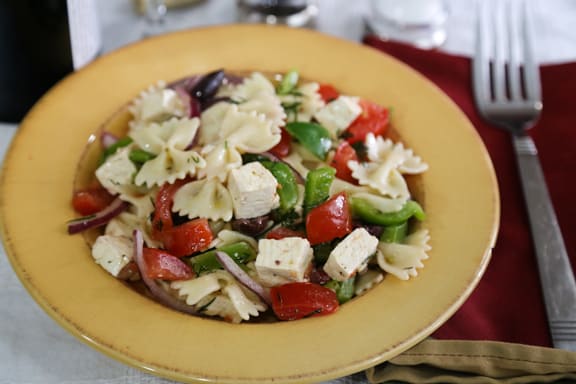 If the weather isn't doing what we'd like it to by mid-August — namely, cooling down a bit, or at least, offering cooler nights, we suggest trying these vegan dinner ideas that require little or no cooking. Simple, refreshing, and fast! First up, in Greek Pasta Salad, using pasta in place of the customary lettuce in a Greek-style salad makes it a substantial and lively main dish for warm-weather meals. Serve with fresh corn. Leftovers are great to pack into containers for the next day's lunch. more→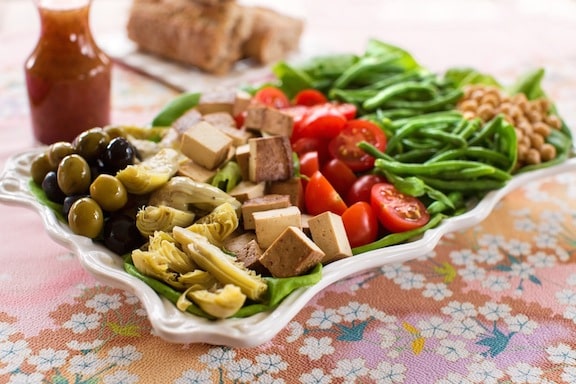 After waiting all winter and spring for summer to return, I have to admit that the last days of July find me starting to long for fall. I know, we're supposed to live in the moment, but I just can't make peace with heat.
When it comes to vegan dinner ideas, I think of the saying, "If you can't stand the heat, stay out of the kitchen." We take that to heart this week by presenting meals that require little or no heat. Shown above, Vegan Niçoise-Style Salad is a beautifully composed salad of French origin that looks fancy but is incredibly easy to make. The traditional version is often made with tuna, but here the fish is replaced with baked tofu, which makes a great stand-in. White beans or chickpeas, slender green beans, tomatoes, and olives makes it a splendid main dish salad for a summer meal, either on busy weeknights or festive occasions.  more→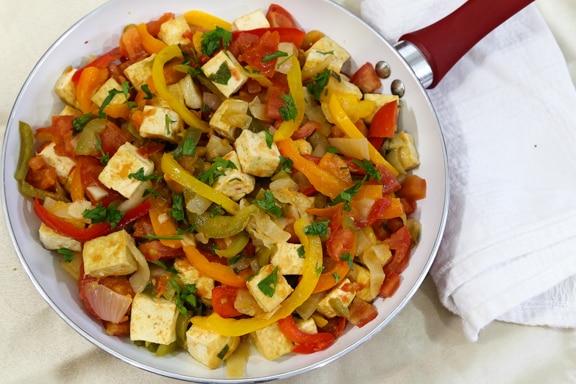 Mid-summer means taking advantage of the season's produce when considering vegan dinner ideas — tomatoes, corn, peppers, bolstered by simple plant-based proteins — beans, pasta, lentils. Let's start with Summer Tofu Skillet with Tomatoes and Bell Peppers. It's an enticing way to showcase tofu with colorful peppers in a sauté that goes from stovetop to table quickly. Serve with a simple cooked grain or potato dish and a big fresh salad. more→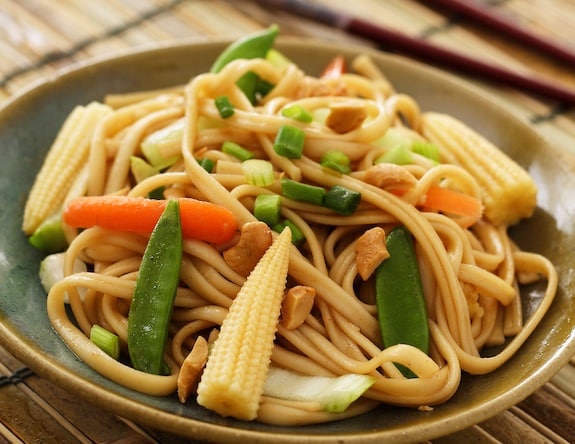 Our midsummer vegan dinner ideas feature the best of the season's produce, and promise to get you in and out of the kitchen in no time. What more can you ask of hot weather dinners? Filled with crisp veggies that need only a little prep but no cooking, Hoisin-Flavored Cold Asian Noodles with Crisp Veggies, at top, is a great warm-weather main dish. Serve with your favorite tofu or tempeh dish for an appealing light meal. more→