Vegan Dinner Ideas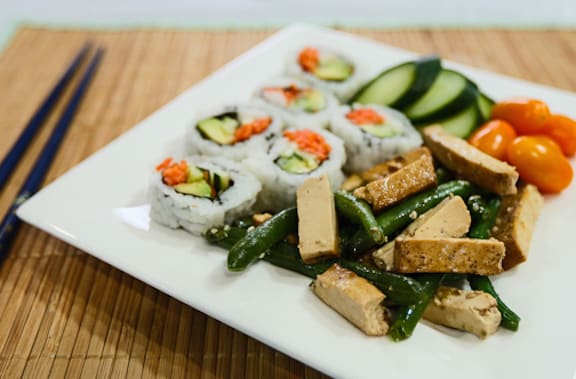 Summer produce season is in full swing, so let's take full advantage of it in this week's vegan idea dinners. Case in point — good, fresh green beans are still one of the veggies that have a short season (at other times, they can be tough and stringy). Grab some while you can (preferably organic) to make Easy Sesame Green Beans with Tofu. This simple stir-fry features them along with baked tofu. Serve with store-bought vegetable sushi and a platter of tomatoes and another raw vegetable or two (cucumbers, peppers, etc.) more→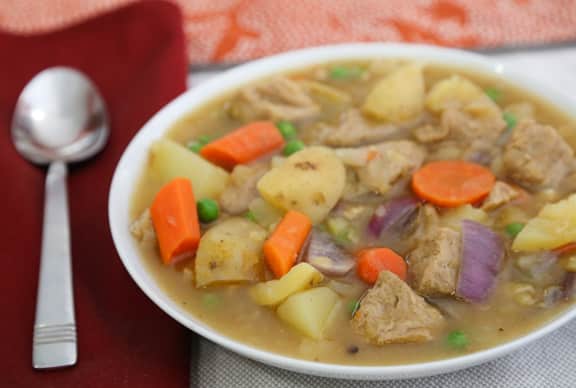 Warm up with a week's worth of vegan dinner ideas for fall that are filing and flavorful. First up, seitan gives our "Meat and Potatoes" Stew a hearty texture, and combined with potatoes and carrots, adds up to quite a  comforting dish. Serve with a simple slaw and some steamed broccoli or greens. more→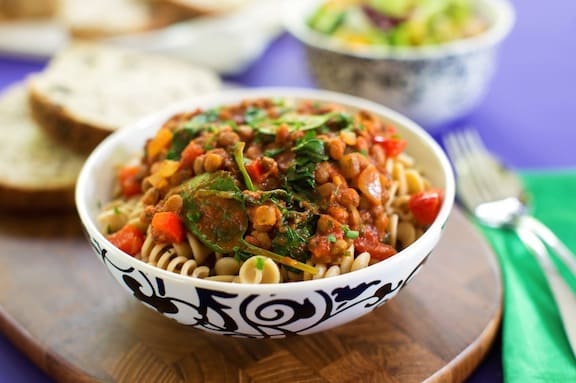 Here are a handful of vegan dinner ideas for mid-October, that in-between time of year when you just don't know if you're going to have a heat wave or a cold snap. Make Pasta with Hearty Lentil and Spinach Sauce on Monday, and chances are you can enjoy leftovers the next night (or pack some for your portable lunch). Easy and substantial, this can easily become your go-to plant-powered pasta dish. All you need to complete the meal is a colorful salad. Add some fresh bread if you'd like. more→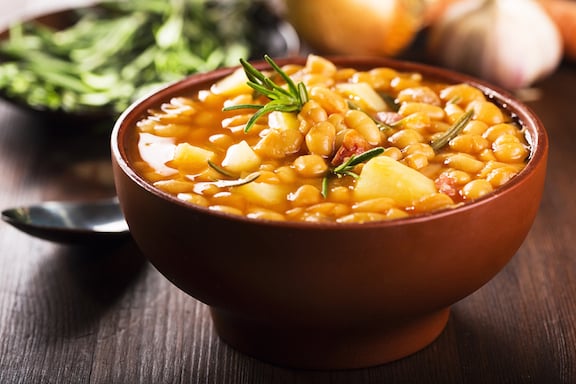 Are you starting to crave warming, hearty, but not yet wintery meals?  Here's a handful of vegan dinner ideas to inspire your early- to mid-October meal planning. Provençal Bean Stew (above) is a meatless version of a classic rustic French recipe. A fresh, crusty French baguette is perfect for soaking up its delicious broth. And it doesn't take long to make! A bountiful tossed salad makes it a complete meal. more→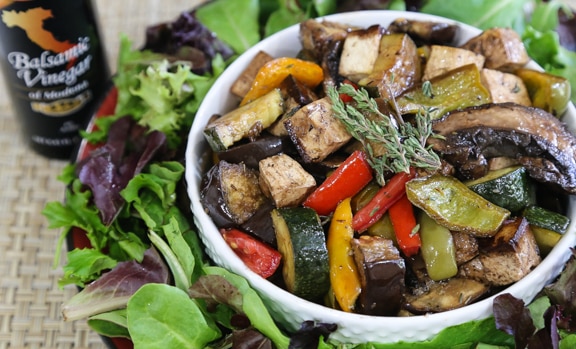 October is just around the bend, which means fall is in full swing. Hints of nippy air alternate with Indian summer, so where food is concerned, transitional mode is the watchword this week. Here are five entree selections that are hearty yet suitable to evenings that are cool but not quite cold and use plenty of early fall produce. Tofu with Balsamic-Roasted Italian Vegetables (above)  is easy enough to make on a weeknight. It's good served hot over grains, or just warm over greens as a main-dish salad. more→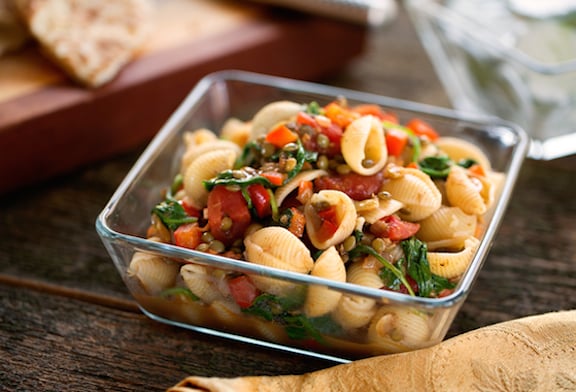 Fall has finally arrived (at least on the calendar), so it's time to break out the soup pot and turn on the oven! This week we feature five dinner centerpieces that fit nicely into the realm of transitional meals. When you shop for the week, make sure to pick up plenty of spinach, sweet potatoes, and quinoa. Spinach and lentils often paired Indian cuisine, and in this easy Curried Pasta with Spinach and Lentils, they're given an unusual context when combined with pasta. For a delicious meal, serve with a fresh flatbread and sliced cucumbers in coconut yogurt, embellished with cilantro. more→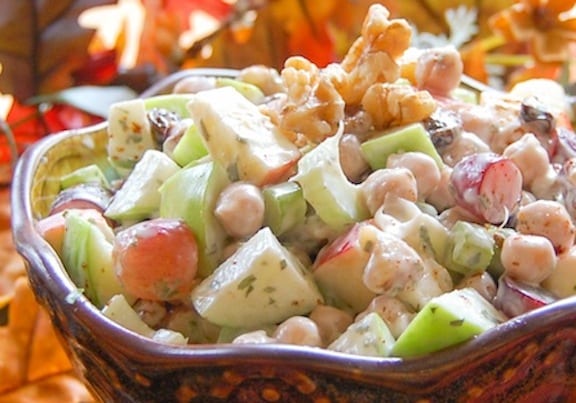 Dear summer: You've been really lovely, and have gone by incredibly quickly, as all summers before you have done. But it IS September, and it's still really hot most everywhere. It would be nice to enjoy some warming soups and stews, and make all kinds of baked goods and such with the apples that are abundant at the moment. So could you please go away for now, and let fall begin? Signed — Looking Forward to Fall.
If you're like me, you're looking forward to a bit of nip in the air and change-of-season foods. But even here in the Northeast where I live, summer isn't letting go. For now, here are five recipes that will help your kitchen stay cool, yet which give a hint of autumnal flavors. more→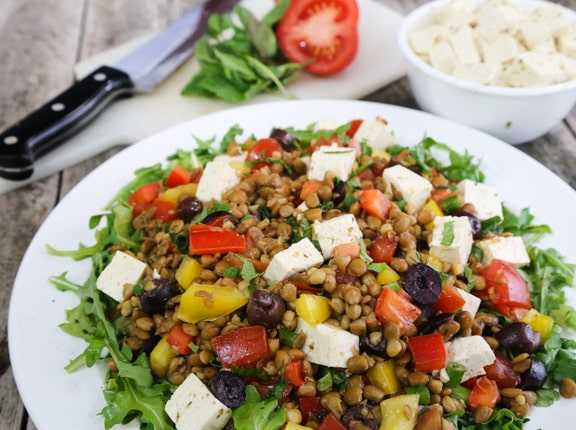 Summer hangs on by its fingernails, with its unofficial end not coming until next Monday, a late Labor Day on September 7th. And to prove its point, it's still hot, even for this time of year, almost everywhere. So this week, we'll keep the heat down to a bare minimum in these easy late-summer meals. 
Greek-Flavored Lentil Salad with Tofu Feta —above — is easy enough to make for everyday meals, and impressive enough to serve on special occasions. So if you miss out on making it today, consider it for your Labor Day weekend festivites. All you need to finish the meal is a crusty bread or pita and some hummus to spread on it. End with fresh summer fruit. more→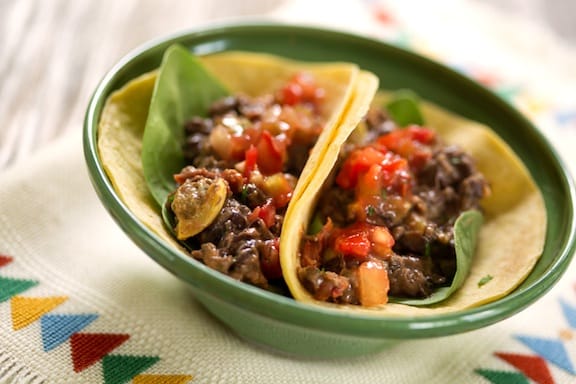 The other day while grocery shopping I noticed a huge Halloween display. Talk about scary —and just plain wrong! It's still August; who wants to think of the short days and chilly nights of late October? Best to stay in the present and focus on enjoying late summer produce, especially tomatoes, squashes, and corn, which are featured abundantly in this week's meal plan. Start the week with garlicky and smoky Black Bean and Summer Squash Soft Tacos. They're easy to make and even easier to serve, as everyone assembles their own tacos at the table. Complete the meal with one of our Easy and Tasty Slaws and some sliced ripe tomatoes. more→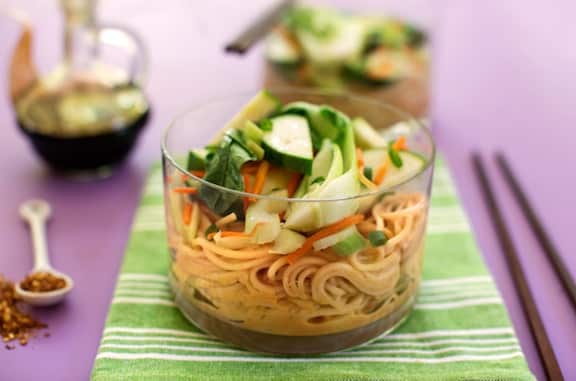 August is asserting itself with blazing heat almost everywhere. So when it comes to this week's dinner plans, we want to keep the cooking to a minimum, and make sure to use plenty of late summer's abundant produce, particularly, tomatoes, corn, greens, and squashes. And don't forget to use plenty of stone fruit and melons for desserts and snacks. Cold Peanut Butter Sesame Noodles (above) gives you a hint of tahini and a dash of spice. It's delicious as a summer dinner served with a simple salad of tomatoes, cucumbers, and basil.  more→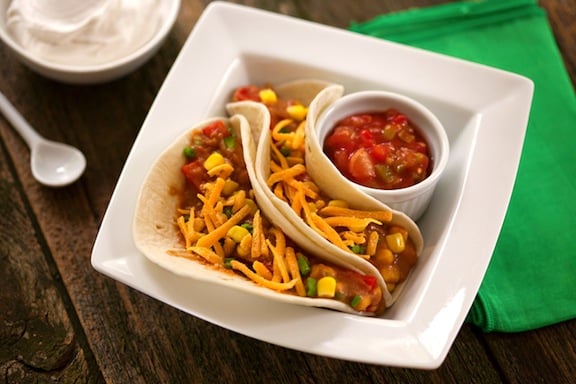 Vegan Soft Tacos with Refried and Corn combines simple ingredients that add up to a sensuous experience in soft tacos. Meant to be eaten with knife and fork rather than picked up as you would crisp tacos, these tacos have got it all. Serve with a simple salad for a great weeknight meal. more→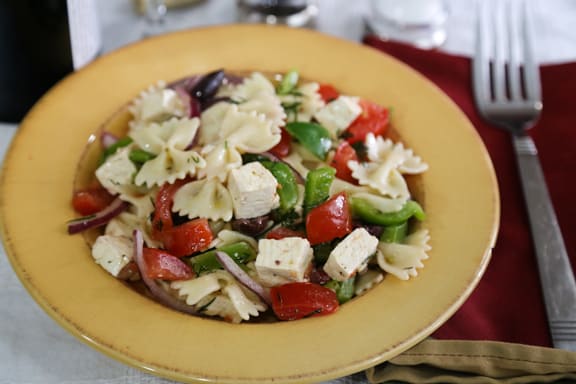 Though most of us love summer, let's hope that this final week in July puts an end to the over-the-top heat. Now we can look forward to the (usually) balmier weather in August. The plus side is that fresh produce of all sorts is continues to be in abundance, so let's take full advantage of it this week in ways that don't require too much heat in the kitchen. Note the judicious use of leftovers from one meal to the next!
The only cooking you'll need to do for Greek-Style Pasta Salad above is the pasta itself. Everything else gets tossed in and seasoned with fresh herbs and your favorite vinaigrette. Pick up some fresh pita, hummus, and stuffed grape leaves to go along with it. more→