Vegan Food Hacks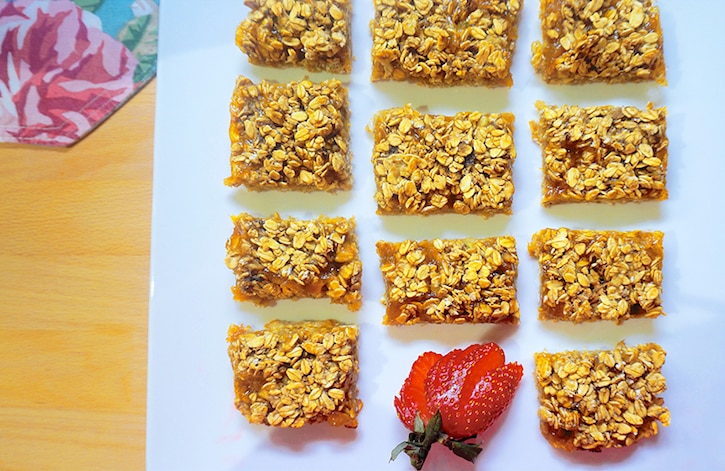 These tasty bars are easy to make, while being easy on the wallet. The sweetness comes from the apricot preserves, and rolled oats provide the crunch. Mashed bananas stand in beautifully for egg, and the vanilla extract really jazzes it up!
Recipe by Laura Theodore, from JazzyVegetarian's Deliciously Vegan. Published by Scribe Publishing, ©2018, reprinted by permission. more→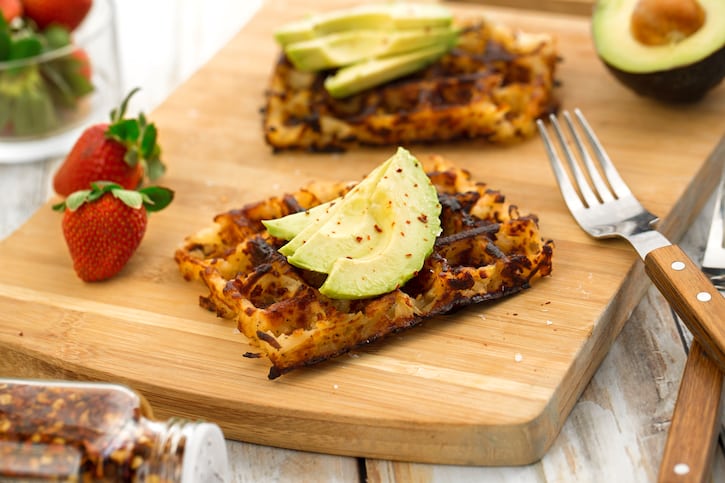 Little more than piles of shredded potatoes, what separates superlative hash browns from the merely adequate hash browns all comes down to texture. Shatteringly crisp on the outside yet tender, even borderline creamy on the inside, it's a fine balance that's difficult to strike.
Using a waffle iron instead of a standard frying pan maximizes the surface contact for a far more satisfying crunchy crust, while the enclosure allows the spuds to essentially steam from within, ensuring perfectly tender bites through and through. Recipe and photos for Hash Brown Waffles  are reprinted with permission from Real Food, Really Fast by Hannah Kaminsky © 2018 by Skyhorse Publishing. more→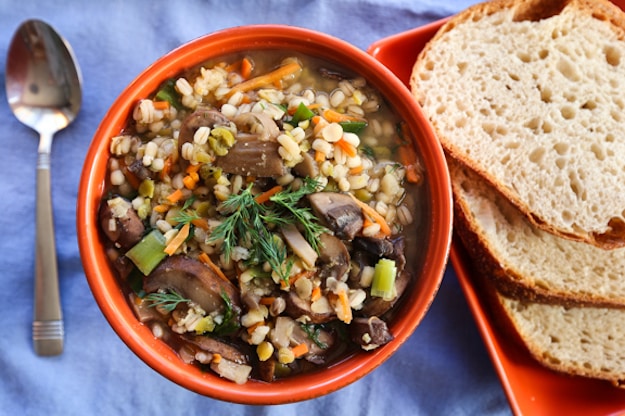 When cold and flu season is in full swing, or if it's simply a bone-chilling winter day, sometimes you need a big pot of comforting soup and you need it now! One of the most soothing bowlfuls ever is mushroom barley soup, and this shortcut vegan version takes at least an hour off the process. Case in point, our Classic Mushroom Barley Soup, which is about an hour and a half or more, from prep to finish. There's not a lot of work time, so when you have more leisure to cook soup, give it a try!
This fast version shaves off the time by using quick-cooking barley and precut fresh veggies. It's just as good as the original, and gets more flavorful as it stands. Look for quick-cooking barley (sometimes called 10-minute barley) in the grains or dried beans section of well-stocked supermarkets and natural foods stores. Trader Joe's has their own brand, too. Or you can search for quick-cooking barley and order online. more→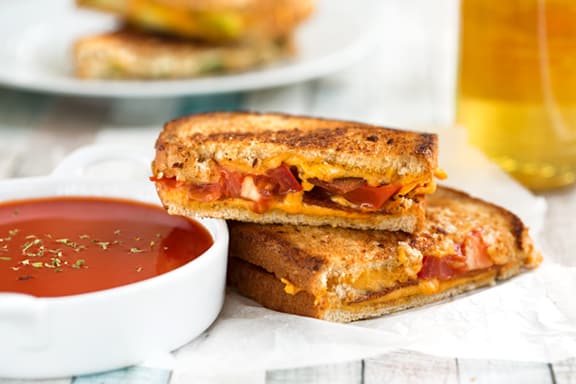 A sign of the uncomfortable times we live in is the cultural craving for comfort food. These days, grilled cheese is hot, so to speak. There are even restaurants devoted almost solely to them. Some even offer vegan grilled cheese sandwiches, not wanting to leave anyone out (see listing at the end of this post). Here we showcase vegan grilled cheese sandwiches 5 ways, that you can make in minutes.
There's no big revelation here, we're not going to hand-craft our cheese or anything like that. But grilled cheese one of those things that many non-vegans still think needs to be sacrificed in a plant-based diet, like pizza. All photos by Hannah Kaminsky. more→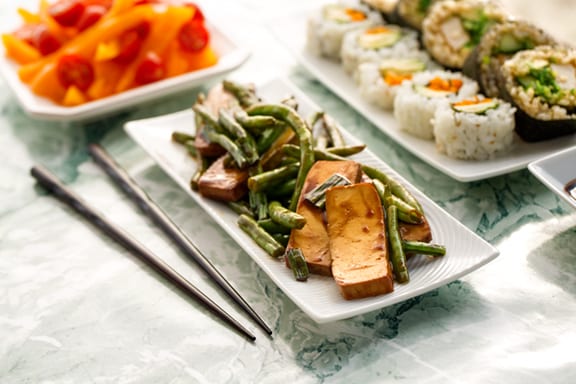 If you'd like to complete our Practically Effortless Tofu and Green Beans Teriyaki as a full vegan teriyaki dinner, here's a fun way to do so with hardly any more work. Add store-bought veggie sushi and a few raw veggies and you've got a crave-worthy meal. When my partner is out of town and I'm dining solo, I daresay that this is one of my favorite vegan dinner hacks!
About that sushi — you didn't think I expected make veggie sushi rolls from scratch, did you? Making rolls at home is a time-sucking food project, not to mention messy. It's not called sticky rice for nothing, and we're not messing around when we call these dinners "hacks." more→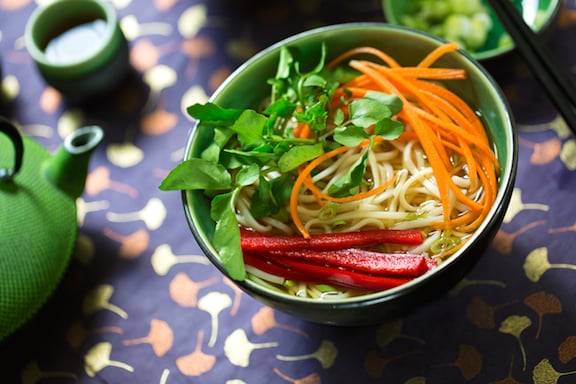 Nothing satisfies like a comforting bowl of soup when you come home feeling tired and chilled, or need a remedy for a cold. But lots of chopping and long wait times for simmering don't have to be part of the equation. Here are 10 warming and super easy vegan soups that combine fresh veggies and shortcuts that result in a good-sized portions. It's no accident that more than half of these aree Asian-style soups, which as a matter of course require little cooking. But they'll all have you saying "Soup's on" in 20 minutes or less! more→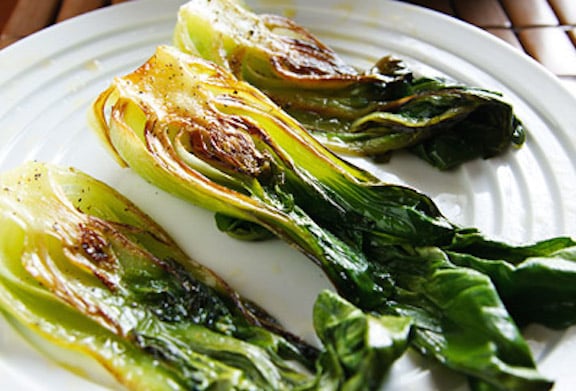 Baby bok choy is at its best in the late winter and early spring, though it's available most of the year round. A nutritional superstar, this vegetable (which can honestly be called "cute") offers a healthy dose of Vitamins K, C, A, and is a great source of calcium.
Seared Baby Bok Choy is a super-quick way to prepare it, showing off its flavor and visual appeal. This is not so much a recipe as an idea, but what a fun idea it is. There's so little prep involved, and no other ingredients to use, so you're on your way to a great vegetable side dish in minutes.
more→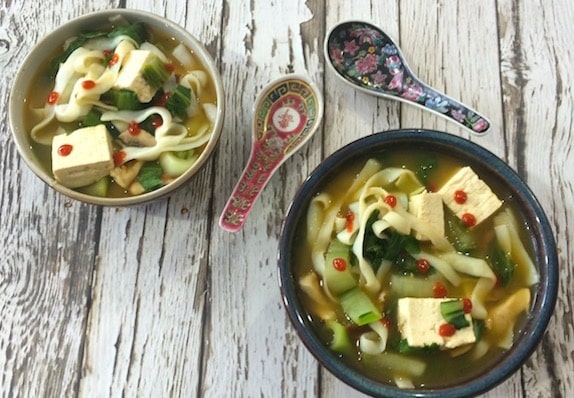 When it's cold and damp outside, or when you're sick with cold or flu, there's nothing like a piping hot bowl of Asian vegetable noodle soup. Perhaps you're tempted to send your significant other to pick up some soup from the local Chinese eatery, as we used to do on such occasions. It was usually something called Bean Curd Vegetable Soup. The veggies were never very vivid or interesting, but still, it provided instant comfort.
This fresh homemade version is ready literally in the time it takes to heat up. Not only do the ingredients take almost no time to cook, they're best if not overcooked. more→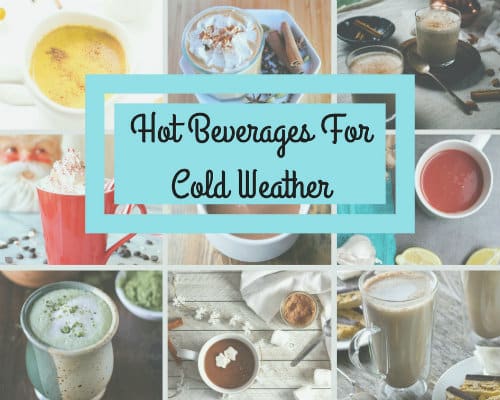 When the days start getting shorter, and the temperatures start to drop, it is nice to have a nice warm mug in your hands. Hot beverages are a large part of that cozy feeling in cold weather. Many of the popular coffee house drinks are not vegan, but you should not have to miss out on these treats when the chill hits the air. That is why we have collected this list of vegan hot beverages for cold weather. Whether you need to cozy up with a book and a blanket, or you are having a family get together for the holidays, this list will have the hot beverages that you need.
more→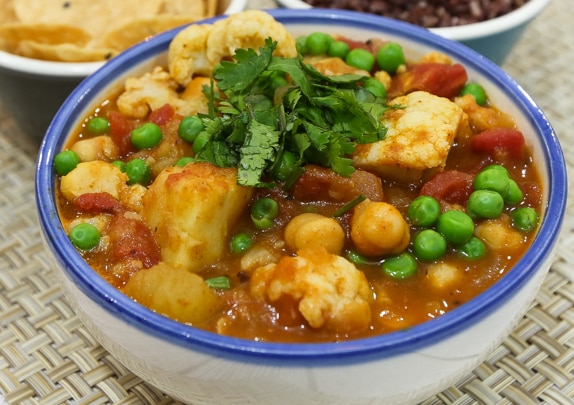 Aloo Gobi is a delectable Indian specialty that features cauliflower, potatoes, and usually peas in a mild, tomato base. I'm not sure my family has ever placed an order, whether eat-in or carry out, that didn't include it as one of our choices. And fortunately it's almost always already vegan, which means it doesn't need to be modified. It's great to be able to make super-quick aloo gobi at home, now that we've found the way — incredibly tasty Indian simmer sauces.
Ever since this new generation of Indian simmer sauces hit the market, we're doing a lot more Indian-style meals at home. Our favorite is the Maya Kaimal line of sauces, but use what's available to you. You'll find Indian simmer sauces at natural foods stores and in the international foods aisle of well-stocked supermarkets. more→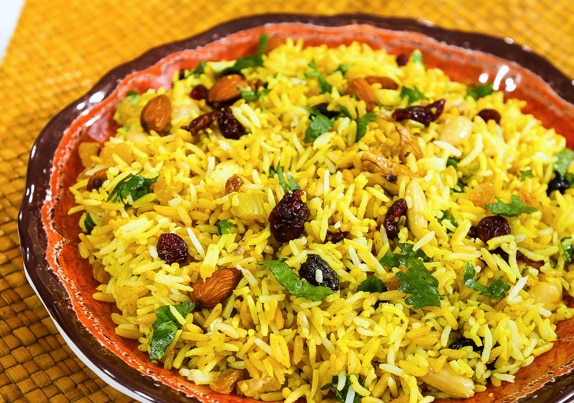 A fantastic side dish for many kinds of meals, especially Indian specialties, what makes this fruit and nut rice pilaf so fruity and nutty is trail mix! Most trail mixes have a nice variety of dried fruits and nuts. As for the rice, you have options. Do you have already cooked rice in the fridge and need to dress it up? Leftover rice from your last Chinese food order (there's always so much of it)? If not, you can use quick-cooking rice or the newest entry into the field of ready-cooked rice that just needs a quick spin in the microwave.
No matter what you choose, this great side is ready in minutes and adds color, texture, and tastiness to any plate. We love this with Super-Quick Aloo Gobi as a complete (and really easy) meal. more→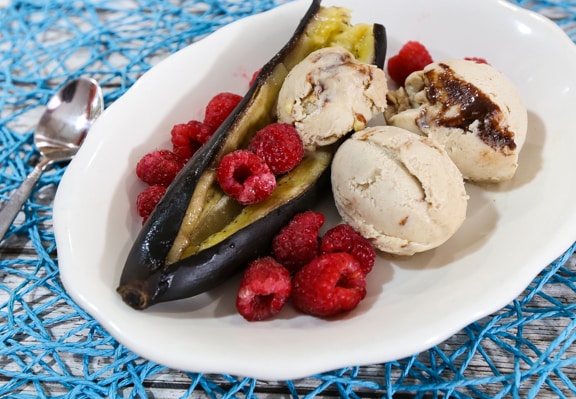 There are three great things to do with overripe bananas — one, bake them into breads or muffins; two, freeze them to make banana ice cream or blend into smoothies, and this is the third — bake them. Apply high heat to the very ripe or overripe fruit. Baked bananas become super sweet, with the consistency of pudding. Add some nondairy ice cream and berries, and you've got an impressive dessert that takes almost no effort to prepare. more→