Hack This!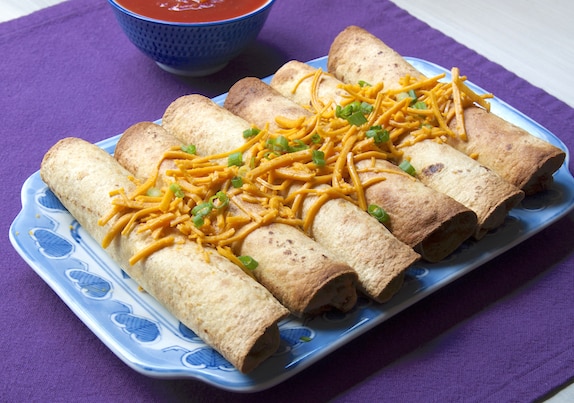 Taquitos (or flautas) are essentially rolled corn-tortilla tacos that are fried. While taquitos are traditionally filled with beef or chicken, these vegan jackfruit taquitos use a plant-based ingredient that gets stringy and meaty when cooked. The addition of beans to the jackfruit boosts protein content and satiety. Look for canned water-packed jackfruit in Asian markets or online. If you don't have an air fryer, see the oven-baked option after the recipe. Recipe and photos from The Vegan Air Fryer: The Healthier Way to Enjoy Deep-Fried Flavors © 2017 by JL Fields. Published by Vegan Heritage Press, reprinted by permission.  more→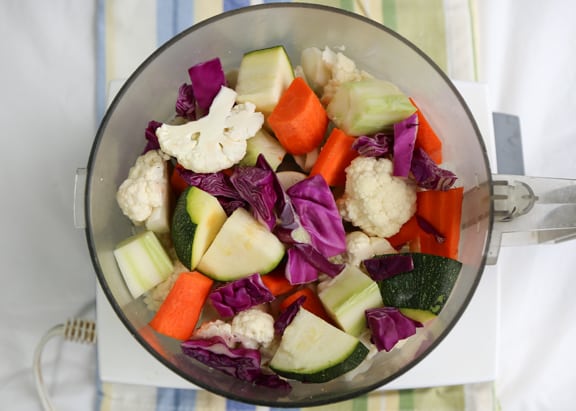 Everyone's raving about cauliflower "rice", so why not give other veggies the rice treatment? Rainbow vegetable "rice" is a great way to cut carbs and use up vegetables that are languishing in the refrigerator.
There's really very little involved to turn your vegetables into rice — just some judicious pulsing on and off in the food processor. Cauliflower can be part of the mix, of course, but here are a few other vegetables that work well: more→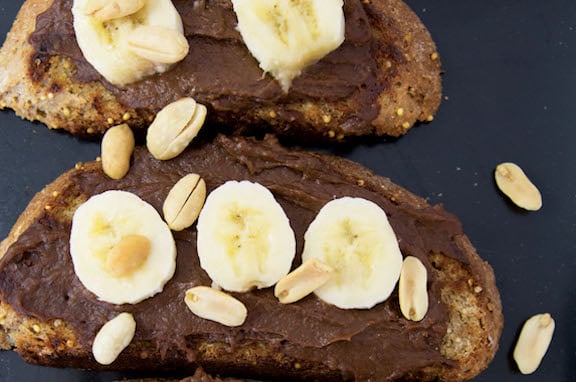 This nutty cocoa breakfast spread is so delicious that no one will suspect it's also good for them. It's free of processed sugar and made with high-fiber, vitamin-packed beans and bananas (the riper, the better). I spread it on toast when I need a quick breakfast on the go. The key to a creamy spread is not to rush the pureeing in the food processor. Recipe and photos from The China Study Family Cookbook: 100 Recipes to Bring Your Family to the Plant-Based Table by Del Sroufe © 2017, BenBella Books, Reprinted by permission.
A note from VegKitchen: Think of this recipe as a healthy vegan Nutella alternative; who needs all that sugar, palm oil, and skimmed milk powder when you get even better flavor with beans and fresh and dried fruit? more→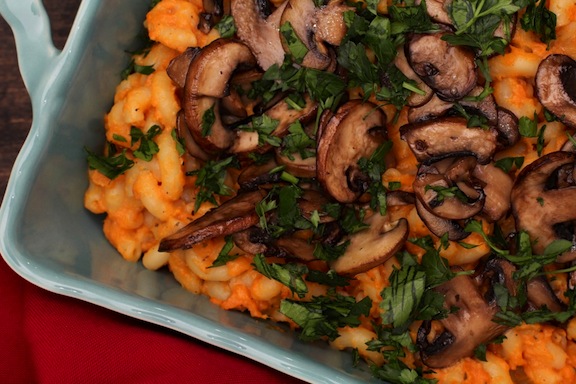 Mac and cheese is such a classic comfort food that it's no wonder that the vegan version has become a classic, too. There are so many great ways to make vegan mac and cheese — some of which involve no (vegan) cheese at all. So indulge all you want — these recipes will please kids of all ages.
In Sophia Zergiotis's Roasted Sweet Potato Macaroni and "Cheese" recipe (shown at top), the cheesiness comes from a combination of roasted sweet potato, mustard, and nutritional yeast. The result is a nostalgic mac and cheese with a grown up edge and a rich, creamy, and satisfying dish. more→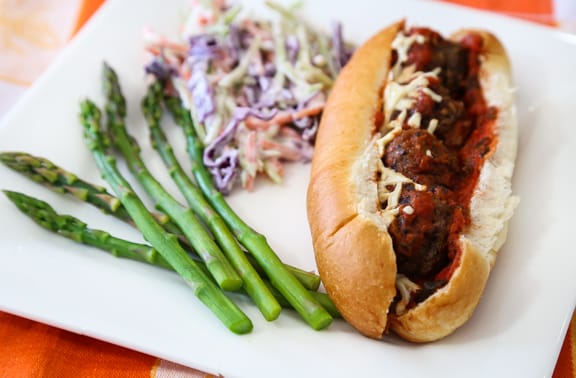 In our Vegan Food Hacks kitchen, we're fans of using veggie burgers in "meaty" recipes, since many brands are made with grains, beans, pea protein, and vegetables. In contrast, many meat substitute products are based on soy protein isolates, which aren't as good for you. Here's a listing of some of the best veggie burger brands, only one of which is the textured soy protein variety.  Please note; not all veggie burgers are vegan — some contain egg or dairy, so read labels!
We find store-bought vegan veggie burgers incredibly useful and versatile. Of course, they're still great served on whole-grain buns with your favorite condiments, but consider some of these other cool ways to use them as a meal starter. more→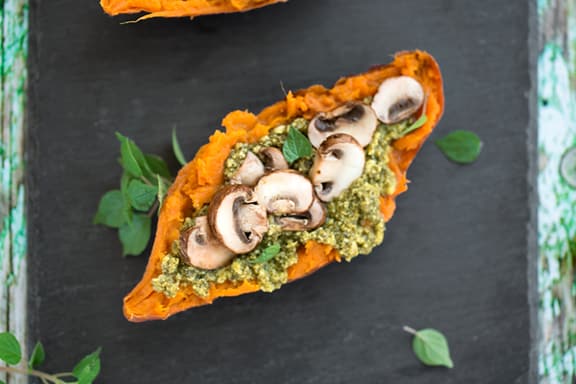 Sweet potatoes are vegetable heaven! If you do absolutely nothing other than bake or microwave them, they're still as delicious as all heck. Not to diss regular potatoes, but sweet potatoes have them beat in nutrients, especially in vitamin A and C. Though sweet potatoes are super tasty in their own right, stuffing them with other tasty ingredients takes them to a whole new level. You haven't really had the ultimate sweet potato experience until you've tried one of these 6 fantastic ways to stuff sweet potatoes. more→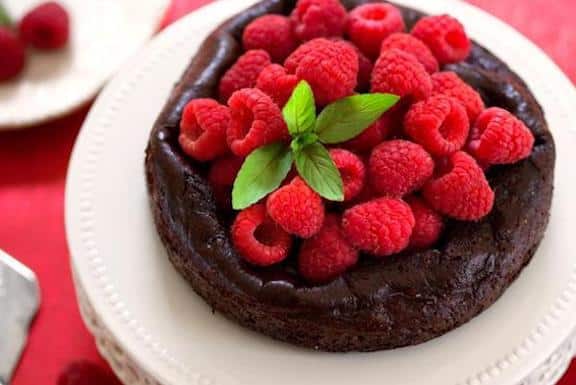 What is aquafaba? And why are cooks around the world falling in love with its magical powers in the kitchen? Aquafaba is a cleverly constructed word that means "water from beans." And the specific bean water we're talking about here is the liquid that comes in cans of chickpeas. Aquafaba recipes are springing up everywhere, from macarons to mayo, and the sampling that follows is just a fraction of what this simple and inexpensive ingredient can do.
Around the web, cooks and bloggers are exploring aquafaba's amazing properties to develop vegan sweets, as well as dairy-free butter, mayonnaise, and cheeses. Aquafaba is the secret to making irresistible desserts — famously, meringue and macarons, as well as flourless cakes and much more. Case in point, Hannah Kaminsky's vegan Flourless Chocolate Cake, shown at top.
more→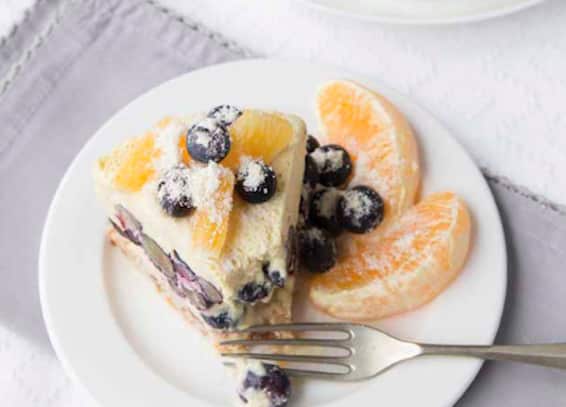 This summery dessert has everything you love about Creamsicles, but in cake form! While the presentation makes it look like you've been working on this dessert for days, it actually requires very little effort. Best of all, this orange creamsicle ice cream cake is vegan and raw.
This frozen cake is designed to be made in a springform pan so that the sides can be removed. Much like any ice cream cake, this recipe will melt when removed from the freezer. more→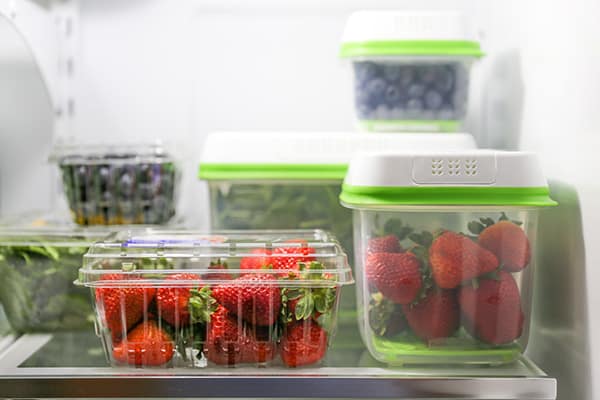 Tackling food waste starts in your kitchen! Up to 40 percent of the food purchased in the U.S. is wasted. It's easy to blame supermarkets and restaurants that toss out mass quantities of spoiled, imperfect, or uneaten food, but even small amounts of food waste coming from home kitchens have a big impact. Here are some simple tips for preventing food waste.
The average person throws out more than 20 pounds of food per month. The forgotten leftovers in the refrigerator and over-ripe bananas on the kitchen counter contribute to greenhouse gas emissions in the landfill – not to mention the amount of land, water, and other resources it took to produce that food in the first place. To highlight what a huge global problem this is, see more about the issue in Wasted Yet Wanted. more→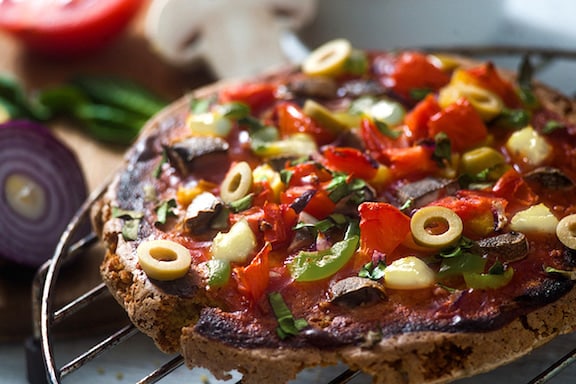 There are very few people who don't enjoy pizza. Unfortunately for those like myself, the gluten found in wheat can be a problem. Some don't tolerate it well; others have to avoid it altogether. Because of this, I had to avoid pizza for a while. This amazing gluten-free quinoa pizza crust comes to the rescue. It's also delicious as a flatbread, spread with pesto or dipped into soup.
You can imagine the joy I felt when I discovered that  quinoa can be used to make pizza crust. One of these ingredients is quinoa, a grain that I was already eating plenty of. more→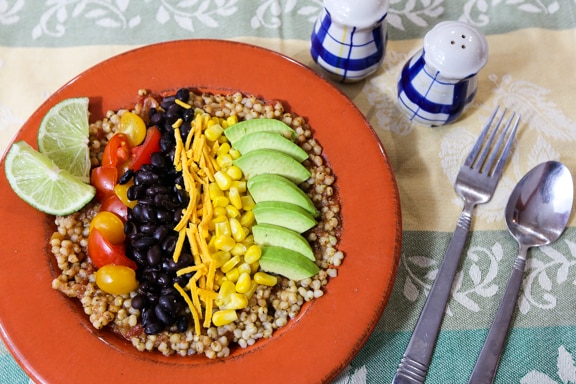 Vegan bowls deserve their status a hot food trend. How can you go wrong with a one-dish meal that includes plant-based protein, veggies (or sometimes fruit), and grains? The best easy vegan bowls are also arranged to please your eyes as well as your palate.
Well, there's actually one place where you can go wrong. Once something like bowls becomes trendy, cookbook authors and bloggers jump on the bandwagon and complicate what should be a super-easy meal to prepare. Honestly, there's no earthly reason you need a recipe to make a great vegan bowl. more→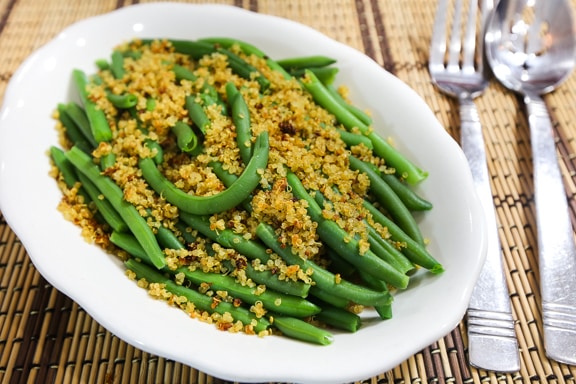 Here's a clever way to turn quinoa into tasty crispy crumbs. They pack more nutrition than breadcrumbs and are naturally gluten-free. Bake up a batch and you'll see why we love to have them on hand. These are easy to make in just a few steps:
1  Cook quinoa as usual — combine 2 cups of water in 1 cup quinoa in a medium saucepan. Bring it to a rapid simmer, lower the heat and cook for 15 minutes, or until the water is absorbed. For more flavor you can add a vegan bouillon cube to the water or use vegetable broth instead. more→