Shameless Shortcut Recipes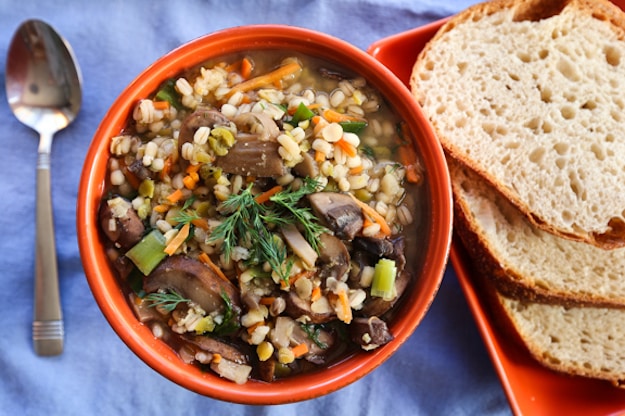 When cold and flu season is in full swing, or if it's simply a bone-chilling winter day, sometimes you need a big pot of comforting soup and you need it now! One of the most soothing bowlfuls ever is mushroom barley soup, and this shortcut vegan version takes at least an hour off the process. Case in point, our Classic Mushroom Barley Soup, which is about an hour and a half or more, from prep to finish. There's not a lot of work time, so when you have more leisure to cook soup, give it a try!
This fast version shaves off the time by using quick-cooking barley and precut fresh veggies. It's just as good as the original, and gets more flavorful as it stands. Look for quick-cooking barley (sometimes called 10-minute barley) in the grains or dried beans section of well-stocked supermarkets and natural foods stores. Trader Joe's has their own brand, too. Or you can search for quick-cooking barley and order online. more→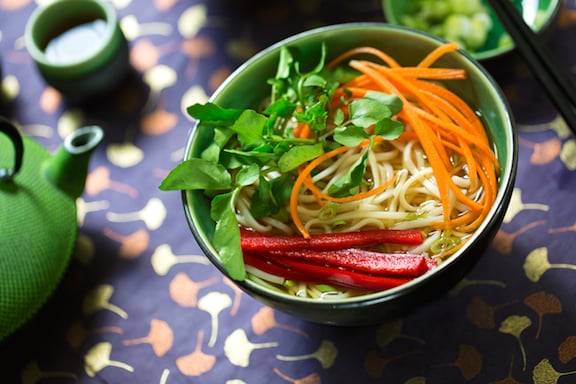 Nothing satisfies like a comforting bowl of soup when you come home feeling tired and chilled, or need a remedy for a cold. But lots of chopping and long wait times for simmering don't have to be part of the equation. Here are 10 warming and super easy vegan soups that combine fresh veggies and shortcuts that result in a good-sized portions. It's no accident that more than half of these aree Asian-style soups, which as a matter of course require little cooking. But they'll all have you saying "Soup's on" in 20 minutes or less! more→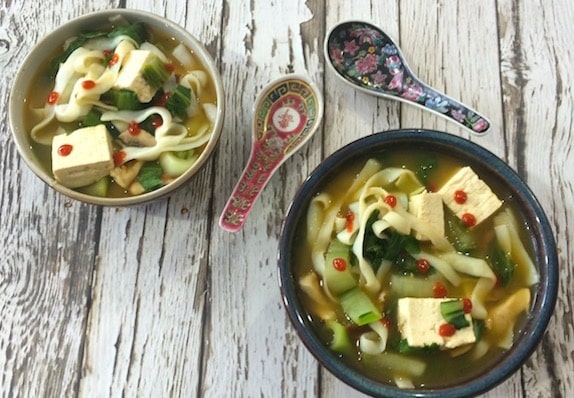 When it's cold and damp outside, or when you're sick with cold or flu, there's nothing like a piping hot bowl of Asian vegetable noodle soup. Perhaps you're tempted to send your significant other to pick up some soup from the local Chinese eatery, as we used to do on such occasions. It was usually something called Bean Curd Vegetable Soup. The veggies were never very vivid or interesting, but still, it provided instant comfort.
This fresh homemade version is ready literally in the time it takes to heat up. Not only do the ingredients take almost no time to cook, they're best if not overcooked. more→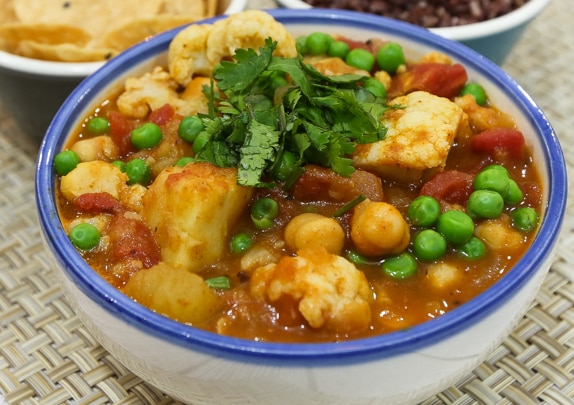 Aloo Gobi is a delectable Indian specialty that features cauliflower, potatoes, and usually peas in a mild, tomato base. I'm not sure my family has ever placed an order, whether eat-in or carry out, that didn't include it as one of our choices. And fortunately it's almost always already vegan, which means it doesn't need to be modified. It's great to be able to make super-quick aloo gobi at home, now that we've found the way — incredibly tasty Indian simmer sauces.
Ever since this new generation of Indian simmer sauces hit the market, we're doing a lot more Indian-style meals at home. Our favorite is the Maya Kaimal line of sauces, but use what's available to you. You'll find Indian simmer sauces at natural foods stores and in the international foods aisle of well-stocked supermarkets. more→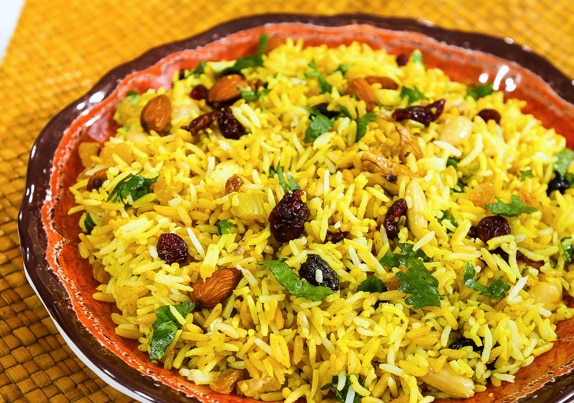 A fantastic side dish for many kinds of meals, especially Indian specialties, what makes this fruit and nut rice pilaf so fruity and nutty is trail mix! Most trail mixes have a nice variety of dried fruits and nuts. As for the rice, you have options. Do you have already cooked rice in the fridge and need to dress it up? Leftover rice from your last Chinese food order (there's always so much of it)? If not, you can use quick-cooking rice or the newest entry into the field of ready-cooked rice that just needs a quick spin in the microwave.
No matter what you choose, this great side is ready in minutes and adds color, texture, and tastiness to any plate. We love this with Super-Quick Aloo Gobi as a complete (and really easy) meal. more→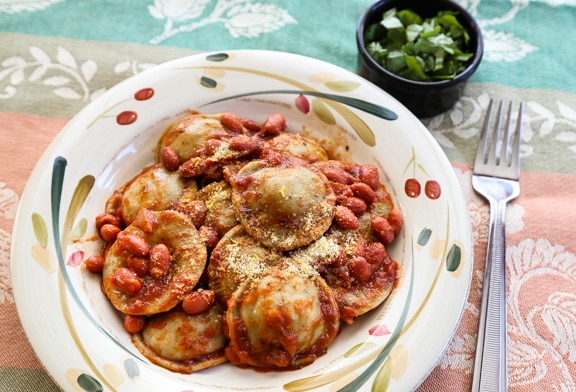 Today, we're going to learn to make authentic vegan ravioli from scratch, starting with growing our own artisanal wheat. Just kidding, of course! There are quite a number of yummy delicacies that I love, but that fall into the "life is too short" department when it comes to from-scratch cooking. One of them is vegan ravioli (followed closely by sushi).
Which is why when the mood strikes, we get a package of these dumpling-like cuties from the frozen foods section of our natural foods store. Then we're well on the way to a hearty meal that only needs a salad to complete it. A can of pink beans gets us close to the finish line, then all that's needed is a good sauce and a sprinkling of fresh basil and nooch (aka nutritional yeast) or vegan Parmesan. Let's get started! more→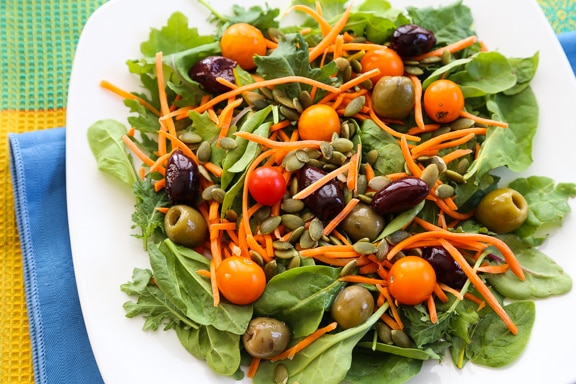 Is this you: Are you someone who vows to eat more salad? Are you always promising yourself that you'll do better at eating some fresh raw foods with lunch or dinner? Making a simple salad isn't a big deal most of the time, but there are times when chopping a bunch of veggies can be less than appealing — whether you're hurrying to pack your lunch or coming home tired after a long day. Our no-chop power greens salad comes to the rescue. There's nothing to it other than layering a few veggies (and seeds) that need no prep at all. And it's easy on the eyes, too.
With this salad, there's also no need to measure. Use as much as you need to make one salad or two, or more.  more→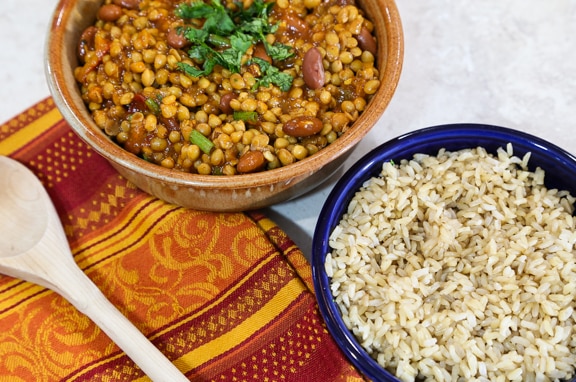 Lentil and Kidney Bean Curry is a traditional Indian dish that combines two tasty and high-protein legumes. And while it usually doesn't need to be veganized, in our minds, it needs to be simplified, as the typical recipe has 15 to 20 ingredients — a great percentage of them spices. Lots and lots of spices.
We couldn't have been more thrilled when an array of full-bodied Indian simmer sauces burst on the market — you can have your pick whether at a natural foods store or in the supermarket's international aisle. From mild coconut-based blends to hot jalfrezi sauces, many are also vegan (at least an equal number contain dairy, so check labels. more→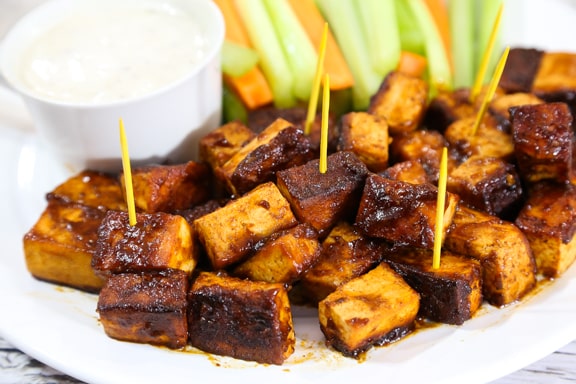 I'm not sure who invented that Buffalo wings combo that contrasts spicy BBQ flavors with celery and creamy dressing. It's kind of weird, but obviously there's something about it that people love, because there are hundreds of vegan variations, let alone thousands of the non-vegan variety. In plant-based versions, cauliflower or tofu stand in for "wings." However, even in the ones labeled "simple" or "easy" there are usually between 15 and 20 ingredients.
In ours, the easiest Buffalo tofu bites ever, we use Nasoya's chipotle flavored baked tofu. It has a great flavor and texture for this so-called recipe. Full-fledged lazy and full flavor become perfect partners. You can even find precut celery (or celery and carrot) sticks in the produce section of your supermarket. They cater to slackers like us these days. more→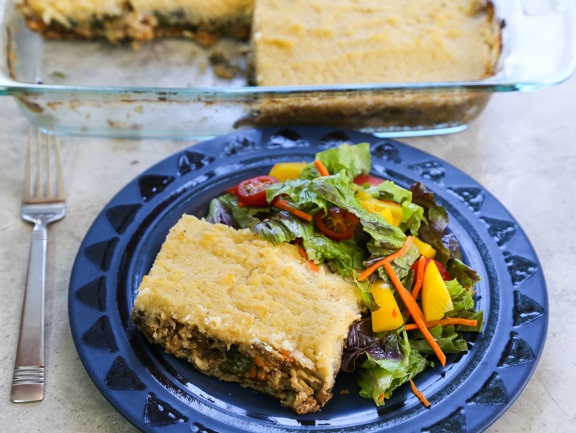 A vegan shepherd's pie is a wonderful choice as a holiday centerpiece — especially Thanksgiving and Christmas — or as a dish to take to a potluck. To prove the point, our Lentil and Mushroom Shepherd's Pie is one of our most popular recipes. And though it isn't at all difficult, judging by how many people have made it and served it, it's admittedly a bit of a project. For holidays and special occasions, that's fine — we like to pull out all the stops and put our best foot forward.
But these days, we'd like to cater to the extremely time-crunched (and okay, the very lazy) who'd like to make and share such satisfying dishes, so here's a brilliant shortcut vegan shepherd's pie, which cuts out the most time-consuming step — peeling, dicing, cooking, and mashing the traditional potato topping. Instead, we'll use frozen cauliflower and just whip it up in a food processor or blender. Using lentil soup instead of plain canned lentils adds more flavor. more→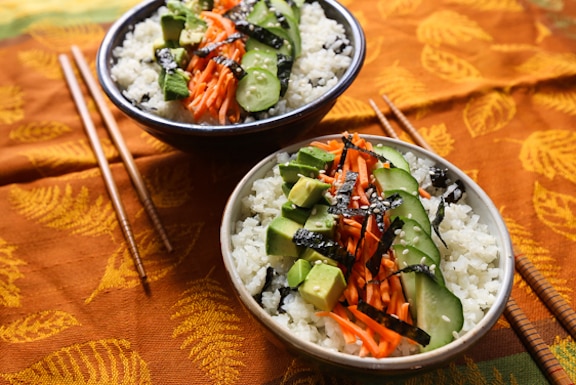 This almost-instant cauliflower rice sushi bowl features a typical trio used in veggie sushi — carrots, cucumber, and avocado. You get all the flavor of sushi with the lightened-up base of frozen riced cauliflower. Serve as a light dinner with a simple tofu dish, or pack in a container for a change-of-pace lunch. more→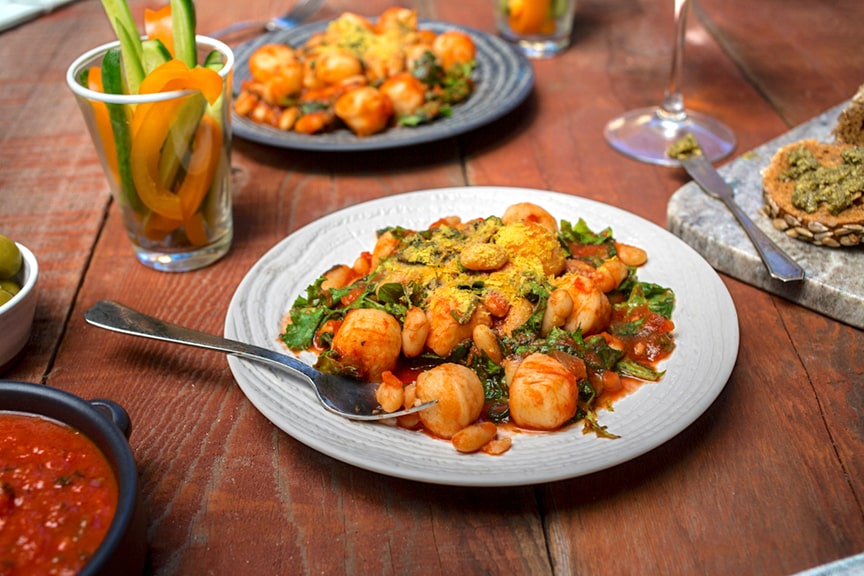 Gnocchi, in case you haven't discovered them, are an Italian specialty that are mainly made of  potato flour, with a little wheat flour. In other words, a bit of starchy comfort heaven. You use them the same way you'd use a chunky pasta; they're especially good enveloped in marinara sauce. We like gnocchi with beans and greens — all adding up to a classic Italian trio.
Some cooks like to make their own gnocchi, but no thanks, not us. The project takes a good hour or two and makes a floury mess of the kitchen. There are a number of vegan brands, one of which we depict below, and being the food hackers that we are, we'd prefer just opening the package and letting that be the beginning and end of it. more→