Snacks and Sweets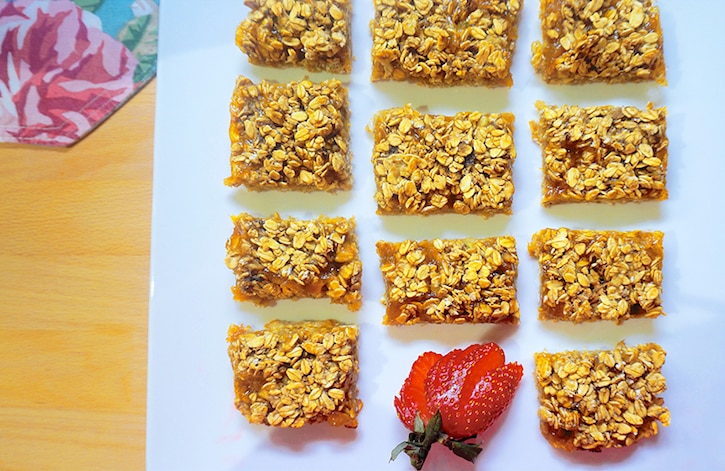 These tasty bars are easy to make, while being easy on the wallet. The sweetness comes from the apricot preserves, and rolled oats provide the crunch. Mashed bananas stand in beautifully for egg, and the vanilla extract really jazzes it up!
Recipe by Laura Theodore, from JazzyVegetarian's Deliciously Vegan. Published by Scribe Publishing, ©2018, reprinted by permission. more→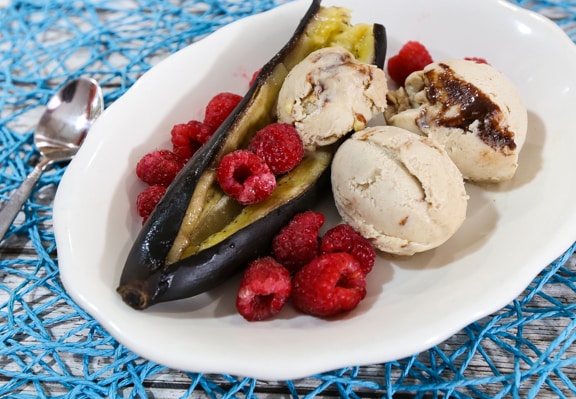 There are three great things to do with overripe bananas — one, bake them into breads or muffins; two, freeze them to make banana ice cream or blend into smoothies, and this is the third — bake them. Apply high heat to the very ripe or overripe fruit. Baked bananas become super sweet, with the consistency of pudding. Add some nondairy ice cream and berries, and you've got an impressive dessert that takes almost no effort to prepare. more→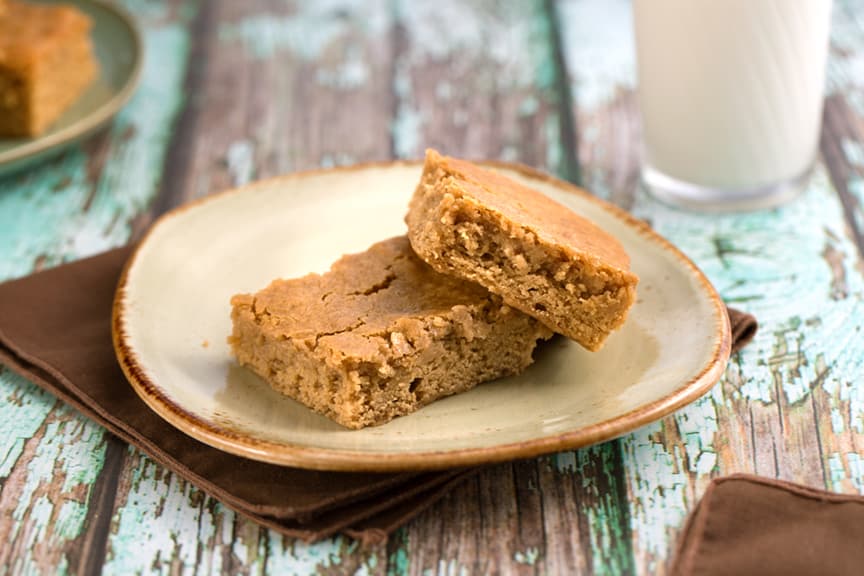 Butterscotch blondies, a childhood favorite, turned out to be one of the most difficult recipes for me to master. Really, it should have been a breeze to figure out this seemingly foolproof idea, and yet my first trial pan of raw batter literally exploded all over the oven. I wish I were exaggerating, but in all honesty, drippy streaks of sugar and margarine plastered the glass window from which I watched in horror.
Thankfully, though it took a while to perfect my approach, the following 5 or 6 attempts only resulted in a trash can full of unsatisfactory baked goods rather than more kitchen disasters. Now, I am happy to share my easy method for creating this sweet treat that I remember fondly from my pre-vegan days. It doesn't require you to blow anything up, either. Recipe and photos by Hannah Kaminsky. more→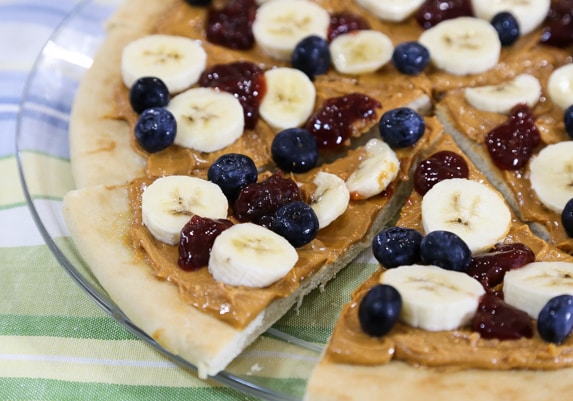 Peanut butter pizza is a fun and easy way to start the day — even an busy school or work day morning. Pizza crust spread with peanut butter and then covered with bananas and other fruit and spoonfuls of jam make a filling breakfast treat in one fell swoop, rather than making a separate breakfast for everyone. It's also a nice after-school treat.
Make sure to use an all-fruit jam, and use peanut butter that's nice and spreadable rather than clumpy. You can also consider using small pizza crusts to make personal-size portions. more→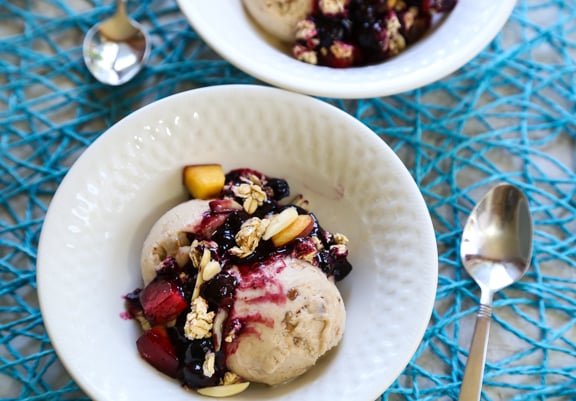 If you love the idea of a homemade fruit dessert but aren't much of a baker, you'll appreciate this incredibly easy skillet blueberry crumble. No fruit to pit and cut, no crust to labor over — just a few key ingredients and you've got a blissful summer dessert. It's especially delicious served over nondairy ice cream. We chose a pecan praline for these photos, and it was a perfect fit!
This is also a nice choice when you have company coming for a meal and worry that you might not have the time or patience to make dessert after all other preparations — so no worries, this quick dessert requires neither time nor patience, but still impresses. more→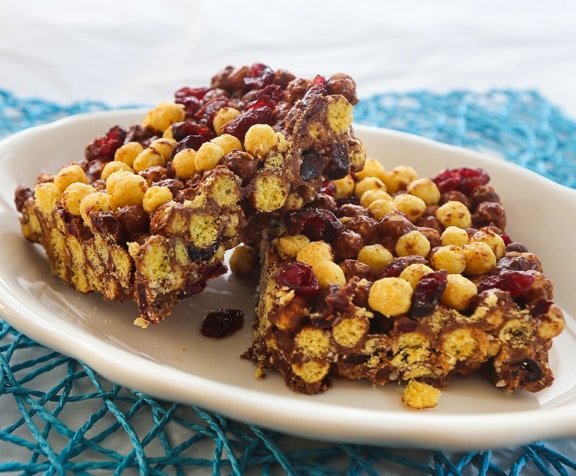 Low-sugar peanut butter puffed cereal gives these easy snack bars a fun look and really pop when you chew them! With peanut butter in them too, they're double peanut-y — though you can use any other kind of puffed cereal (we used Nature's Path Panda Puffs), like puffed rice. Taking minutes to make, these are no-bake; you just have to have some patience as they set up in the fridge (or you can speed things up by placing in the freezer). more→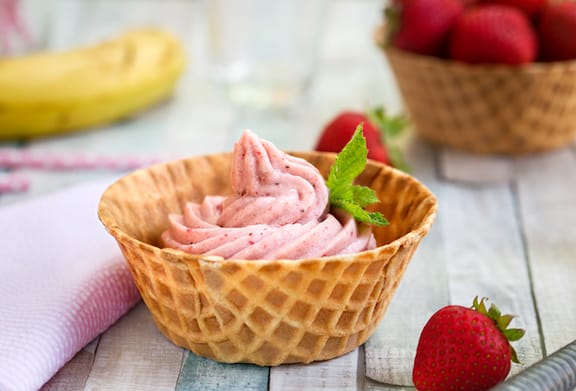 Have you discovered banana ice cream? If not, it's high time you did! Vegan frozen banana strawberry ice cream is made entirely with fruit — no dairy, no added sugar. Enjoy like soft serve or in scoops — a guilt-free treat for kids of all ages! For this, you don't need an ice cream machine; it's best made in a food processor rather than a blender. Photos top and bottom by Hannah Kaminsky.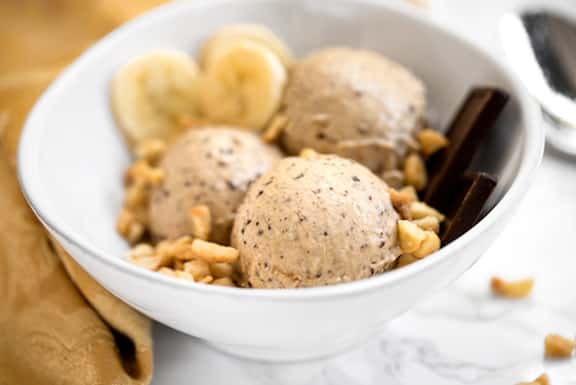 Banana ice cream is amazing. It's hard to believe that this frozen treat is based almost entirely on banana. In this vegan banana ice cream recipe, peanut butter and a touch of chocolate add up to the classic combo of flavors you enjoy just as much in other desserts. Enjoy this in a bowl or in a cone. It's a treat you won't mind serving your kids. Just make sure they leave some for you!
To make this and other banana ice cream recipes, you don't need an ice cream machine; this is best made in a food processor. Photos by Hannah Kaminsky. more→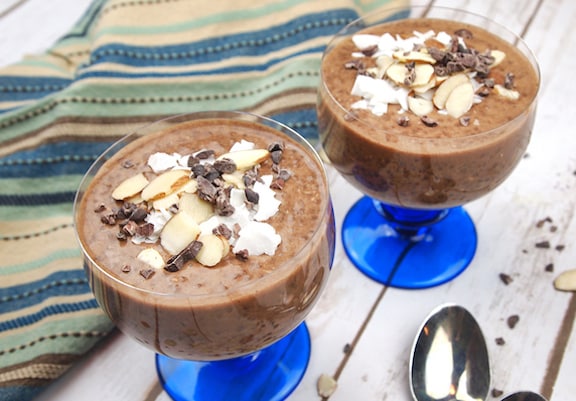 Chocolate chia pudding with almonds and coconut (that tastes like a candy bar!) is a super healthy treat that can be served for either breakfast or dessert. This combination of almonds and shredded coconut had me singing, "sometimes you feel like a nut, sometimes you don't," like in the old candy bar commercials, so I've decided to call it "Almond Joy." I like to make it in the evening right before going to bed so that it's ready in the morning for breakfast. Recipe and photos reprinted with permission from What's for Breakfast? Morning Favorites from Dianne's Vegan Kitchen, © 2017 Dianne Wenz. Purchase your copy of this e-book and Dianne's other e-cookbooks here.
more→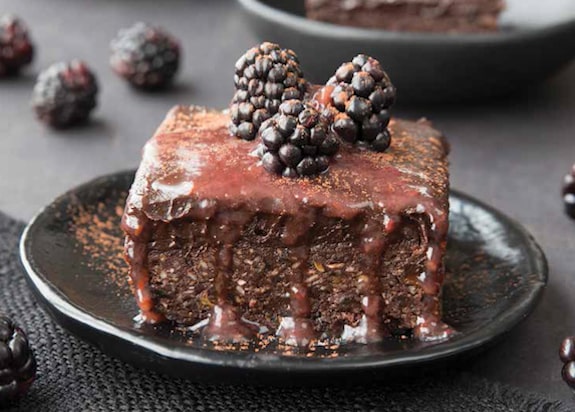 Finally, an easy wholesome raw brownies recipe that tastes like real brownies! Nuts, dates, coconut, cocoa powder, maple syrup, and salt combine to create a shockingly divine traditional-style brownie. Although the ingredients sound virtuous (and they are), your taste buds will only register one flavor: chocolate. It's the most popular recipe on Laura-Jane's blog, probably because it's so quick, decadent, and nutritious.
Famous Raw Brownies keep extremely well in the fridge, and they are perfect for making ahead and bringing to a potluck or work function. The brownies stand on their own, but they're even better with the Velvet Chocolate Icing (of course!), which is my go-to chocolate icing for any refrigerated dessert recipe, including cakes and bars. It's easy to make, easy to spread, and extremely versatile. Iced desserts should be kept in the refrigerator. The flavors also pair beautifully with fresh blackberries or raspberries. more→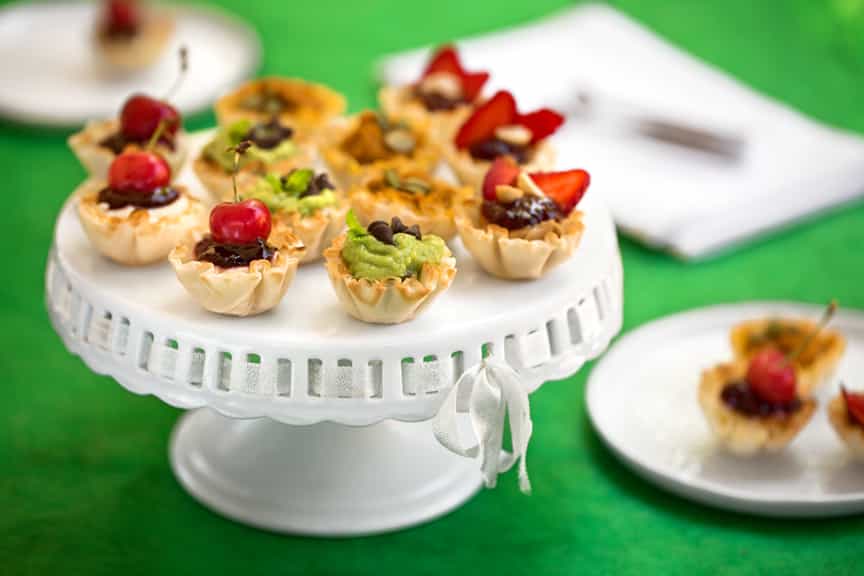 Let's say you're not much of a baker or cook, but you want to make an impressive treat for a special person — say, your sweetie for Valentine's Day or a birthday, or mom for Mother's Day. These tiny sweet vegan tartlets are delectable, yet incredibly easy to make. Hannah Kaminsky presents four creative ways to fill these little beauties — as well as the tempting photos that go with them.
The mini fillo shells are vegan (and Kosher) are available in the frozen foods section of well-stocked supermarkets. You'll find them near other fillo products, and items like puff pastry. The package directions say that once thawed, these are rebaked and ready to use, but also recommend heating them before filling, for extra crispness. Follow package directions, either way. more→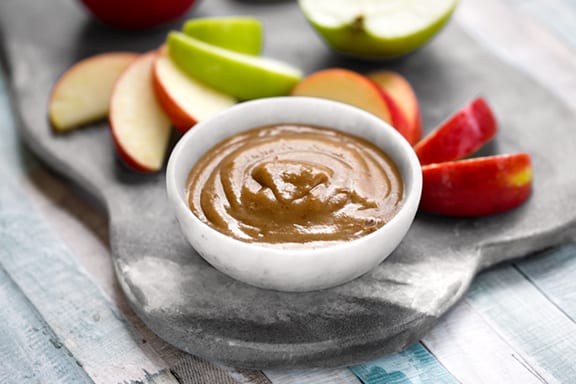 The typical caramel sauce recipe consists of a cup of sugar, half a cup of butter, and some milk or cream. Um, no. As in, no, our 2-ingredient no-sugar date caramel sauce contains none of those. We've hacked all the bad ingredients out of it — sugar included— by making it from dates and almond milk. That's it! Unless you'd like to go the extra inch and add a pinch or grinding of salt — you know, salted caramel — to take it up a subtle notch.
And unlike regular caramel sauce, there's no need to cook at all. You do need a good blender for this, though, to make it nice and smooth. more→