Vegan Holiday Kitchen: More than 200 Delicious, Festive Recipes for Special Occasions
by Nava Atlas
Here is do-able, hearty fare for major holidays year-round! With more than 200 mouthwatering recipes, Vegan Holiday Kitchen is your go-to resource for recipes and menus for major holidays. Vegans can at last celebrate the holidays with gusto and enjoy every course of the meal—from appetizers to desserts.
What's more, these lovingly crafted dishes will satisfy everyone who loves great food, no matter what their culinary preferences. There's no reason to wait for a special occasion to enjoy these recipes—they're healthy and uncomplicated enough for everyday fare.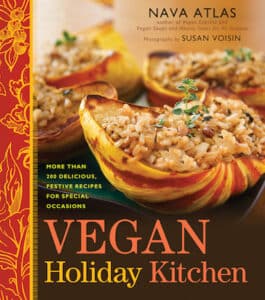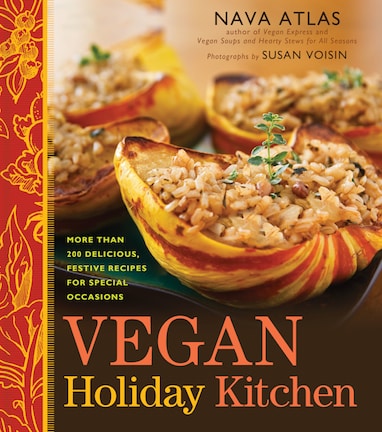 Delight friends and family with delectable dishes for:
Thanksgiving: Coconut Butternut Squash Soup; Black Bean and Sweet Potato Tortilla Casserole; Smashed Potatoes with Mushroom Gravy; and Pumpkin Cheesecake with a Hint of Chocolate
Christmas and the holiday season: Gingered Carrot Soup; Wild Rice Pilaf–Stuffed Peppers; Hearty Lentil and Mushroom Shepherd's Pie; Chocolate Mint Bars; and a velvety "Vegg" Nog
Passover, Rosh Hashanah, and Hanukkah: Moroccan- Style Vegetable Soup with Vegan Matzo Balls; Vegan Latkes, Coconut-Almond Macaroons, Sweet Noodle Kugel; and Seven-Vegetable Couscous.
Easter: Roasted Setian, Peppers, and Portabellas; Spring Vegetable Tart; and Chocolate-Orange Cake
Independence Day and summer entertaining: A great guide to grilling vegetables and plant-based proteins; Summer Tomato Salad with Peaches and Pecans; and Corn Fritters with Cilantro Sauce
Brunches, appetizers, and potluck dishes: Rosemary Potato and Sausage Skillet (yes, it's vegan!); Apple and Broccoli Coleslaw; White Bean and Sun-Dried Tomato Pâté; and A Big Pot of Really Good Chili
You'll also find that many of the recipes in this collection are gluten-, soy-, and nut-free. Full color throughout, with more than 40 dazzling photos by Susan Voisin of FatFree Vegan Kitchen.  Published by Sterling Publishing.
The reviews are in!



MAGAZINES, NEWSPAPERS, AND WEB NEWS SITES
New York Times

Washington Post
Philadelphia Daily News
Poughkeepsie Journal
Chronogram
Go Local Providence
Montclair Patch
Energy Times
Norwich Bulletin
Valley Table Magazine

Organic Spa Magazine
Sacramento Bee
Portland Oregonian
Huffington Post
Philadelphia Daily News/Inquirer
_________________________________________________
WEB SITES
Epicurious

She Knows
Global Gourmet
Savvy Vegetarian
VegSource
Go Dairy Free

Vox Magazine

Canadian Gift Guide
Ecorazzi
_______________________________________
BLOGS
Mango Tomato
Ezra Poundcake
Vegan.com
Vegan Eats and Treats
BlogHer
BlogHer's Gift Gude
Feisty Side of Fifty
It's Easy Being Vegan
This is Vegan
Daily Vegan
Tiny Green Mom
Food Blogga
FatFree Vegan Kitchen
EatUrVeggies
Cooking Quinoa
Little House of Veggies
Nancy Creative
Kale is comfort
Lick the Bowl
Veggie Girl
Cathe's Kitchen
Eat, Drink, and be Vegan
Vegan MoFo
JL Goes Vegan
All Before Coffee
Pomp and Circumstances
Tumblr
Food Republic
She Posts
This is Vegan
Confessions of an Overworked Mom
BlogCritics
__________________________________________
RADIO
Animal Voices Radio
Progressive Radio Network
WHJJ-FM Providence, RI
Real Radio Daytona
Feisty Side of Fifty Radio