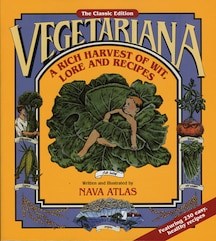 2014 will mark the 30th anniversary of the publication of my first book, Vegetariana: A Rich Harvest of Wit, Lore, and Recipes.* When it was first published, Publisher's Weekly declared that "this book should prove itself a classic." Vegetarian Times called it "a treasure," and the Detroit News flatteringly described it as a "one-woman masterpiece." Many years and many books later, many people still tell me that it's their favorite of my books.
To mark its 30th anniversary, I'm working on a slightly updated new edition (try not to do the math — I was young when it was published!). At this point, I still have a number of copies from the 1999 edition, which is very close to the original 1984 edition. I'd really like to get these collectible books out of my studio and into your kitchens (or bedrooms, as it's very much a cookbook for reading). I'm offering a number of signed copies through Amazon for $5.00 plus shipping. To access this, go to this link on Amazon and make sure to order your copy through Amberwoodinc, which should be the first seller listed — that's me.
*This post contains affiliate links. If the product is purchased by linking through this review, VegKitchen receives a modest commission, which helps maintain our site and helps it to continue growing!