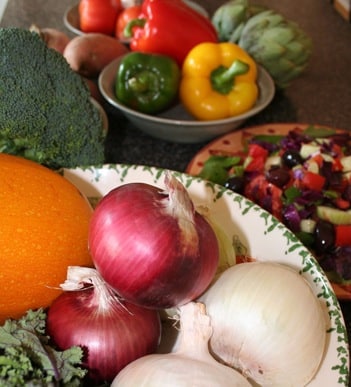 It just dawned on me that VegKitchen.com went live in January, 1996 — seventeen years ago, and ancient history in internet terms. Of course, it started small, but that's how things usually start, right? And it has changed and grown ever since. I remember chatting with Mollie Katzen back then, comparing notes, as we seemed to be among the first food authors to go online with our own sites. We marveled at the prospect of having 500 visitors per day; now VegKitchen receives more than 5,000 visitors per day on average, and much higher in the fall due to the popularity of the vegan Thanksgiving area. The numbers continue to mount as interest in healthy, plant-based eating grows.
The biggest change to VegKitchen happened in November 2010, when we switched to the WordPress platform and went from vegetarian to vegan (lagging way behind my actual lifestyle change, as I had gone vegan in 2001). Not that I'm doing a commercial for WordPress, but it made it so much easier to grow the site rapidly and edit at will. We also began incorporating a lot more contributors from the food world, who share articles and recipes on the site, adding other voices to this fast-growing area. And by the way, when I say "we," I'm basically referring to myself, my webmaster Allen Jezouit at Berkshire Direct, and my assistant, Rachael Braun, who tends to the site almost daily. I thank them for their contributions to VegKitchen's recent growth.
VegKitchen is but one of three major careers I juggle simultaneously — the others include writing cookbooks and other non-fiction; and visual art (mostly text-driven — I guess I really like words!). It has become a great way to connect with others in the healthy food and vegan communities, and a platform for sharing information that people are seeking these days. It still boggles my mind that VegKitchen is seventeen, and I look forward to celebrating twenty years online in just three years from now.