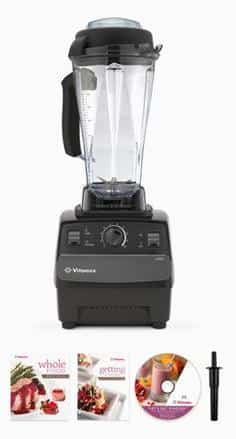 Great news for VegKitchen readers — Vitamix is offering their 5200 model high-speed blender to one lucky winner. It has all the features that has made it the gold standard of high-speed blenders:
Create every course of your home-cooked meal—from frozen drinks to creamy desserts
—in minutes.
Create smoothies, hot soups, and frozen desserts with one machine.
64-ounce container is perfect for family meals and entertaining.
Includes cookbook with hundreds of chef-tested recipes.
Standard 7-year warranty included.
In a nutshell, this machine is so powerful that it pulverizes whatever you put in it practically down to its cellular level, so when you make juice or soup, you get all the fiber—plus all the nutrition that is locked into the fiber. There's no waste whatsoever.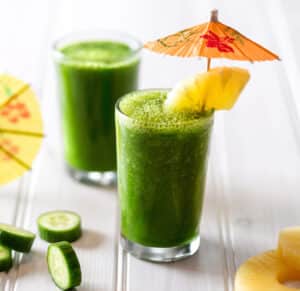 Among my favorite things to make in the Vitamix are smoothies featuring kale, like Kale, Cucumber, and Pineapple Smoothie. It's also great for making raw cashew-based sauces like Almost-Raw Cheez Sauce.  No grit or texture in either case —the consistency is velvety and the flavor sublime. Here's my review, detailing all the things I love about it and my favorite ways to use my Vitamix. 
This giveaway runs from February 2, 2015 at 2:30 pm EST to February 4, 2015 at 8 pm EST. Winner (chosen at random) will be announced on February 5, 2015 at 9:00 am EST on VegKitchen's Facebook page, and the winner will also be contacted directly. Sorry, but this is being offered to U.S. residents only.
To enter to win, simply leave a comment below telling us why you'd like to own the Vitamix 5200 (retail value is $449), or, with Valentine's day coming up next week, why you'd love to give it to your sweetie. One winner will be chosen at random. I'd like to thank the Vitamix Corporation in advance for this amazing giveaway opportunity for VegKitchen readers. Please note, sometimes it takes me a bit to moderate comments, so if you don't see yours show up right away, don't worry; it will!