We Love Quinoa (pdf e-book) presents VegKitchen's 30 most widely viewed recipes, with options such as a hearty breakfast bowl, tasty salads, lively pilafs, heartier stews, and sandwich-type fare. These days, everyone loves quinoa, the super-nutritious and versatile grain food (botanically a seed) native to South America.
Versatile and mild-flavored, quinoa is also great for busy cooks, as it cooks up in only 15 minutes and can be used in so many ways. Featuring 23 color photos, a full listing of recipes follows.
This compact collection is part of VegKitchen's "Best of VegKitchen" e-book series. Featuring selected recipes that have proven most popular on the site, these compact e-books let you to delve into specific food niches without poring through lots of web sites (or even just VegKitchen, which in itself has thousands of recipes!). Convenient for viewing on your computer or printing out, this e-book is not formatted for devices such as Kindle, etc.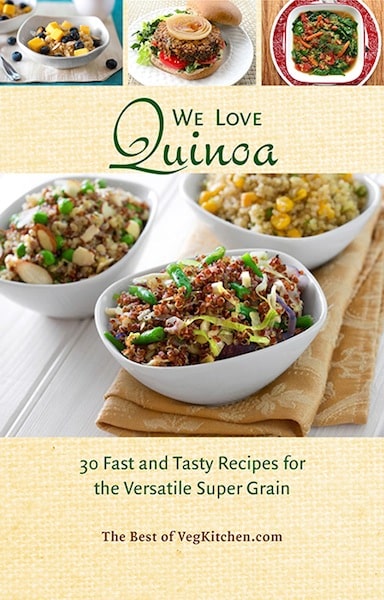 To order as an instant-pdf download that you can view and print from your computer: Once you click "Add to Cart" (below), you'll be taken to a checkout page. All orders are processed though PayPal. Once payment has been made, you'll receive an e-mail with a link to an instant download. Chances are that you already have Adobe Acrobat reader on your computer, but if not, you can download it for free by following this link.
47 pages, $5.95
Full list of recipes:
Start the Day with Quinoa
Salads
Composed Quinoa Salad Platter
Quinoa Tabbouli with a Twist
Quinoa, Corn, and Bean Salad
Quinoa and Pink Bean Salad with Avocado and Jícama
Quinoa Salad with Fennel and Cranberries
Summer Garden Quinoa Salad
Kale, Quinoa, and Artichoke Salad
Side Dishes & Pilafs
Quinoa Pilaf with Peas and Almonds
Quinoa with Corn and Scallions
Quinoa with Cabbage and Green Beans
Quinoa and Seashell Noodle Pilaf
Quinoa with Cauliflower, Cranberries, and Nuts
Fruit-and-Spice Quinoa Pilaf
Quinoa with Mushrooms and Mixed Squashes
Simple Kale and Quinoa Pilaf
Quinoa Scallion Fritters
Heartier Dishes, Stews, & Soups
Quick Salsa Quinoa and Beans
Quinoa with Edamame and Oranges
Miso-Ginger Red Beans with Quinoa and Broccoli
Quinoa Paella
Quinoa, Broccoli, and Vegan Cheese Casserole
Quinoa with Black-Eyed Peas and Tomatoes
Curried Chickpeas with Chutney-Flavored Quinoa
Pink Bean, Quinoa, and Spinach Soup
Cold Potato, Green Bean, and Quinoa Soup
Burgers, Wraps, & Tacos
Quinoa and Bean Sloppy Joes
Hummus and Quinoa Wraps
Quinoa, Lentil, and Mushroom Burgers
Quinoa Tacos