Healthy School Lunch Recipes and Tips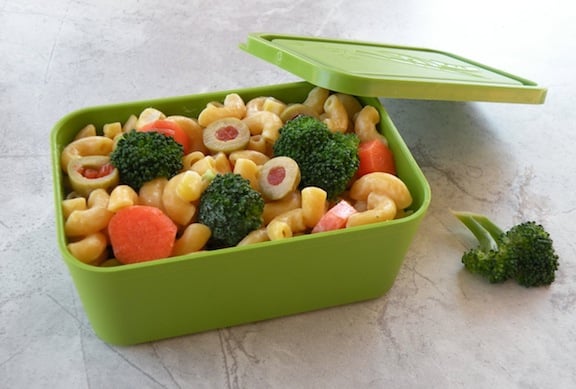 The key to successful school lunches is variety. Finding healthy school lunch recipes and ideas for vegan and vegetarian kids adds to the challenge. Here you'll find lots of ideas and tips, with links to other VegKitchen posts on creating easy, tasty school lunches. Many of the recipes and tips in this article have been adapted from The Vegetarian Family Cookbook.*
If you like the idea of having your school lunch info in one neat package, you might enjoy VegKitchen's affordable, 47-page pdf e-book. This little e-book's recipes and ideas (more than 50 in total) will make the task of making school lunch for kids who are vegetarian or vegan a bit easier and even more fun. The recipes here will also be useful for those following dairy-free diets due to allergy or intolerance. For more information, go to Healthy School Lunches: Recipes and Ideas.*
Also available on Amazon in paperback  and in full color on Kindle.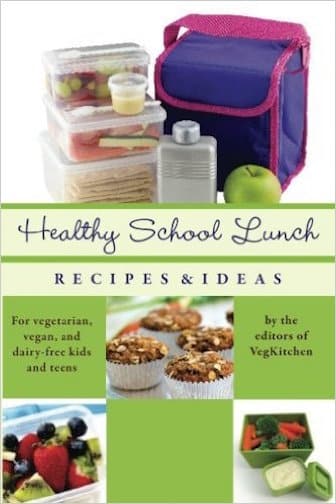 In addition to the ideas in this article, others you can explore on VegKitchen for school lunch ideas include:
Here are some of the tips that kept me sane for all those mornings of lunch-making:
1. Keep your lunch-making supplies together in one place to make the process more efficient during morning "rush hour." In one cabinet, you can store the lunch boxes, sandwich bags, thermoses, plastic spoons and forks, toothpicks, and small plastic storage containers.
2. Put flat dry ice containers in your child's lunch box during warm weather, or any time you are sending perishable foods. These are available wherever lunch boxes or camping supplies are sold.
3. Vary the types of bread used for sandwiches. Bagels, rolls, pita pockets, English muffins, raisin bread, and even fresh flour tortillas or "wraps" can add interest to standard sandwich fare.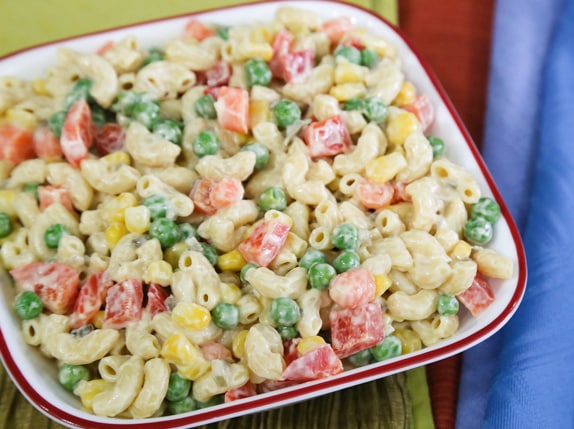 4. Consider thermos fare. Dishes that taste just as good warm or at room temperature are more successful than those that need to stay hot (but usually don't). If your child's school has a microwave available, your thermos offerings can include macaroni and cheese, soups, and leftover casseroles. Make sure to explore the entire Veg Kids and Teens page on VegKitchen for easy, appealing ideas.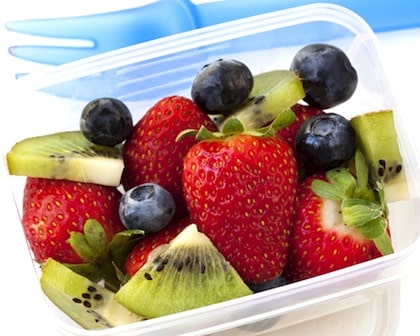 5. Make fruit appealing. Fruit packed into lunch boxes can come home uneaten unless you try some simple tricks. Small chunks of fruit, such as strawberries, grapes, melon, tiny seedless orange sections, and such, served on a skewer (long cocktail toothpicks are perfect), are always eaten; similarly, apple slices are more likely to be eaten if you supply a tiny container of peanut butter to dip them into.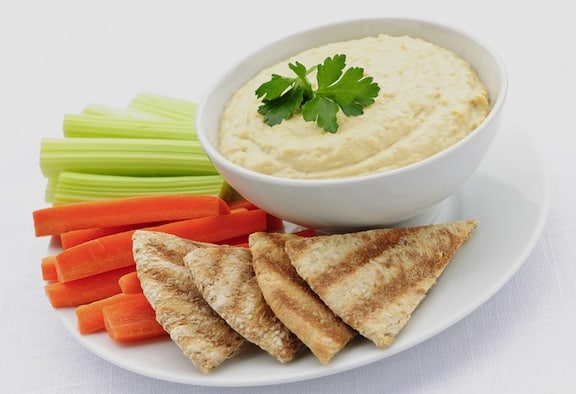 6. Raw vegetables become more of a draw when you supply a dip. When sending carrots (or baby carrots), celery, bell peppers, etc., cut into strips, add a tiny container of the kind of dip your child likes. Natural store-bought or homemade hummus is a great choice! Add wedges of pita bread, too.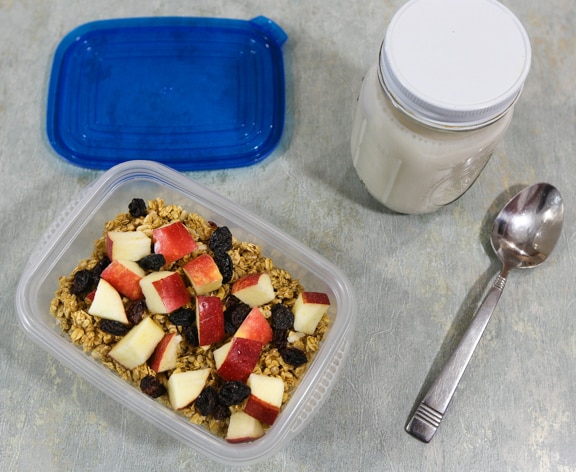 7. Cereal for breakfast is an unexpected treat when served for lunch. Pack some nutritious cereal in a lidded bowl-shaped container, and your child can add his or her favorite nondairy milk to it (vanilla almond milk is particularly good with cereal) when it's time to eat. Teamed with a banana, this makes a filling meal.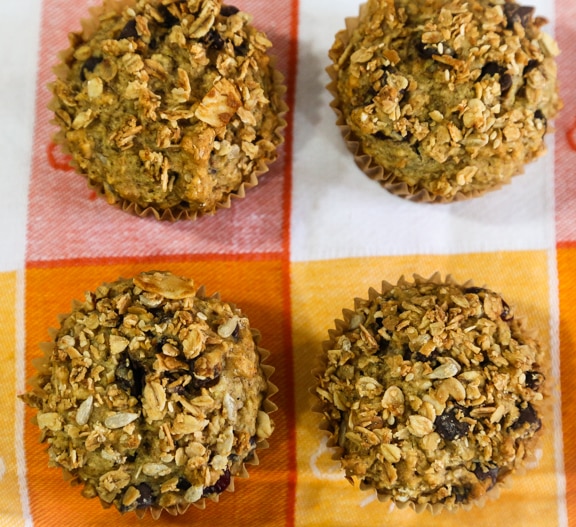 8. Make wholesome homemade muffins for a change of pace. See recipes for Zucchini-Raisin Muffins and others in Muffin Mania. Bake them in the evening as a welcome alternative to sandwiches. Pack a wedge of vegan cheese or a container of coconut yogurt, plus fresh fruit to go along with them.
9. Salads in pita bread or in wraps appeal to kids with more adventurous palates. Augment simple salads of lettuce, tomato, peppers, and cucumbers with chickpeas, chunks of baked tofu and/or grated nondairy cheese. Keep pita sandwiches fresh by wrapping first in foil, then in sandwich bags.
10. Expand your PB & J options. Try cashew, almond, or sunflower butters, and no-sugar added fruit spreads or apple butter.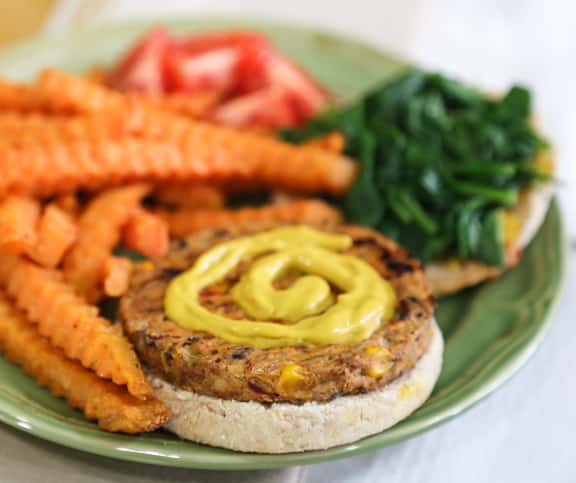 11. A warmed veggie burger (either homemade or one of the excellent prepared varieties) on a whole grain roll or English muffin, with favorite condiments, makes an easy and hearty option.
12. Faux meats can be a boon for expanding lunch box variety, but use brands like Tofurky, which don't rely on soy protein isolate. Vegan deli slices might especially appeal to teens. "Chicken" or "turkey"-style slices on soft whole grain bread appeal to tastes of any age.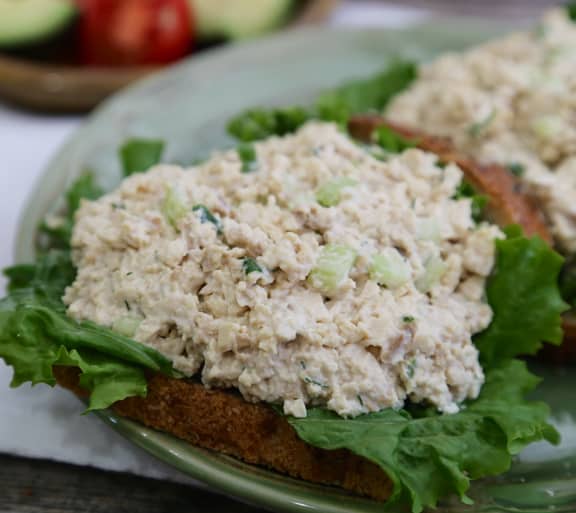 13. Vegan "Tuna"or "egg" salads are super appealing stuffed into pitas or in sandwiches (see recipes for "Tofuna" Salad Sandwich Spread; Tofu Eggless "Egg" Salad; and Sharon's Chickpea Salad or Sandwich Spread).
13. Pasta salad is an appealing lunch option. Use small shapes such as elbows, wagon wheels, shells, or tiny tubes, which pack well into containers. Add your child's favorite veggies—steamed broccoli, peas, corn and carrots, plus olives and their favorite dressing can add up to nice lunch box fare. See the photo at the top of this post, and the recipe for Lunch Box Pasta Salad.
14. If you like to bake, put some extra love in the lunch box with homemade Vegan Cookies and Bars.
SCHOOL SNACKS
Snacks packed for school, whether for snack time or as an extra treat for the lunch box, should be simple and neat. Explore natural foods stores for other simple snack ideas. Their cookies, cereals, fruit bars, and such, are often naturally sweetened and low in fat. Similarly, natural chips, rice puffs or crisps, and other crunchy snacks have less salt and fat than their supermarket counterparts. Prices can sometimes (but not always) be a little higher, but you're getting more value for your money. Here are some suggestions for school snacks:
Natural fruit leathers
Low-fat fruit and cereal bars
Granola bars
Good-quality, non-frosted toaster tarts
Dried fruit, such as apple rings or apricots
Trail mix (dried fruits with nuts and seeds)
Rice cakes or mini-rice cakes
Individual containers applesauce or fruit cup
Naturally sweetened cereal
Graham crackers
Sesame breadsticks
Fruit-sweetened cookies
Bagel crisps
Baby bananas
Small seedless oranges
—
*This post contains affiliate links. If the product is purchased by linking through this review, VegKitchen receives a modest commission, which helps maintain our site and helps it to continue growing!

Trending Vegan Posts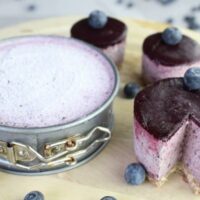 10 Incredible No-Bake Vegan Pies — Perfect for Summer Dessert