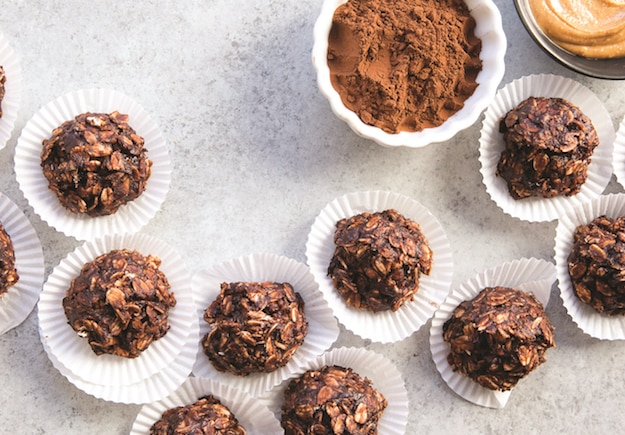 LeAnne Campbell used to love opening her school lunch box to find these no-bake chocolate oatmeal cookies —her all-time favorites! Not surprisingly, they were also a hit with her sons. And as the one packing their lunch boxes, she loved the ease of making this treat — 5 minutes to prep and 15 minutes to chill in the freezer. Recipe and photos from The China Study Cookbook (revised and expanded edition) ©2018 by LeAnne Campbell. Published by BenBella Books, reprinted by permission. more→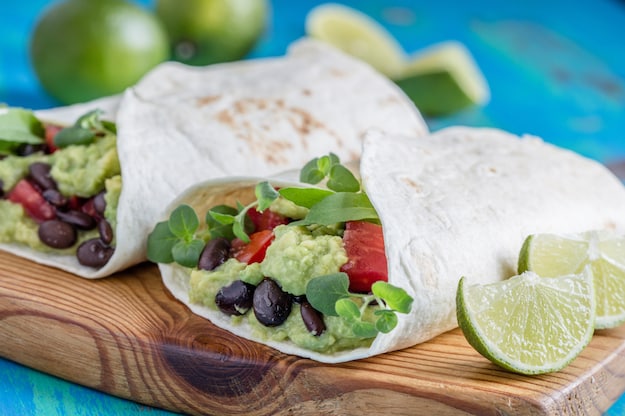 Here's a recipe for easy black bean and avocado wraps that will have you enjoying lunch (or a light dinner) in minutes. If you have a snug container, they're great to take to work or school, too. Make sure the wraps or tortillas you use are nice and fresh and pliable.
Starring in these wraps is the amazing avocado. Considered a superfood due to their cholesterol lowering properties, avocados are rich in fiber, carbs, antioxidants, potassium, and a variety of nutrients and minerals. Avocado has helped redefined the negative stigma associated with consuming fats. There's a major difference between so-called good and bad fats, or rather trans fats versus unsaturated fats like polyunsaturated and monounsaturated; which, you guessed it — the latter is found in avocados. And lots of it.
But while you're enjoying these wraps you won't be thinking about any of that. Your palate will be enjoying the delicious flavors and textures, and that's just how it should be!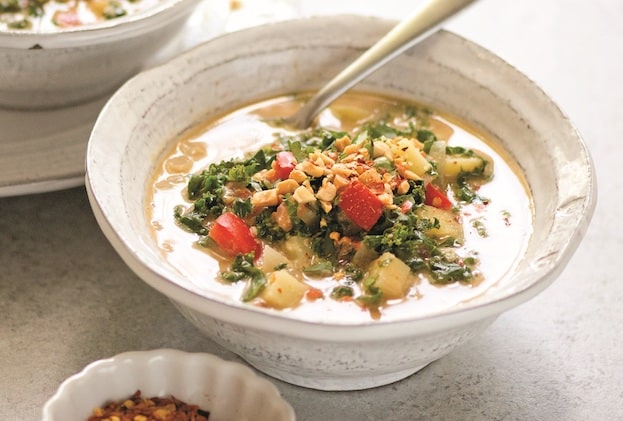 Whenever LeAnne Campbell (author of The China Study Cookbook) makes this luscious peanut kale soup, she doubles the recipe. Everyone goes back to the soup pot for seconds, thirds, and yes, sometimes fourths — It's that good! If you don't have kale on hand, you can also use collard greens or spinach. Recipe and photos from The China Study Cookbook (revised and expanded edition) ©2018 by LeAnne Campbell. Published by BenBella Books, reprinted by permission. more→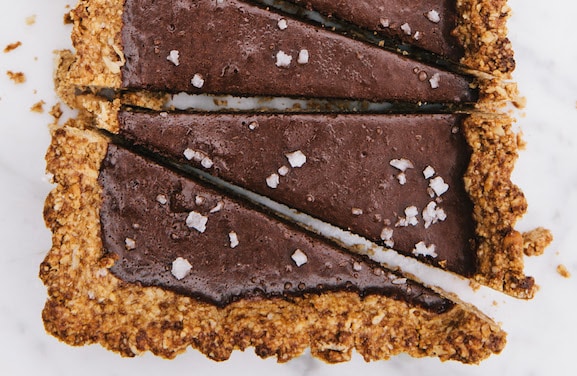 The combination of flavors in this salty peanut butter chocolate tart are familiar and crowd-pleasing. It's also packed with lots of good nutrition from the oats, peanuts, and cacao. This is an impressive dessert to take to a party because unlike other tarts that may be messy to serve, this one has a thick peanut butter and oat crust that holds its shape. A dark chocolate filling and a sprinkling of flaky salt bring it over the top. We usually cut the tart into bars, but it can also be cut into triangle wedges and eaten like a New York–style slice (of pizza, that is!).
From Chocolate Every Day: 85+ Plant-Based Recipes for Cacao Treats that Support Your Health and Well-Being by Bennett Coffey and Kyleen Keenan, Copyright © 2018. Published by Avery, an imprint of Penguin Publishing Group, a division of Penguin Random House, LLC, reprinted by permission. more→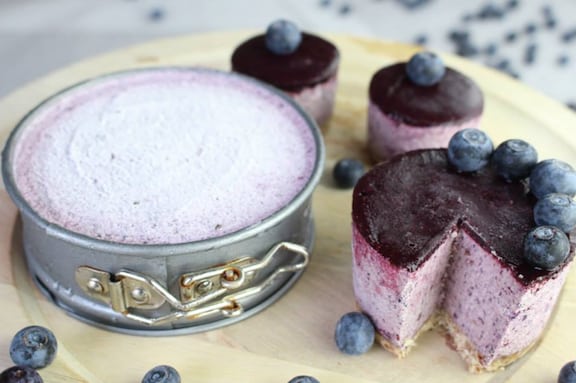 Whether fruity, creamy, chocolatey, nutty, or a combination, these no-bake vegan pies are cool, refreshing, and insanely delicious.So let's get started, especially because these are incredibly easy to make as well.
Blueberry Cheesecake (shown at top) might just be the best cheesecake you've ever tasted. Rich with nuts and flavored with summer blueberries, you won't believe that this is a raw, vegan dessert. Other than the 20 minutes of prep time, there are about 4 hours of freezing time.  more→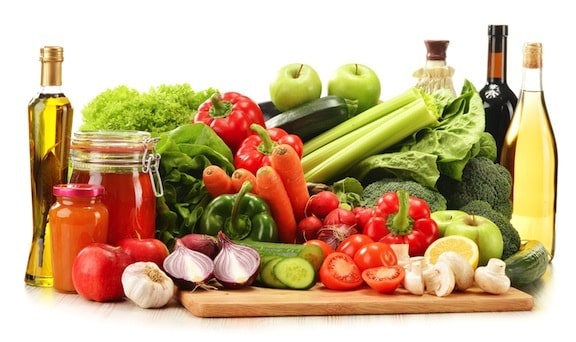 Ninety percent of all food shopping dollars in the U.S. are spent on processed foods. Now, there's a sobering statistic! The overall goal in transitioning to a plant-based diet is to use as many whole foods as possible — and it can be surprisingly easy to find all-natural, healthful foods at the supermarket.
Fortunately, in response to consumer demand, supermarkets are offering more healthy, vegan options than ever. Here are some tips for choosing wisely when you're transitioning to plant-based fare, or are already there!
more→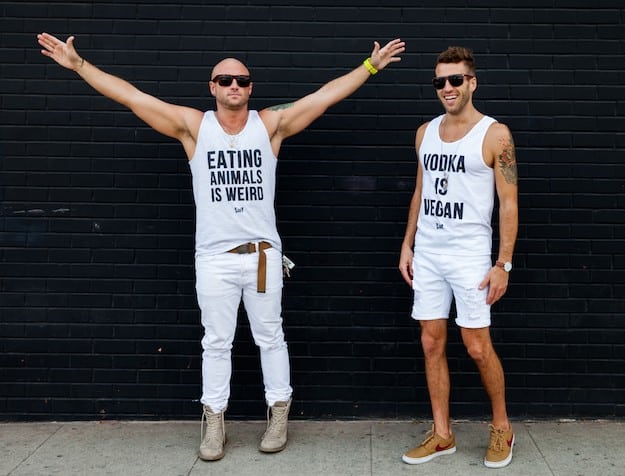 This excerpt is reprinted from Vodka is Vegan: A Manifesto for Better Living and Not Being an A**hole by Matt and Phil Letten © 2018 by arrangement with Tarcher Perigee, a member of Penguin Group (USA) LLC, a Penguin Random House Company.
What does the future hold for meatless eating?
We're sure the future will have lots of pretty cool things. Like flying cars, and computer chips that you can install in your brain to record both every visual image and every bit of trivia, and clothes that are all shiny and formfitting to make people look like foiled-up baked potatoes (which are also vegan). more→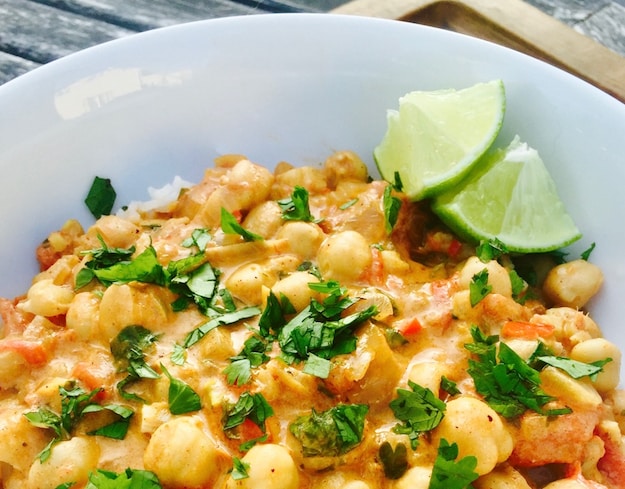 What wine to serve with vegan food is a perennial question. Pairings work "when the food makes the wine taste better, and the wine makes the food taste better."
So says wine consultant Sunny Gandara, DWS, CWE, the in-house sommelier for Vegan Wines. She has nearly 15 years of experience in the wine and spirits industry, holds multiple certificates and diplomas for as a wine educator – and she's an ethical vegan.
She also happens to be professionally trained chef who loves demystifying vegan food and wine. She's given us three original recipes that she created exclusively for Vegan Wine's club members, and today, for the first time, she is making them available to non-members. more→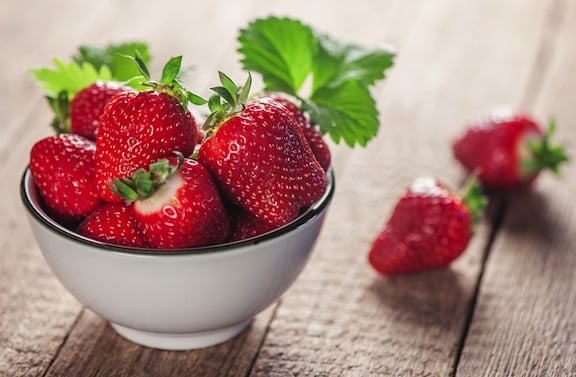 VegKitchen regularly shares the Environmental Working Group's annual lists of the Dirty Dozen™ and Clean Fifteen™ produce. The Dirty Dozen are the fruits and vegetables that are the most pesticide-laden. Consumers would do well to buy the organic varieties of the produce on this list.
On the other hand, the Clean Fifteen list features fruits and vegetables that have little or no pesticide residue. That's where you can make an informed choice and save a bit of money on your food bill, though you're always welcome to buy these in organic form if available.
There's always the argument that organic fruits and vegetables aren't necessarily more nutritious than conventionally grown. That may be true, but who needs to consume all those toxins? Remember also that pesticides become part of the soil, groundwater, and air. And the human factor is rarely discussed. We gloss over the fact that farm workers who harvest pesticide-laden produce get sick at a far higher rate. more→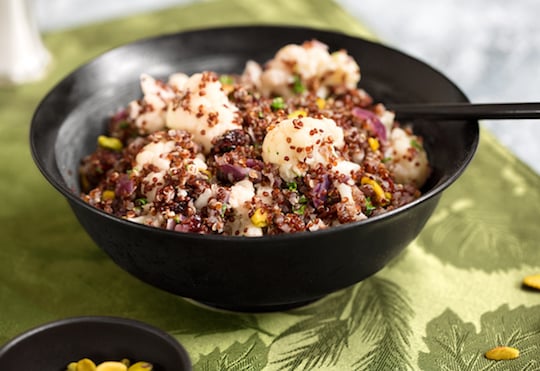 When you need a grain to cushion stews and stir-fries, to stuff into vegetables, or to power pilafs, chances are you reach for rice. And while there's nothing wrong with rice—especially if you've made the switch to brown rice —exploring a variety of whole grains can expand your culinary horizons and add even greater nourishment to your family meals.
Aside from adding character to meals, whole grains are superb sources of fiber and protein. Because the bran and germ are left intact, they also are fine sources of B vitamins, vitamin E, and an array of minerals.  It's certainly possible to be health-conscious and never eat bulgur or quinoa. But why miss out on one of the richest sources of nourishment available?
Here are a few common whole grains everyone should be using more of. Give them a try to boost your everyday meals! Shown at top: Quinoa with Cauliflower, Cranberries, and Nuts. more→
More Recent Posts