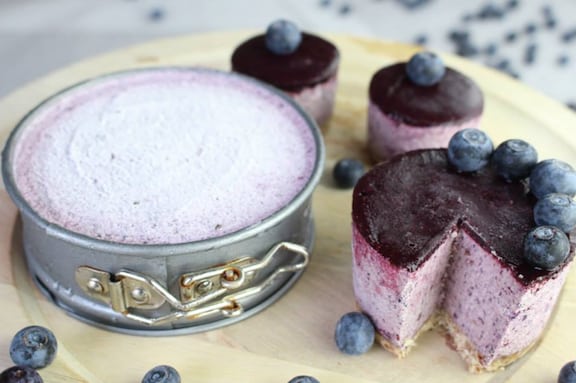 Whether fruity, creamy, chocolatey, nutty, or a combination, these no-bake vegan pies are cool, refreshing, and insanely delicious.So let's get started, especially because these are incredibly easy to make as well.
Blueberry Cheesecake (shown at top) might just be the best cheesecake you've ever tasted. Rich with nuts and flavored with summer blueberries, you won't believe that this is a raw, vegan dessert. Other than the 20 minutes of prep time, there are about 4 hours of freezing time.  more→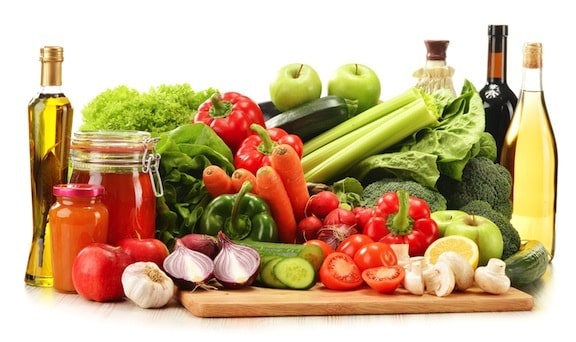 Ninety percent of all food shopping dollars in the U.S. are spent on processed foods. Now, there's a sobering statistic! The overall goal in transitioning to a plant-based diet is to use as many whole foods as possible — and it can be surprisingly easy to find all-natural, healthful foods at the supermarket.
Fortunately, in response to consumer demand, supermarkets are offering more healthy, vegan options than ever. Here are some tips for choosing wisely when you're transitioning to plant-based fare, or are already there!
more→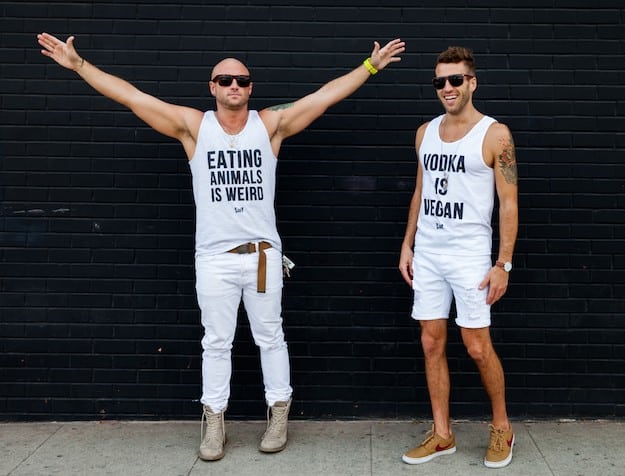 This excerpt is reprinted from Vodka is Vegan: A Manifesto for Better Living and Not Being an A**hole by Matt and Phil Letten © 2018 by arrangement with Tarcher Perigee, a member of Penguin Group (USA) LLC, a Penguin Random House Company.
What does the future hold for meatless eating?
We're sure the future will have lots of pretty cool things. Like flying cars, and computer chips that you can install in your brain to record both every visual image and every bit of trivia, and clothes that are all shiny and formfitting to make people look like foiled-up baked potatoes (which are also vegan). more→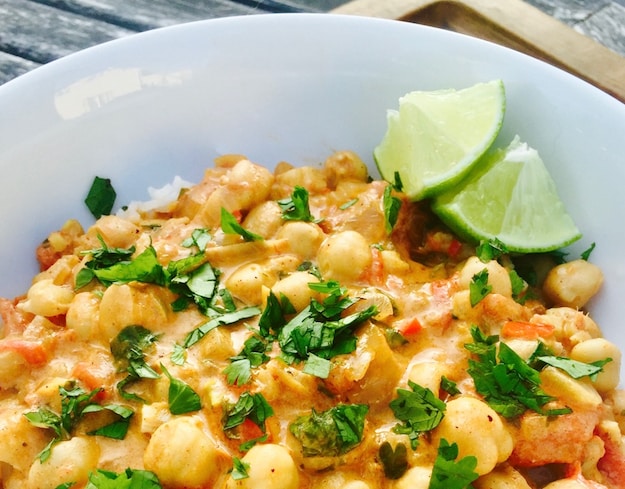 What wine to serve with vegan food is a perennial question. Pairings work "when the food makes the wine taste better, and the wine makes the food taste better."
So says wine consultant Sunny Gandara, DWS, CWE, the in-house sommelier for Vegan Wines. She has nearly 15 years of experience in the wine and spirits industry, holds multiple certificates and diplomas for as a wine educator – and she's an ethical vegan.
She also happens to be professionally trained chef who loves demystifying vegan food and wine. She's given us three original recipes that she created exclusively for Vegan Wine's club members, and today, for the first time, she is making them available to non-members. more→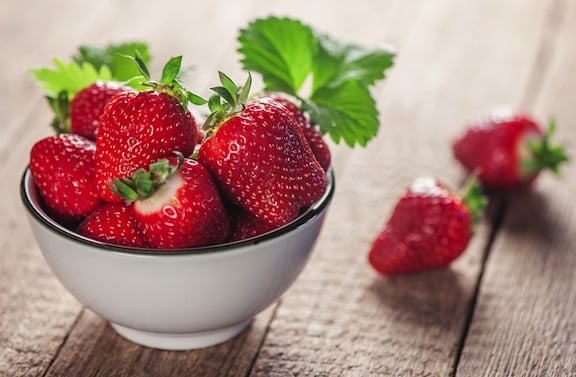 VegKitchen regularly shares the Environmental Working Group's annual lists of the Dirty Dozen™ and Clean Fifteen™ produce. The Dirty Dozen are the fruits and vegetables that are the most pesticide-laden. Consumers would do well to buy the organic varieties of the produce on this list.
On the other hand, the Clean Fifteen list features fruits and vegetables that have little or no pesticide residue. That's where you can make an informed choice and save a bit of money on your food bill, though you're always welcome to buy these in organic form if available.
There's always the argument that organic fruits and vegetables aren't necessarily more nutritious than conventionally grown. That may be true, but who needs to consume all those toxins? Remember also that pesticides become part of the soil, groundwater, and air. And the human factor is rarely discussed. We gloss over the fact that farm workers who harvest pesticide-laden produce get sick at a far higher rate. more→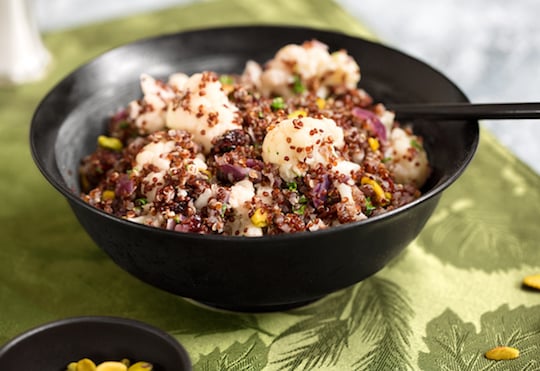 When you need a grain to cushion stews and stir-fries, to stuff into vegetables, or to power pilafs, chances are you reach for rice. And while there's nothing wrong with rice—especially if you've made the switch to brown rice —exploring a variety of whole grains can expand your culinary horizons and add even greater nourishment to your family meals.
Aside from adding character to meals, whole grains are superb sources of fiber and protein. Because the bran and germ are left intact, they also are fine sources of B vitamins, vitamin E, and an array of minerals.  It's certainly possible to be health-conscious and never eat bulgur or quinoa. But why miss out on one of the richest sources of nourishment available?
Here are a few common whole grains everyone should be using more of. Give them a try to boost your everyday meals! Shown at top: Quinoa with Cauliflower, Cranberries, and Nuts. more→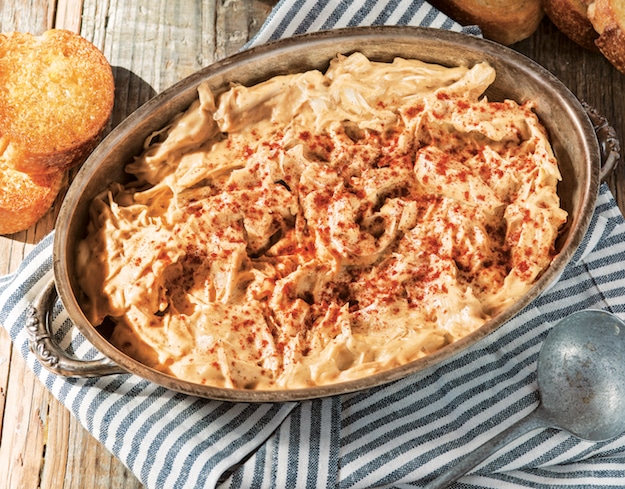 This vegan crab dip, made with jackfruit, is so creamy and mild in flavor, perfect for spreading on crackers or for dipping with your favorite veggies. Our vegan version is every bit as good as the conventional version. Shredded young jackfruit is surprisingly similar in texture to crab, and the flavors of the Dijon, Old Bay seasoning and the other spices are spot on.
In case you're not familiar with Old Bay seasoning, let us acquaint you. Old Bay is a fragrant mix of spices, such as celery salt, mace, cloves, ginger, cardamom, and more. It's what gives most crab cakes their flavor, and it's what brings this crab dip to life. more→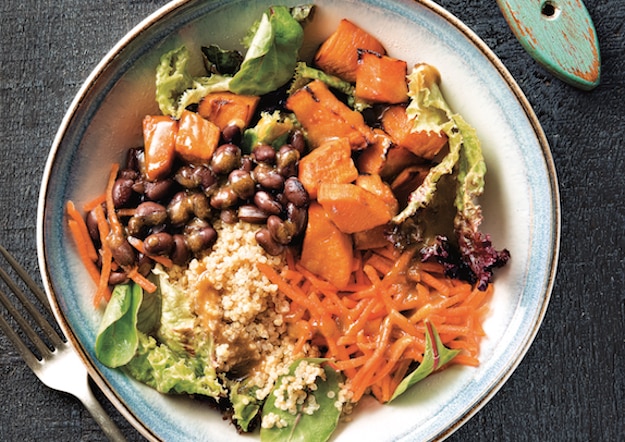 You know the feeling when everything just melds together in perfect harmony? This is that feeling. Warming cumin, tart lime and sweet maple syrup combine to elevate the flavor of everything else in this delicious and filling black bean and quinoa bowl. Reprinted with permission from From the Kitchen of YamChops by Michael Abramson, Page Street Publishing Co. © 2018. Photo credit: Vincenzo Pistritto.
more→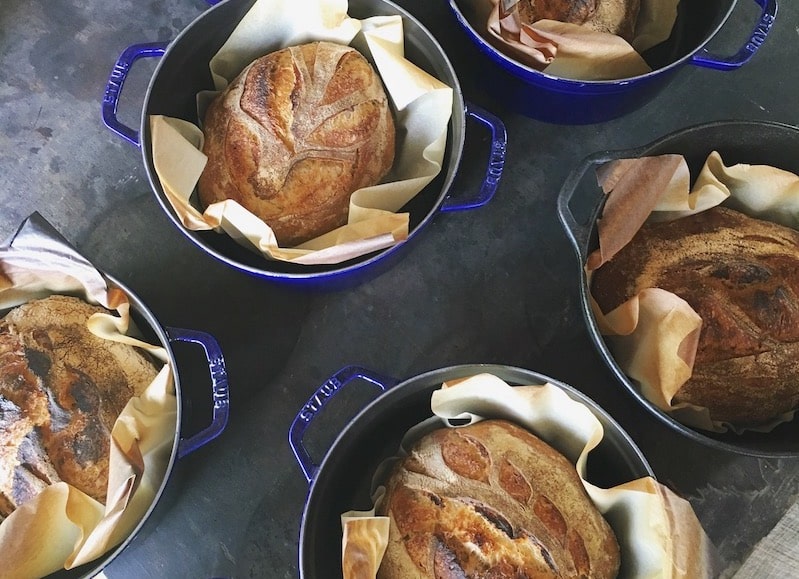 Sourdough bread is all the rage right now, and rightfully so. Display cases of artisanal bakeries are loaded with deep caramel-hued loaves, the surfaces beautifully scored with signature designs and gently dusted with flour like winter's first snow fall. While it may seem like a trend, both professional and home bakers alike are reaching back to one of the earliest and natural forms of bread baking. If you'd like to learn how to make sourdough starter, this primer will take you through the steps.
A sourdough starter, or "culture," is the key to creating authentic sourdough bread. This culture, once thriving and well developed, is the natural yeast that not only encourages your sourdough bread to rise, but adds a nuanced element of flavor. It's easier on your digestion system than bread made without it, and is loaded with gut-friendly bacteria. more→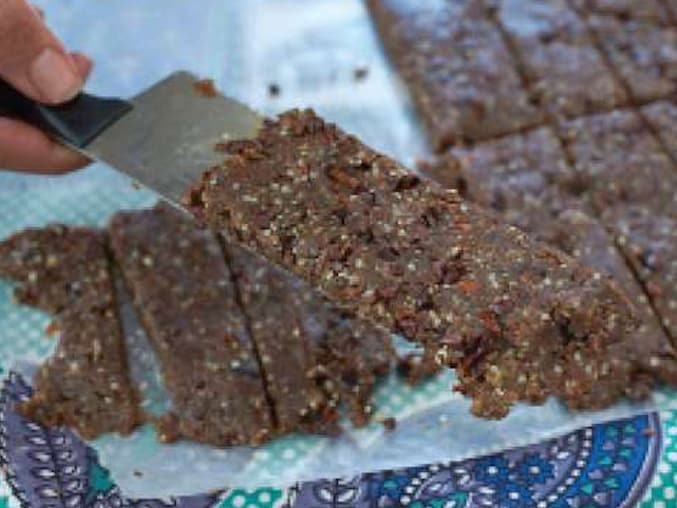 Power-packed with healthy ingredients like nuts, seeds, coconut and dried berries that boast a plentitude of protein, healthy fats and fiber, these energy bars will keep your engine revving all day long. Great for packing in your child's lunchbox!
Reprinted from Plantpower Way by arrangement with Avery Books, a member of Penguin Group (USA), a Penguin Radom House Company. © 2015, Rich Roll and Julie Piatt. more→
More Recent Posts