Aloo Gobi is a delectable Indian specialty that features cauliflower, potatoes, and usually peas in a mild, tomato base. I'm not sure my family has ever placed an order, whether eat-in or carry out, that didn't include it as one of our choices. And fortunately it's almost always already vegan, which means it doesn't need to be modified. It's great to be able to make super-quick aloo gobi at home, now that we've found the way — incredibly tasty Indian simmer sauces.
Ever since this new generation of Indian simmer sauces hit the market, we're doing a lot more Indian-style meals at home. Our favorite is the Maya Kaimal line of sauces, but use what's available to you. You'll find Indian simmer sauces at natural foods stores and in the international foods aisle of well-stocked supermarkets.
Seriously, these sauces make whatever you prepare taste like it came from a great Indian restaurant. And the meals are so much more economical. Pair this dish with Almost-Instant Fruit and Nut Rice Pilaf and you've got an amazing Indian-flavored meal that can be on the table in 20 minutes, tops. Add some frozen samosas, and it becomes a feast fit for company.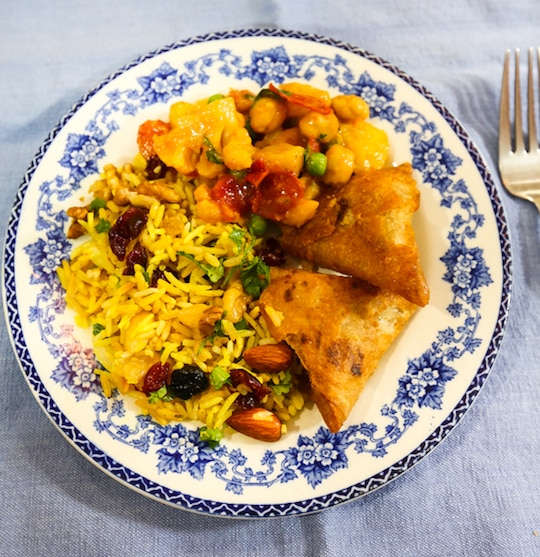 Serves: 4 or more
Time to table: 20 minutes or less
What you need
3 to 4 medium potatoes, scrubbed

16-ounce bag frozen cauliflower florets

14-ounce can diced tomatoes (or 1 ½ cups fresh)

12-ounce container (more or less) Indian simmer sauce (see Note)

1 cup frozen green peas, thawed

1 cup or so chickpeas, optional

Fresh cilantro as desired, optional

Salt and freshly ground pepper to taste
What to do
1  Microwave the potatoes until tender (but not overdone). Plunge into a bowl of cold water.
2  Combine the cauliflower, tomatoes, and simmer sauce in a large skillet or stir-fry pan.
3  When the potatoes are cook enough to handle, cut into dice and add to the mixture along with ½ cup water and stir everything together.
4  Heat the mixture up until it comes to a simmer, then cook for 5 minutes.
5  Stir in the green peas, optional chickpeas (for added protein!), and optional cilantro. Season with salt and pepper and serve.
Note: For this dinner, we used Maiya Kaimal Madras Curry, which is fairly spicy. You can use any of the other vegan sauces in this line. There are other brands of Indian sauces (like tikka masala), but read labels carefully, many of them contain dairy. You'll find these kinds of sauces in natural food stores or well-stocked supermarkets. If you can't find them, you can always order online.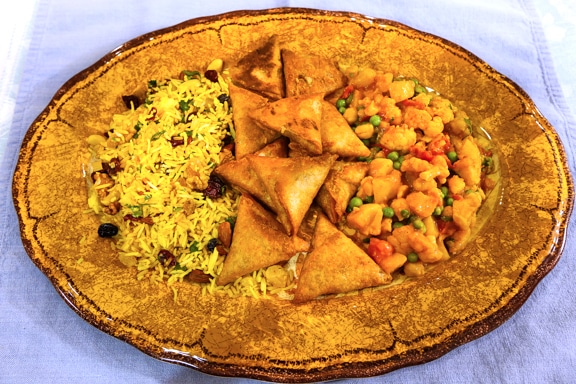 Photos: Evan Atlas