This quick and easy vegetable curry is flexible; use the vegetables recommended, or see the variations below the recipe. Complete this easy meal with lentil chips or papadum, and a cool cucumber salad with coconut yogurt and a sprinkling of fresh herbs.
Gone are the days when the laziest among us make a curry dish by dumping in some curry powder. Now, for homemade curries that have truly authentic flavors, a number of Indian simmer sauces from jars are at our disposal.
Please note that a number of varieties are vegetarian (containing dairy) rather than vegan (which are often based on coconut milk. In our Vegan Food Hacks kitchen, we love Maya Kaimal Indian Simmer Sauces (our review here, where you can see which varieties are dairy-free). There are other good brands that you can explore in the international foods aisle  Because much as we love authentic Indian flavors, we're way too lazy to roast and grind and measure and mix the proper way.
 Serves: 4 to 6
5 medium golden potatoes

16-ounce bag frozen cauliflower florets, completely thawed

2 medium tomatoes, diced

1 cup frozen green peas, thawed

5 to 6 ounces baby spinach

1 cup Indian simmer sauce, or as needed (see Note)

Salt to taste

¼ cup chopped fresh cilantro, optional
1  Cook or microwave the potatoes ahead of time. When cool enough to handle, cut into bite-sized diced.
2  Combine the potatoes, cauliflower florets and tomatoes in a stir-fry pan or large skillet with about ½ cup water. Bring to a simmer and cook until piping hot.
3  Add the peas and spinach and cook until the spinach is wilted and the peas warmed through.
4  Add as much simmer sauce as you'd like to coat the vegetables generously, and cook for another minute.
5  Add salt to taste and stir in cilantro, if using. Serve at once.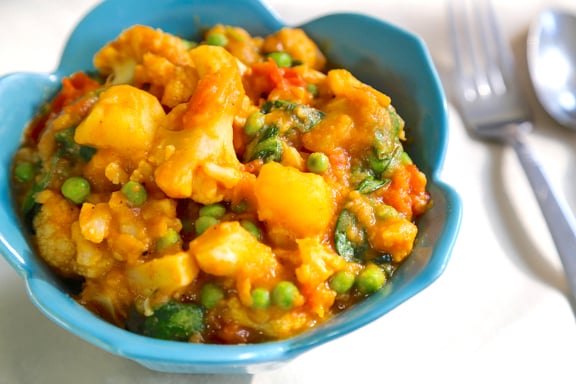 Note: The dairy-free varieties of Maya Kaimal sauces include Jalfrezi Curry, Madras Curry, Kashmiri Curry, or Goan Coconut. Trader Joe's Masala Simmer Sauce is dairy-free. And you might find others by exploring the international aisle in your supermarket.
Variations
For more depth of flavor, start with a sauté of onion and garlic before adding the vegetables to the pan.

Use a couple of large sweet potatoes in place of the golden potatoes; fresh cauliflower for the frozen; and any other vegetables you have on hand instead of the others — eggplant, zucchini, broccoli, carrots — this can actually be a good way to clean out the vegetable drawer. Honestly, a good Indian simmer sauce makes anything taste great.

Substitute one or more of the aforementioned vegetables for potatoes and serve over grains.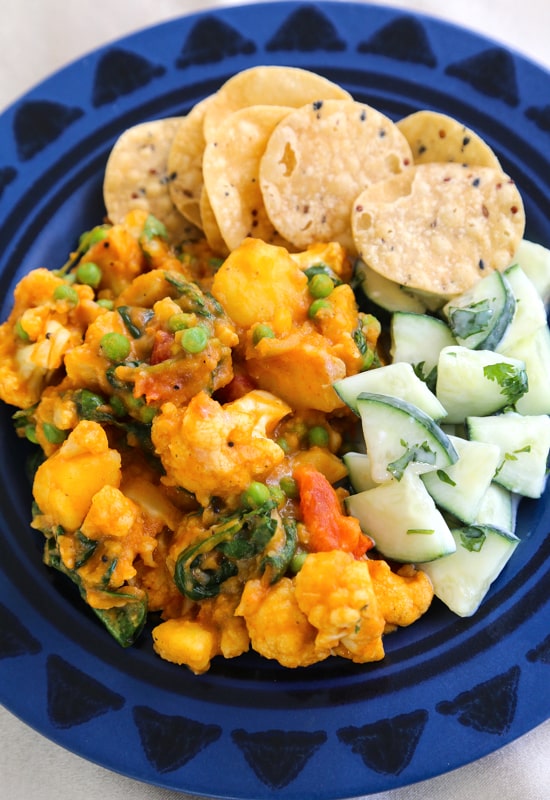 For more shortcut Indian recipes see:
Photos: Evan Atlas