Okra haters, prepare to be wooed. While normally I flag okra dishes for okra lovers only, many testers served this to okra skeptics (including themselves) with smashing results! This single-vegetable Indian curry is easy to love, loaded with garam masala and a touch of fresh tomato. A complete meal with any Indian bread or rice, bindi bhaji reheats beautifully. For best results use the freshest okra you can find; pods should be firm and the tips snap off easily.
Tangy, bracing amchur powder is Indian dried powdered green mango, seek it out where Indian spices are sold. Substitute with lime juice or use both to boost the juicy, dense okra. Recipe from Vegan Eats World* by Terry Hope Romero. Reprinted courtesy of Da Capo Lifelong Books. Photos by Isa Chandra Moskowitz.
Serves: 4
1 pound fresh okra pods

2 tablespoons vegetable oil

1 teaspoon black mustard seeds

3 cloves garlic, peeled and finely chopped

1 large yellow onion, peeled and finely chopped

2 teaspoons Garam Masala

1 teaspoon ground turmeric

½ teaspoon ground cinnamon

½ teaspoon cayenne pepper (optional for a less spicy dish)

1 teaspoon sea salt

2 to 4 tablespoons vegetable broth or water

1 cup diced tomatoes or 2 plum tomatoes,
cores and seeds removed and finely diced

1 teaspoon amchur powder or 1 tablespoon lime juice

Additional Garam Masala for sprinkling
Trim and discard any stems from the okra. Slice the okra into ½-inch-thick pieces. Heat the oil in a wok or large stainless-steel skillet over high heat, add the mustard seeds, cover the wok, and give it a gentle shake a few times. Once the seeds pop, uncover the pan and immediately stir in the garlic and fry for 10 seconds. Add the onion and sauté for 2 to 3 minutes until soft, then stir in the okra and fry for 2 minutes.
Sprinkle the garam masala, turmeric, cinnamon, cayenne, and salt over the okra and stir-fry for 2 minutes. Pour in 2 tablespoons of vegetable broth and cover the wok. Turn the heat down slightly to medium-high. With the wok covered, cook the okra for 12 to 14 minutes, occasionally uncovering and stirring the okra.
Occasionally during the cooking, check to see if the vegetables are sticking to the bottom of the wok; if so, add a tablespoon of water and stir. Cook the okra until it's tender and some of the natural sliminess has reduced slightly. Uncover, stir in the tomatoes and the amchur powder or lime juice (or use both for extra-tangy okra), and fry for 2 more minutes, stirring frequently. Taste and season the okra with more amchur or lemon juice if desired. Remove from heat, sprinkle with a big pinch of garam masala, and serve with bread or rice.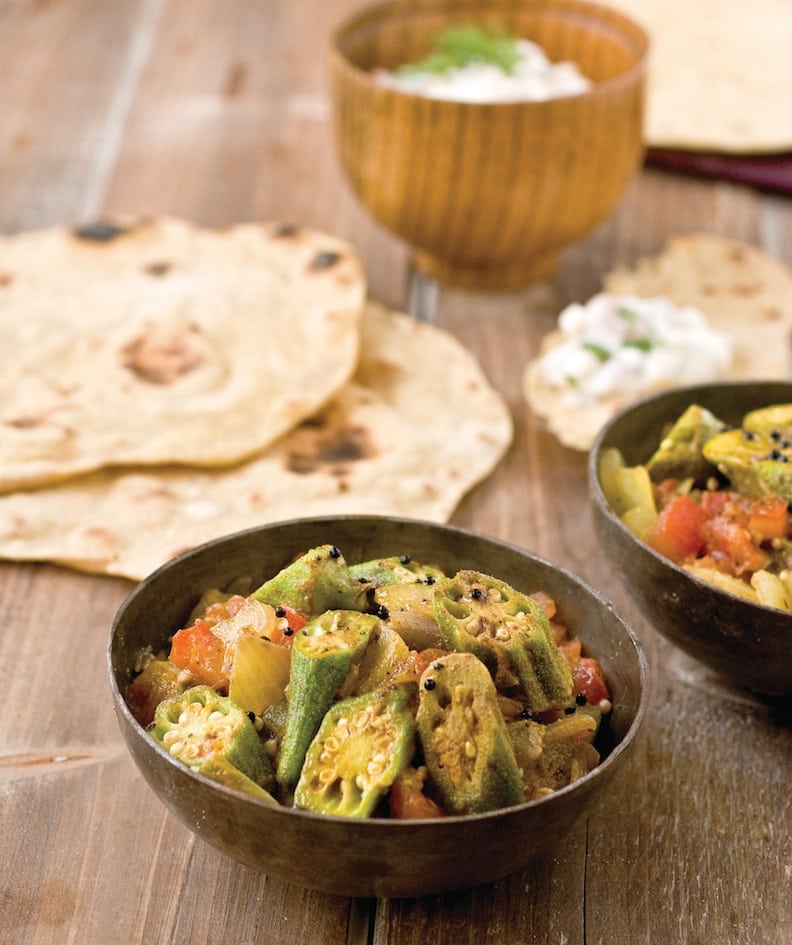 Here are some more recipes featuring Okra.
*This post contains affiliate links. If the product is purchased by linking through this review, VegKitchen receives a modest commission, which helps maintain our site and helps it to continue growing!