Sometimes, two shortcuts are better than one, and that's definitely true for these tasty baked tofu and peanut satay wraps. Using precut coleslaw and prepared peanut satay sauce means that these can be ready to eat in 10 minutes or less. You don't need a formal recipe; just follow the simple steps and see how the ingredients are arranged in the photo of the open wrap, below.
The ingredients you'll use, below, are enough to make 3 to 4 wraps, but you can make one or two if that's all you need.
These wraps are perfect for an at-home or portable lunch (pack in a snug BPA-free plastic container); all you need to complete the meal is some fresh fruit. For dinner, add a baked or microwaved potato or sweet potato and/or a steamed green vegetable.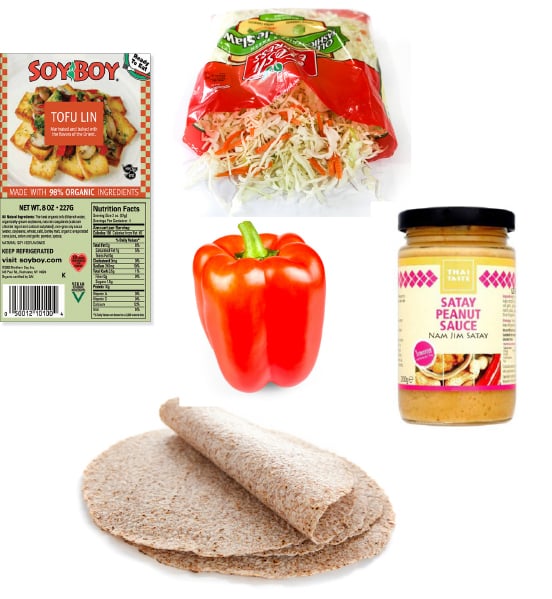 What you need
Whole-grain wraps

1 bag precut coleslaw (see note)

1 red bell pepper

5.5- to 8-ounce package baked tofu (shown above is Soy Boy,
but you can use Nasoya, Trader Joe's, etc.)

8- to 12-ounce bottle peanut satay sauce, your favorite brand
Note: An 8-ounce bag will be more than enough, but if all you can find is a 16-ounce bag, that's fine. You'll find ways to use it. The kind that has a mix of cabbage and carrots is very nice in these wraps.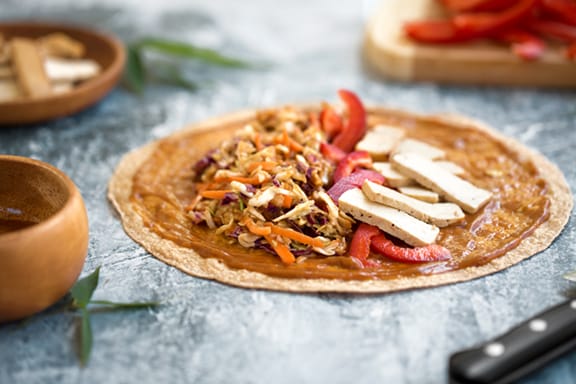 What to do
1  Mix a little satay sauce with the coleslaw for extra flavor.
2  Cut as much bell pepper and tofu as you need into narrow strips.
3  For each wrap, spread some satay sauce almost to the edges. Arrange some of the slaw, peppers, and tofu more or less down the center as shown above.
4  Fold two edges part way over the ingredients, then roll up snugly. Repeat for more wraps, or simply place everything on the table and let everyone make their own.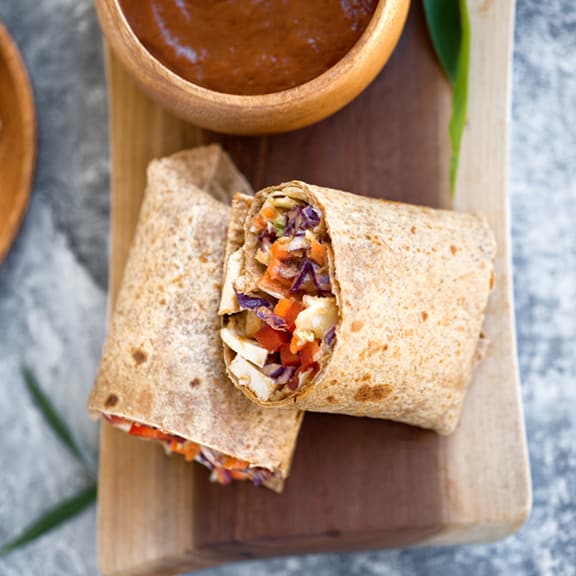 See more of Vegan Food Hacks' Shameless Shortcut Recipes.