This luscious Buffalo tempeh salad offers up the contrast of spicy tempeh and cool creamy vegan ranch dressing on a crisp salad. If you're sensitive to tempeh's fermented taste, steam the cubes before marinating to tone it down. Steaming will also help the tempeh soak up more of the marinade. Recipe and photos by Dianne Wenz of Dianne's Vegan Kitchen, reprinted by permission.
Makes: 2 to 4 servings
For The Buffalo Tempeh
8-ounce package tempeh, cut into bite-sized cubes

¼ cup vegetable stock

¼ cup hot sauce, such as Frank's or Cholula
For The Dressing
½ cup raw cashews, soaked for 2 hours, drained and rinsed

¼ cup unsweetened non-dairy milk (more if needed)

1 tablespoon lemon juice

1 tablespoon apple cider vinegar

1 ½ teaspoons fresh chives or dill

1 ½ teaspoons fresh parsley

1 clove garlic

½ teaspoon onion powder

½ teaspoon garlic powder

¼ teaspoon sea salt
For The Salad
1 large head romaine lettuce, chopped

1 carrot, julienned or shredded

1 cup red cabbage, shredded

1 celery stalk, chopped

1 tablespoon chives, chopped
Place the tempeh pieces in a single layer on a large plate or in a shallow baking dish.
Whisk the vegetable stock and hot sauce together, and pour the mixture over the tempeh. Gently toss to coat. Let it marinate for 2 hours or overnight.
Mix together the dressing ingredients in a high- speed blender or food processor. If it's too thick, add a little more non-dairy milk, 1 teaspoon at a time.
Heat a large skillet or pan over high heat. Place the tempeh in the pan, reserving the remaining marinade.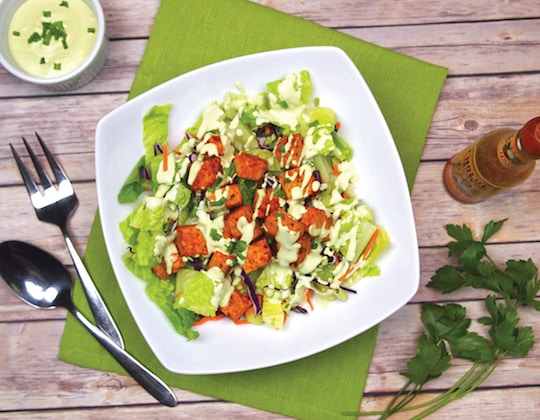 Cook the tempeh pieces, flipping often, until golden brown. If the tempeh sticks, use the reserved marinade to deglaze the pan.
In a large bowl, toss together the lettuce, carrot, cabbage, and celery. Top with the tempeh and dressing, and garnish with the chives.
Recipe reprinted with permission from Summer Salads: 15 Favorite Salad Recipes from Dianne's Vegan Kitchen. ©2016 Dianne Wenz. Purchase your copy of the e-book here: http://www.diannesvegankitchen.com/cookbooks/