Easy Everyday Tofu Recipes (pdf e-book) features 35 of VegKitchen's easy, tasty recipes for using firm, extra-firm, baked, and silken tofu. You'll find simple ways to prepare tofu, main dishes, soups, stews, salads, spreads, dips, and even a handful of desserts.
If you're a tofu fan you'll love having a focused array of recipes right at hand. Sample Lemon-Pepper Tofu Cutlets, Crustless Tofu-Broccoli Quiche, Southwestern Tofu Scramble, Creamy Corn Chowder, Silken Tofu and Sun-Dried Tomato Dip, Berry-Topped Vegan Cheesecake, and lots more! Photos of 6 recipes are included. See entire recipe listings under the cart buttons.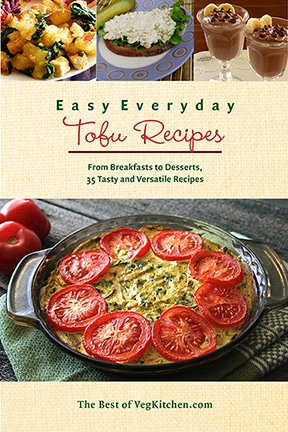 Easy Everyday Tofu Recipes is part of VegKitchen's "Best of VegKitchen" pdf e-book series. Featuring 35 or so recipes that have proven most popular on the site, these compact e-books let you to delve into specific food niches without poring through lots of web sites (or even just VegKitchen, which in itself has thousands of recipes!).
Please note — these e-books can be viewed on your computer after downloading, or printed and popped into a binder, but they are not formatted for e-readers such as Kindle, Nook, etc.
How it works: Once you click Add to cart (below), you'll be taken to a checkout page. All orders are processed though PayPal. Once payment has been made, you'll receive an e-mail with a link to an instant download. Chances are that you already have Adobe Acrobat reader on your computer, but if not, you can download it for free by following this link.
45 pages, $5.95
Contents:
SIMPLE WAYS TO PREPARE TOFU
Lemon-Pepper Tofu Cutlets
Baked Tofu Teriyaki
Sweet and Savory Sautéed Tofu
Barbecue-Flavored Tofu Nuggets
Teriyaki Tofu Triangles
MAIN DISHES
Simple Tofu Fajitas
Mediterranean Tofu and Tomatoes
Crustless Tofu Quiche
Tofu Rancheros
Roasted Barbecue-Flavored Tofu and Vegetables
Tofu and Potato Hash Browns
Silken Tofu Scalloped Potatoes
Sweet-and-Sour Stir-Fried Vegetables and Tofu
Thai-Flavored Broccoli and Tofu
Tofu Shakshouka (Middle-Eastern Inspired Scramble)
Mushroom and Bell Pepper Scrambled Tofu
Southwestern Tofu Scramble
Asian Noodles with Tofu and Mushrooms
Mom's "Tuna"-Noodle Casserole
Pasta with Vegan Alfredo Sauce
SOUPS AND STEWS
Miso Soup with Winter Vegetables
Japanese Soba Noodle Soup with Tofu and Spring Greens
Chinese Bean Curd Soup with Cellophane Noodles and Mushrooms
Creamy Corn Chowder
Creamy Mushroom Soup

Easy Curried Sweet Potatoes and Tofu
SALADS, SPREADS, AND DIPS
Vegan Salade Niçoise
Tofu "Tuna" and White Bean Salad
Tofu Eggless "Egg Salad"
"Tofuna" Salad Sandwich Spread
Silken Tofu, Spinach, and Cucumber Dip
Silken Tofu and Sun-Dried Tomato Dip
DESSERTS 
Tofu Chocolate Pudding
Chocolate Tofu-Banana "Cream" Pie
Easy Vegan Pumpkin or Squash Pie
Berry-Topped Vegan Cheesecake