If you're looking for new cabbage recipes, this recipe is a great alternative to slaw or stuffed cabbage. When cabbage is cooked down, as it is here, it becomes a very tender, almost buttery, sweet vegetable. Called Ye'tikil gomen be'timatim in Ethiopian, it's perfect to serve with inejra or Quick Teff Crêpes. Recipe and photo from Teff Love: Adventures in Vegan Ethiopian Cooking* by Kittee Berns © 2015, Book Publishing Company, reprinted by permission. See also Tender Kale with Carrots, Onion, and Mild Spices as a filling. For complete how-to on making authentic Ethiopian injera (the spongy moist flatbread shown in the photo), refer to the aforementioned book!
Ethiopian Stewed Seasoned Cabbage in Golden Tomato Sauce
Cuisine:
Ethiopian / Vegan
Prep time:
Cook time:
Total time:
If you're looking for new cabbage recipes, this easy Ethiopian stew is a great alternative to slaw or stuffed cabbage.
Ingredients
1 cup white or yellow onion, slivered and cut into ¼-inch pieces
3 tablespoons extra-virgin olive oil
6 cloves garlic, pressed or grated (1 tablespoon)
2 teaspoons peeled and grated fresh ginger
½ teaspoon salt, plus more if desired
½ green cabbage, cut into 1-inch pieces (7 cups)
1 tomato, cut into ¾-inch pieces (1 cup)
¼ teaspoon ground turmeric
1 to 2 jalapeño chiles, seeded, veined, and cut into thin strips
Freshly ground black pepper
Instructions
Put the onion, oil, garlic, ginger, and salt in a large saucepan. Cook over medium heat, stirring frequently to prevent sticking or burning, until the onion is soft and translucent, about 5 minutes.
Add the cabbage, tomato, and turmeric and stir well to combine. Cover and cook, stirring frequently, for 10 minutes.
Add the chiles, cover, and cook until the cabbage is very tender, about 5 minutes longer.
Season to taste with pepper and additional salt if desired, then serve.
Nutrition information
Per cup: 182 calories, 4g protein; 12g fat ; 18g carbs; 6g fiber; 6g fiber; 198 mg sodium
Visit Kittee Berns at Cake Maker to the Stars.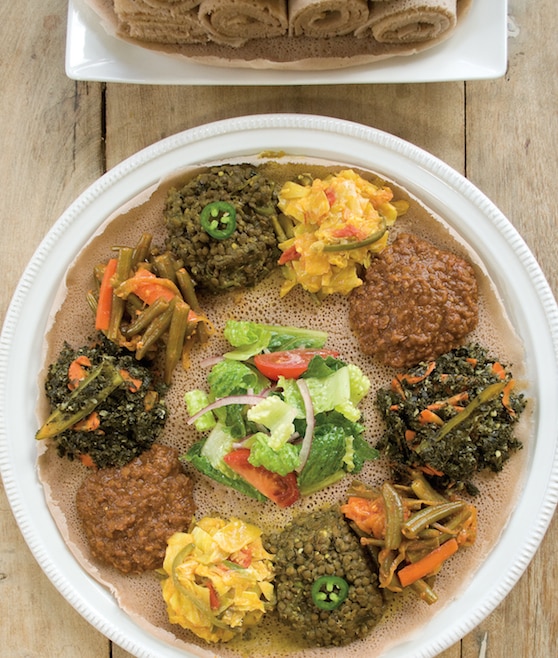 *This post contains affiliate links. If the product is purchased by linking through this review, VegKitchen receives a modest commission, which helps maintain our site and helps it to continue growing!