Everything about this butternut squash and apple soup says "fall harvest," from its warm golden color to its slightly sweet, fresh flavor. Once you've got the squash baked, it cooks fairly quickly.
Serves: 6
1 large butternut squash, or 2 smaller ones, about 2 pounds

2 tablespoons olive oil

1 large red onion, chopped

4 cups peeled, diced apple, any variety

32-ounce carton low-sodium vegetable broth




or 4 cups water with 2 vegetable bouillon cubes

2 teaspoons grated fresh or jarred ginger, or more, to taste

1 teaspoon ground cumin

1 teaspoon good-quality curry powder, or to taste

¼ teaspoon ground nutmeg

2 cups rice milk or other unsweetened nondairy milk, or as needed

Salt and freshly ground pepper to taste

Toasted croutons for garnish, optional
Preheat the oven to 375 degrees F.
Wrap the squash or squashes tightly with foil. Bake for 45 to 50 minutes, or until the narrow part can be easily pierced with a knife. This step can be done ahead of time. Set aside until cool enough to handle. Then, scoop out and discard the seeds and fibers. Peel the squash and cut into large chunks.
In a food processor, puree the squash with ½ cup of the rice milk, until completely smooth. Transfer to a bowl. You can skip this step if you'll be using an immersion blender.
Heat the oil in a soup pot. Add the onion and sauté over medium-low heat until golden, about 8 to 10 minutes. Add the apple dice, broth, and spices. Bring to a simmer, then simmer gently, covered, until the apples are soft, about 10 minutes.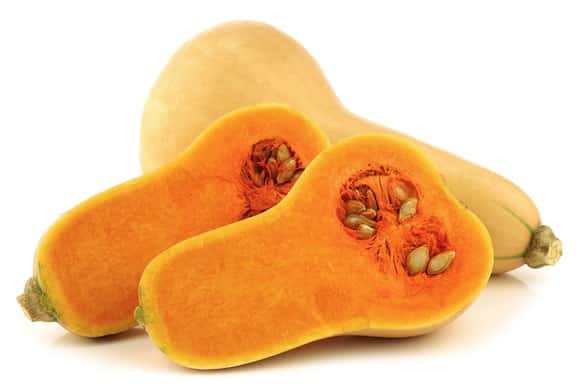 If using a food processor, transfer the apple-onion mixture into it and puree until completely smooth. Transfer both this and the squash puree back into the soup pot and stir together. Otherwise, if using an immersion blender, simply add the squash chunks to the soup pot. Insert the immersion blender and process until the solid ingredients are completely pureed.
Add the remaining rice milk, using a bit more if the puree is too thick.
Bring the soup to a simmer once again, then cook over low heat for another 5 to 10 minutes, or until well heated through. Season with salt and pepper. Serve at once, or let the soup stand off the heat for an hour or two, then heat through as needed before serving.
Nutrition information
Per serving: Calories: 178;  Total fat: 6g;  Protein: 2g; Fiber: 5.2g; Carbs: 33g; Sodium: 83mg