Provide your body with plenty of energy to make it through a hectic day with this savory mixture of tempeh, onions, carrots, and the green cousins broccoli and kale. Serve it with slices of fresh fruit or whole grain toast. Recipe from Vegan Bites: Recipes for Singles* by Beverly Lynn Bennett. Photos by Hannah Kaminsky. Reprinted by permission of The Book Publishing Company © 2008.
Serves: 2
4 ounces tempeh, cut into ½-inch cubes
2 teaspoons olive oil
1 ½ cups small broccoli florets
½ cup diced yellow onions
½ cup diced carrots
2 leaves kale, stemmed and chopped (about 1 ½ cups)
¼ cup chopped pitted olives of choice
1 tablespoon minced garlic
1 tablespoon tamari
1 tablespoon nutritional yeast flakes
1 teaspoon dried basil or Italian seasoning blend
¼ teaspoon sea salt
⅛ teaspoon freshly ground black pepper
Place the tempeh and olive oil in a large skillet and cook over medium heat for 2 minutes, stirring often. Add the broccoli, onions, and carrots and cook and stir for 3 minutes.
Add all of the remaining ingredients, cook and stir for 2 to 3 minutes longer or until the kale begins to wilt. Taste and adjust the seasonings as desired. Serve hot.
Visit Beverly Lynn Bennett's web site, The Vegan Chef.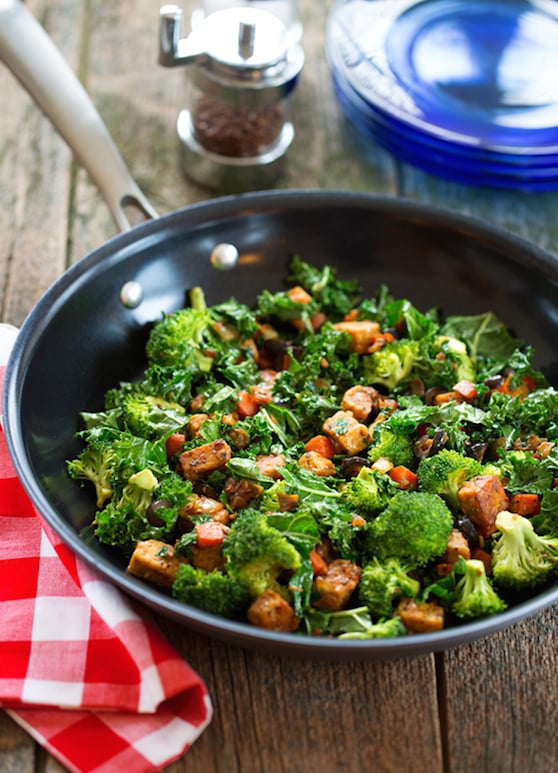 Here are more:
*This post contains affiliate links. If the product is purchased by linking through this review, VegKitchen receives a modest commission, which helps maintain our site and helps it to continue growing!