This is my healthy, gluten-free substitute for eggplant parmigiana. Not frying the eggplant saves time and calories, and both of those can be at a premium. Its very saucy and perfect over pasta. Recipe from The Vegan Slow Cooker* by Kathy Hester, reprinted by permission of the author. Photo by Cara Lyons of Cara's Cravings.
Serves: 8
For the Cashew-Tofu Ricotta:
½ cup cashews
½ cup nutritional yeast (*use gluten-free)
3 cloves garlic
1 package (15 ounces) firm tofu
½ cup unsweetened nondairy milk
½ to 1 teaspoon salt (to taste)
Pepper, to taste
Remaining ingredients:
1 large eggplant, thinly sliced
1 jar (25 ounces) marinara sauce, store bought or homemade
Cooked pasta (*use gluten-free pasta), for serving
The night before:
To make the ricotta: In a food processor or blender, combine all the ricotta ingredients. Blend until smooth and creamy. Store the ricotta and the sliced eggplant in separate containers in the fridge.
In the morning:
Oil the crock of your slow cooker and pour in one-third of the marinara sauce. Top with half of the eggplant, half of the ricotta, and another one-third of the sauce. Repeat the layers once more, then top with the remaining sauce. Cook on low for 6 to 8 hours. Serve over the pasta.
If your slow cooker does not run hot and the final product is too watery, prop up the lid on the handle of a wooden spoon and turn the slow cooker to high. In 30 minutes to 1 hour most of the water will evaporate.
Total Prep Time: 15 minutes
Total Cooking Time: 6 to 8 hours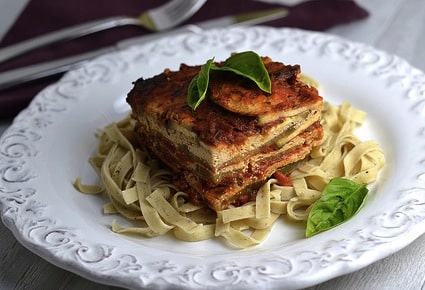 Kathy Hester is the author of The Vegan Slow Cooker.* Visit her on the web at Healthy Slow Cooking* and Busy Vegan*. 
*This post contains affiliate links. If the product is purchased by linking through this review, VegKitchen receives a modest commission, which helps maintain our site and helps it to continue growing!