This vegan breakfast recipe updates regular scrambled tofu with mushrooms and bell peppers. Omnivores and vegans alike will love waking up to this dish!
Soft tofu is a good choice for dishes in which it is crumbled, as in this veggie-filled, egg-free scramble. While this would certainly also make a good brunch or lunch dish, it also makes a wonderful light dinner with whole grain toast or sautéed potatoes, and some sliced oranges or other seasonal fresh fruit. Photos by Evan Atlas.
Mushroom and Bell Pepper Scrambled Tofu
Serves: 3 to 4
Ingredients
1 tbsp olive oil
1 large red bell pepper, cut into short, narrow strips
1–1 ½ cups sliced white or crimini mushrooms
1 (14–16 oz) tub firm or silken tofu, drained and crumbled
2–3 scallions, sliced
1–2 tsp curry powder, to taste
1 tsp all-purpose seasoning blend (such as Frontier or Mrs. Dash)
salt and freshly ground pepper, to taste
Instructions
Heat the oil in a large skillet. Add the bell peppers and mushrooms and cook over medium heat until they are done to your liking, or about 6 to 8 minutes. Turn up the heat to cook away any liquid that has formed, if need be.
Add the remaining ingredients and cook over medium heat, stirring frequently, until everything is well heated through, about 5 to 7 minutes.
Serve at once.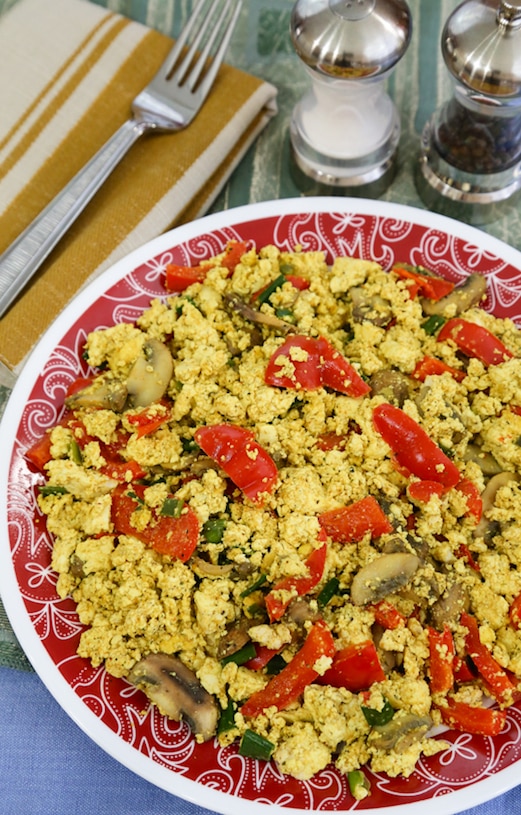 Here are more: