Admittedly, I'm not always the most adventurous when it comes to trying new sauces; my husband Seth, on the other hand, has been known to add as many as five sauces to a vegan hot dog. When he discovered the Thai chili-based Sriracha, he started adding it to just about everything other than cereal. Naturally, I wanted to create a salad for him that would incorporate this new favorite. He gave it two thumbs up and then showered the chef with some appreciative kisses. Recipe and photos by Sharon Discorfano, from Stellar Vegan Salads. * Reprinted by permission.
Serves: 2
Spicy Lime Dressing

1 tablespoon extra-virgin olive oil
1 tablespoon rice vinegar
Juice from 2 limes
½ teaspoon chili powder
½ teaspoon cayenne Pepper
Pinch of sea salt
-
Mixed greens, as desired
½ cup green cabbage, shredded
Chinese or baby broccoli sprigs (cut off stems, leaving just florets)
3 to 4 ounces baked tofu (warm or cold), thinly sliced*
1 medium carrot, peeled and shredded into ribbons with a
peeler, or grated in the food processor
¼ cup peanuts
Olive oil
Chili powder or cayenne pepper
Sriracha (a couple of swirls, or to taste)
Prepare the lime dressing according to instructions.
Arrange the greens, cabbage, broccoli sprigs, baked tofu, and carrot ribbons in a serving bowl.
Roll peanuts in a few drops of olive oil and a sprinkling of chili powder or cayenne pepper and arrange in the center of the salad.
Unleash the inner salad artist in you with a few swirls of Sriracha sauce! Serve immediately, passing around the spicy lime dressing on the side.
*For this recipe, I highly recommend the ready-to-eat Trader Joe's Organic Baked Tofu, savory flavor -- a blend of mustard seeds, toasted sesame oil, onion and garlic powders, apple cider vinegar, and sea salt. However, because I'm allergic to apples, I have to make mine from scratch: I marinate extra-firm tofu in a mix of sesame oil, shoyu, garlic and onion powder for a couple of hours before baking at 425 degrees (30 minutes). Soy Boy and White Wave also make very good baked tofu.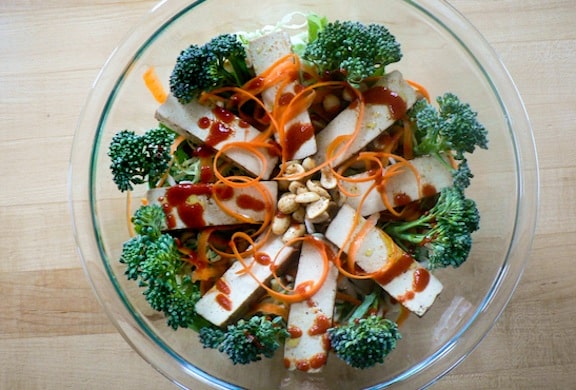 *This post contains affiliate links. If the product is purchased by linking through this review, VegKitchen receives a modest commission, which helps maintain our site and helps it to continue growing!