Kale, tofu, and peanut butter join forces to create a tasty, nutrition-packed dish. Serve with brown rice or quinoa and a colorful salad for a great weeknight meal. Recipe and photos from Eat to Live Cookbook* by Joel Fuhrman, M.D. © 2013 HarperOne; reprinted by permission.
Serves: 4
14- to 16-ounce tub extra-firm tofu,
drained well, cut into 1-inch cubes
1 cup finely chopped onion
1 tablespoon grated fresh ginger
1 small jalapeño pepper, seeded and minced
1 teaspoon chili powder
2 cups no-salt-added or low-sodium vegetable broth
½ cup unsalted, natural peanut butter
2 tablespoons tomato paste
No-salt seasoning blend, adjusted to taste
1 bunch kale, tough stems and center ribs removed
and leaves chopped
1 tablespoon fresh lime juice
4 scallions, thinly sliced
Preheat the oven to 350°F.
Place tofu cubes on a lightly oiled baking dish and bake for 30 minutes, turning after 15 minutes.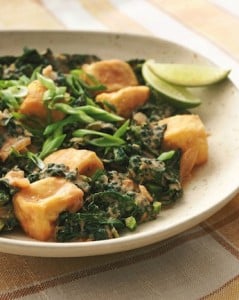 Heat a large sauté pan and add onion, ginger, and jalapeño pepper. Cook until onion has softened, adding 1 to 2 teaspoons of water as needed to prevent sticking. Add chili powder and cook 1 more minute.
Whisk in vegetable broth, peanut butter, tomato paste, and seasoning blend, and bring to a boil. Gradually add kale, a few handfuls at a time, stirring to let it wilt down.
Add baked tofu, cover, reduce heat, and simmer for 15 minutes or until kale is tender. Stir in lime juice and top with sliced scallions.
*This post contains affiliate links. If the product is purchased by linking through this review, VegKitchen receives a modest commission, which helps maintain our site and helps it to continue growing!