When you see recipes and photos for (vegan) BBQ, are you bummed out that you don't have a grill? To be honest, I've had various grills over the years, but I'm just too lazy to use them. Even an electric grill is too much godforsaken work to clean up afterwards. No worries — BBQ tofu is an easy hack to do right on the stovetop.
So these grills have gotten stashed and forgotten, or simply died from neglect. But still — there's that delicious barbecue flavor. What to do? Fortunately, a bottle of good barbecue sauce does the trick, applied to a welcoming surface with heat on the stovetop or in the oven.
For the slightly less lazy, consider our Quick Vegan Barbecue Sauce. OK, you've gotta get the individual ingredients, but once they're all on hand, it takes minutes to make and rivals any prepared sauce.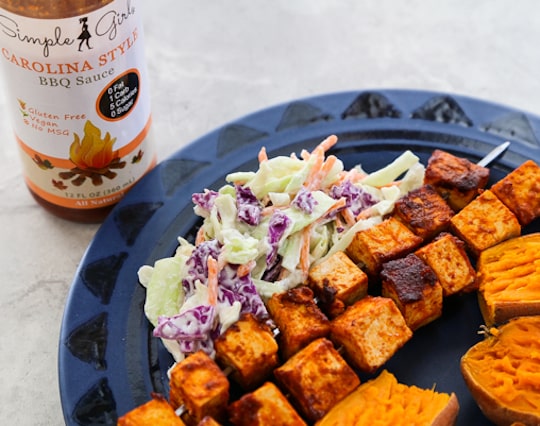 If you're going to be the lone vegan at a barbecue, and/or want to share an animal-free way to enjoy BBQ flavors with your skeptical friend and family, try this. It's a shortcut to a barbecue-style meal perfect to enjoy outdoors. Thanks to Simple Girl for their tasty Carolina Style BBQ Sauce that we used in this recipe.
Time to table: 30 minutes or less
Serves: 2 to 3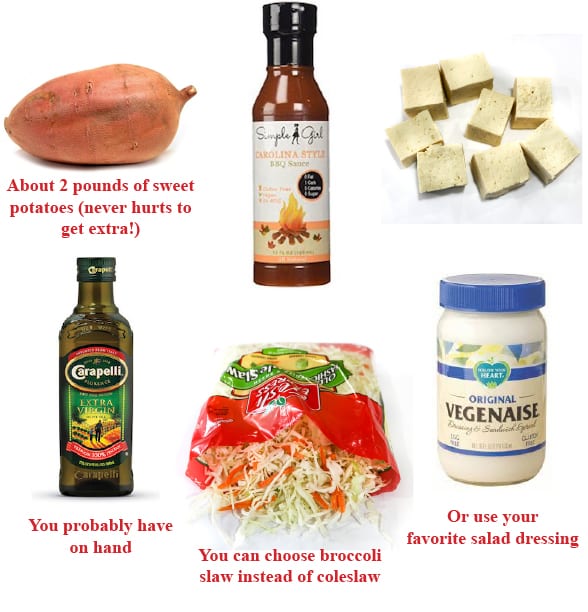 What you need
2 pounds small sweet potatoes

14- to 16-ounce tub extra-firm tofu

Your favorite natural barbecue sauce or

Quick Vegan Barbecue Sauce

16-ounce bag coleslaw

Vegan mayo or your favorite dressing
You probably already have on hand
Olive or other vegetable oil
What to do
1  Microwave the sweet potatoes (allow 1 medium or 2 minis per person). Start with 2 minutes per potato then test with a fork; add another minute per potato if more time is needed until easily pierced.
2  Cut the tofu into ½-inch-thick slices. Blot well between clean tea-towels or several layers of paper towel, and cut into ½-inch dice.
3  Heat a small amount of oil in a medium skillet. When hot, add the tofu dice and cook over medium-high heat for about 5 minutes, until starting to turn golden on most sides.
4  Add about ½ cup BBQ sauce and stir quickly to coat the tofu. Keep cooking on medium-high heat until the BBQ sauce is absorbed (over the pan if it's splattering) and the tofu is starting to get nice charred spots here and there. Stir every so often; this will only take a few minutes.
5  While the sweet potatoes are in the microwave and the tofu is cooking, combine as much coleslaw as you'd like in a bowl add vegan mayo to make it nice and creamy.
6 When the tofu and sweet potatoes are ready, serve plated together with the coleslaw. Split the sweet potatoes (serve with a drizzle of olive oil or vegan butter if you'd like). To take the faux-BBQ theme to the max, thread the tofu onto skewers as shown in the photos.