Here's an enticing way to showcase tofu with colorful peppers in a stovetop sauté. It's a good summer main dish when you want dinner on the table quickly. Serve with a simple cooked grain or potato dish and a big fresh salad. Photos by Evan Atlas. 
Serves: 4 to 6
15- to 16-ounce tub firm or extra-firm tofu
2 tablespoons extra-virgin olive oil
1 large onion, quartered and thinly sliced
3 to 4 bell peppers of various colors, cut into long strips
2 to 4 cloves garlic, minced
1 ½ pounds ripe, juicy tomatoes, diced
1 to 2 small hot or mild chili peppers, seeded and minced
Fresh oregano leaves from several sprigs, finely chopped
Minced fresh parsley and/or sliced basil leaves, as desired
Salt and freshly ground pepper to taste
Cut the block of tofu into 6 equal slabs. Blot well between layers of clean tea-towel or paper towels. Cut the slabs into ½-inch dice.
Heat half of the oil in a stir-fry pan or wide skillet. Add the tofu and sauté over medium heat, stirring frequently, until it's touched with golden spots on most sides. Remove to a plate and set aside.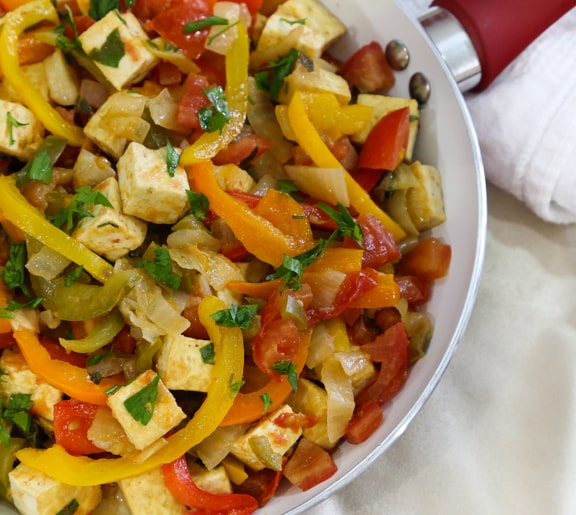 Heat the remaining oil in the same pan. Add the onion and sauté over medium heat until golden.
Stir in the peppers and garlic and cook over medium heat, covered, for 7 minutes or so, lifting the lid to stir occasionally, until the peppers are nearly tender.
Add the tofu, tomatoes, chili peppers, oregano, parsley and/or basil. Cover and cook for 5 to 7 minutes longer, or until the tomatoes are slightly softened and warmed through. Season with salt and pepper and serve at once.