Tempeh, portobello mushrooms, and miso contribute a "meaty" heartiness to this dish, and balsamic vinegar provides a bit of tang. Serve this sumptuous stew-like sauce over a cooked grain—a mixture of long-grain rice with kasha or wild rice is one of my favorites—or on pasta. Contributed by Susan Jane Cheney, from Stir Crazy!* Reprinted by Permission. Photos by Hannah Kaminsky.  
Serves: 4
2 teaspoons light sesame or other neutral vegetable oil
8-ounce package tempeh, any variety
1 ½ tablespoons extra-virgin olive oil
2 medium red onions, sliced lengthwise into thin crescents
4 to 8 cloves garlic, minced
4 portobello mushrooms, 3 to 4 inches in diameter, stems and caps sliced separately
¾ cup vegetable stock
2 tablespoons dark barley miso or mellow barley miso
¼ cup balsamic vinegar
Freshly ground pepper to taste
2 tablespoons minced fresh parsley, or more, as desired
2 tablespoons minced fresh basil (optional), or more, as desired
Set a wok over medium heat and add the sesame or canola oil. Add the tempeh, turn it to coat both sides with oil, and brown it well. Remove the tempeh from the wok and cut it into strips about 1 ½ inches long and ¼ to ½ inch wide.
Set the wok or stir-fry pan over medium-high heat. Pour the olive oil around the rim and tilt the pan to coat the sides. Add the onion and stir-fry for two to three minutes. Add the garlic and sliced mushroom stems and continue stir-frying for abut two minutes. Add the sliced mushroom caps and stir-fry until moistened.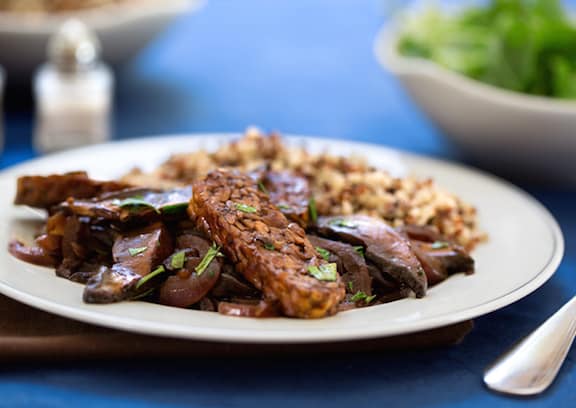 Add all but two tablespoons of the stock and bring it to a simmer. Cook, stirring often, for several minutes, until the vegetables are tender and the stock has reduced by about half. Reduce the heat to medium-low.
Whisk together the miso and balsamic vinegar. Whisk in the remaining two tablespoons stock. Add this mixture to the wok. Season with pepper. Stir in the parsley, and basil if desired, reserving a bit to sprinkle over each serving.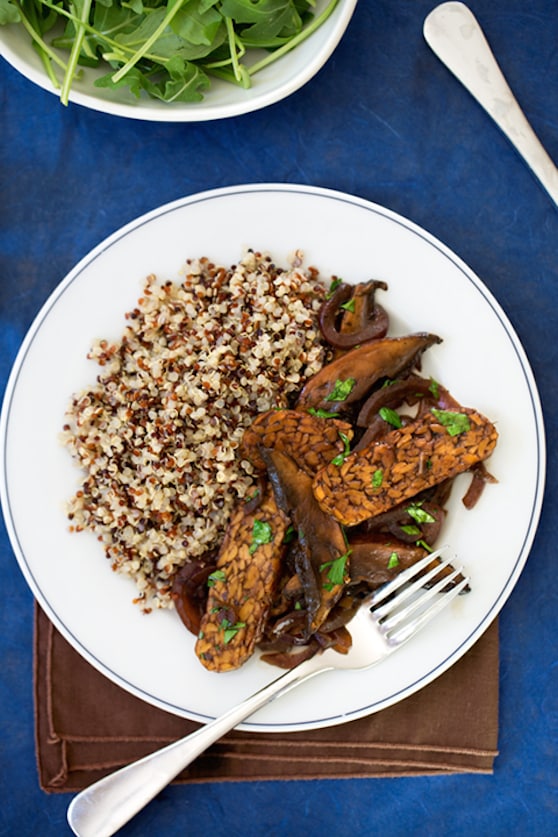 *This post contains affiliate links. If the product is purchased by linking through this review, VegKitchen receives a modest commission, which helps maintain our site and helps it to continue growing!