Even those who aren't quite sold on tempeh will be enticed by this delectable, veggie-filled curry. Cauliflower, potatoes, plenty of spices, and tasty cashews add up to a colorful and warming stew. Photos by Evan Atlas.
Serves: 6 or more
2 tablespoons safflower or olive oil
8-ounce package tempeh, thinly sliced, then diced
1 medium onion, finely chopped
3 to 4 cloves garlic, minced
2 medium-large potatoes, peeled and diced
3 heaping cups small cauliflower florets
14- to 15-ounce can diced tomatoes (try fire-roasted)
1 teaspoon grated fresh ginger
1 teaspoon ground cumin
½ teaspoon turmeric
½ teaspoon cinnamon
1 to 2 small fresh hot green chiles, seeded and minced,
or one 4-ounce can chopped mild chilies, optional
1 cup frozen green peas, thawed
Minced fresh cilantro to taste
Salt and freshly ground pepper to taste
½ cup chopped toasted cashews
Heat half of the oil in a large skillet. Add the tempeh and sauté over medium-high heat until the nicely browned on most sides, stirring frequently. Transfer the tempeh to a plate and set aside.
Heat the remaining oil in the same skillet. Add the onion and sauté until translucent. Add the garlic and continue to sauté until the onion is just starting to brown lightly.
Add the potatoes to the skillet along with ½ cup water. Bring to a simmer and cook gently until the potatoes are about half done, about 8 minutes.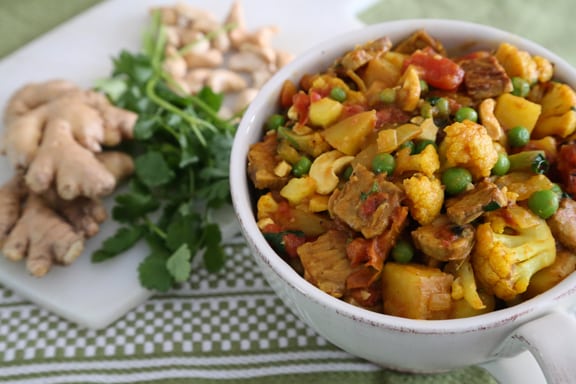 Add the cauliflower, tomatoes, spices, and optional chiles. Return to a simmer, then cover and cook over low heat for 15 minutes, or until the potatoes and cauliflower are tender.
Stir in the tempeh, peas, and cilantro. Season with salt and pepper and cook for 2 to 3 minutes longer.
Serve at once. Pass around cashews and cilantro for topping individual servings.