Tempeh is a great source of protein, traditionally made in Indonesia by fermenting cooked soybeans and moulding into a patty. Serve this satay with your favorite grain. Reprinted with permission from There's a Vegan in the Kitchen: Viva la Vegan's Easy and Tasty Plant-Based Recipes* by Leigh-Chantelle from Viva la Vegan! copyright © 2014. Published by Epicentre Equilibrium.
Serves: 2 to 3
2 garlic cloves, crushed

1 onion, diced 

Extra-virgin olive oil

1 medium zucchini, thinly sliced 

2 cups broccoli florets 

¼ cup soymilk or other nondairy milk

¼ cup crunchy peanut butter 

2 medium tomatoes, diced

8-ounce package tempeh, cut into thin slices

2 bunches of Chinese greens (bok choy or other), chopped roughly

Hot cooked rice
In a wok or stir-fry pan, sauté the garlic and onion until soft.
Add the zucchini and broccoli and stir-fry over medium-high heat until just tender-crisp.
Mix in the soymilk and peanut butter thoroughly.
Add the tomatoes, tempeh, and Chinese greens. Stir-fry briefly until all ingredients are cooked through. Serve with hot cooked rice.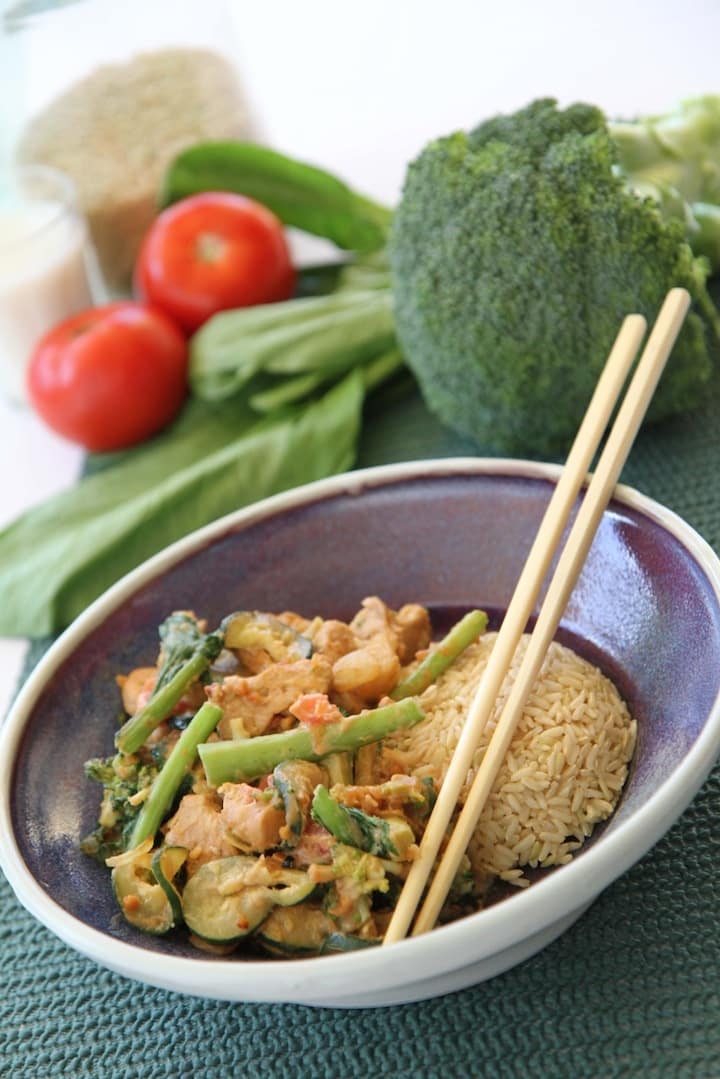 *This post contains affiliate links. If the product is purchased by linking through this review, VegKitchen receives a modest commission, which helps maintain our site and helps it to continue growing!