Tempeh soaks up a sweet and sour marinade; then teams up with a colorful combination of autumnal vegetables in this satisfying cool-season stir-fry. Serve over long-grain rice or with quinoa.  Contributed by Susan Jane Cheney, adapted from Stir Crazy! Photos by Evan Atlas.
Serves: 4
Marinade
2 tablespoons reduced-sodium tamari or natural soy sauce
2 teaspoons natural granulated sugar
2 tablespoons dry sherry or red wine
¼ cup vegetable stock
Stir-fry
8-ounce package tempeh
2 teaspoons arrowroot, cornstarch or kuzu powder
2 tablespoon sesame or peanut oil
1 large onion, chopped
4 cloves garlic, minced
2 teaspoons grated fresh or jarred ginger
1 cup diced or diagonally sliced carrot
1 medium sweet potato, peeled and diced
1 cup low-sodium vegetable stock
1 cup diced turnip
1 cup sliced celery
4 stalks bok choy with leaves, sliced
Extra tamari or soy sauce to taste
Freshly ground pepper or dried hot red pepper flakes to taste
Hot cooked rice or quinoa for serving
Combine the tamari, sherry, sherry, and cup stock in a shallow bowl and stir together.
Cut the tempeh into ¼-inch slices crosswise, then cut each of these in half. Add the tempeh to the  marinade and let stand for at least twenty to thirty minutes (or overnight), turning it several times.
In a small bowl or glass, combine the arrowroot with just enough cold water to dissolve it, and set aside.
Set a wok or stir-fry pan over medium heat. Add half of the oil. Remove the tempeh from the marinade and add it to the wok, turning it immediately to coat both sides with oil. Brown the tempeh on both sides. Remove it from the pan and dice.
Add the remaining oil to the pan, swirling it to coat the bottom and sides. Add the onion and stir-fry for two to three minutes, until it appears translucent.
Add the garlic and ginger, and continue stir-frying for several minutes, gradually adding the carrot and sweet potato. Stir fry for 4 to 5 minutes, or until the carrot and sweet potato are tender-crisp.
Stir in the diced tempeh, remaining marinade, and vegetable stock. Bring the liquid to a rapid simmer.
Add the turnip, celery, and bok choy. Stir-fry tor 2 to 3 minutes longer.
Stir up the dissolved arrowroot and drizzle into the pan. Stir in and cook until the liquid has thickened. Season with additional tamari, as well as pepper or hot pepper flakes to taste. Serve at one over hot cooked grains.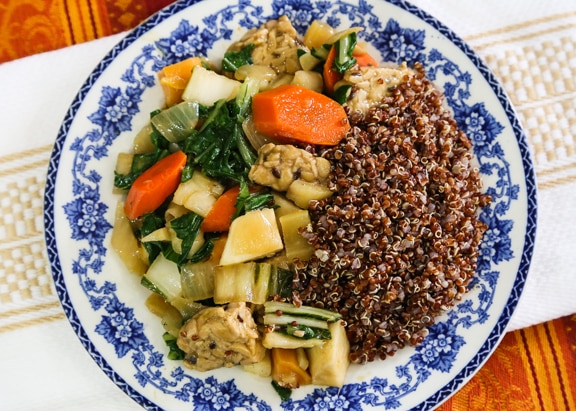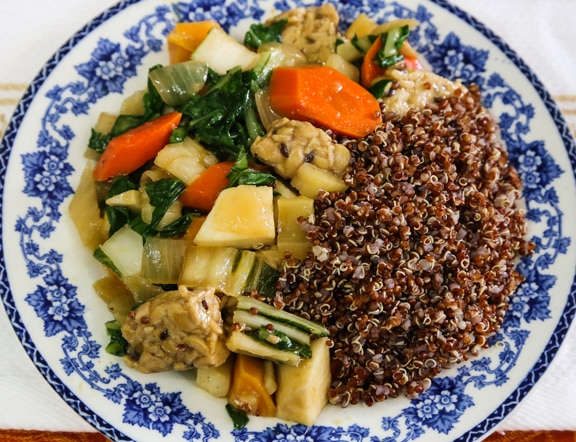 *This post contains affiliate links. If the product is purchased by linking through this review, VegKitchen receives a modest commission, which helps maintain our site and helps it to continue growing!