Vegan tofu scrambles are easy enough make without a recipe, and which are welcome for any meal of the day — breakfast, lunch, dinner, and of course, brunch. All you need are a few quick tips, some choice ingredients, and you can enjoy this yummy fare in minutes.
For tofu scrambles, I like to use soft or firm tofu (the kind that comes in 14-to 16-ounce tubs), or a 12.3-ounce container of firm or extra-firm silken tofu. If all you have on hand is a tub of extra-firm tofu and you're craving this kind of meal, go ahead and use it — it will still be good.
What you need
Soft, firm, or firm silken tofu

Fresh vegetables of your choice, cut bite-sized

Olive oil or vegan butter

Curry powder

Salt (see note) and freshly ground pepper
Optional ingredients
Nutritional yeast (highly recommended)

Fresh herb or herbs of your choice (parsley, cilantro, scallions, dill, etc.)

Another spice blend, like Mrs. Dash or an Italian herb blend

Vegan cheese shreds

Hot stuff for serving (sriracha or other hot sauce; hot red pepper flakes)
Note: Try using kala namak, a Himalayan salt for a more egg-like flavor and aroma.
Serves: Depending on the quantities of vegetables used, this serves 3 to 4.
What to do
1 If you're using soft or firm tub tofu, drain well, cut into a few slabs, and blot. You don't need to get the tofu as dry as for a stir fry.
2  Prep vegetables as needed. In the listing below you'll get ideas of what tastes great in scrambles! You'll want to lightly steam or sauté the vegetables in the skillet before adding the tofu. If any moisture forms, drain before adding tofu.
3  Drizzle in some oil or melt some vegan butter in the skillet with the vegetables (or, you can skip this if you like your food oil-free)
4  Crumble the tofu into the skillet and stir together with the vegetables. Sprinkle in some curry powder — about ½ to 1 teaspoon is right. What if you don't like curry? No worries, this won't taste like a curry. I think this really needs this kind of spice; it gives the scramble a nice color, too.
5  Cook for about 5 to 8 minutes over medium-high heat. Season with salt and pepper.
6  Now you're done, unless you'd like to add any of the optional ingredients. You can also just pass these around so that everyone can tailor their scramble to their own liking.
To make a full meal
For lunch or dinner, or whenever you'd like a full meal that's ready in a flash, just add some whole grain toast (or a potato or sweet potato for a GF option), sliced fruit, and some cherry or grape tomatoes. This combo goes well with most any kind of scramble!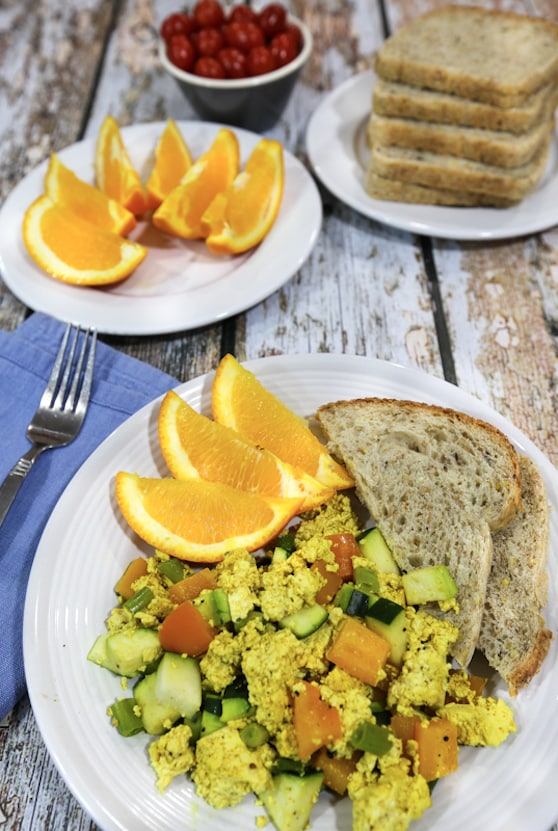 Now, let's get to some good ideas …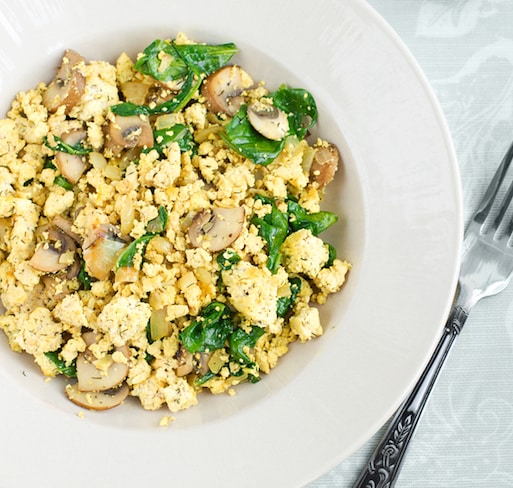 Spinach and mushroom scrambled tofu: Spinach and mushrooms are a classic combo in egg dishes, and taste great together in vegan tofu scrambles, too. Before adding crumbled tofu to the skillet, wilt down as many mushrooms as you'd like, and a good-sized batch of baby spinach. Make sure to drain any liquid that forms from the skillet before adding the tofu. You can start this version with an onion sauté, as well.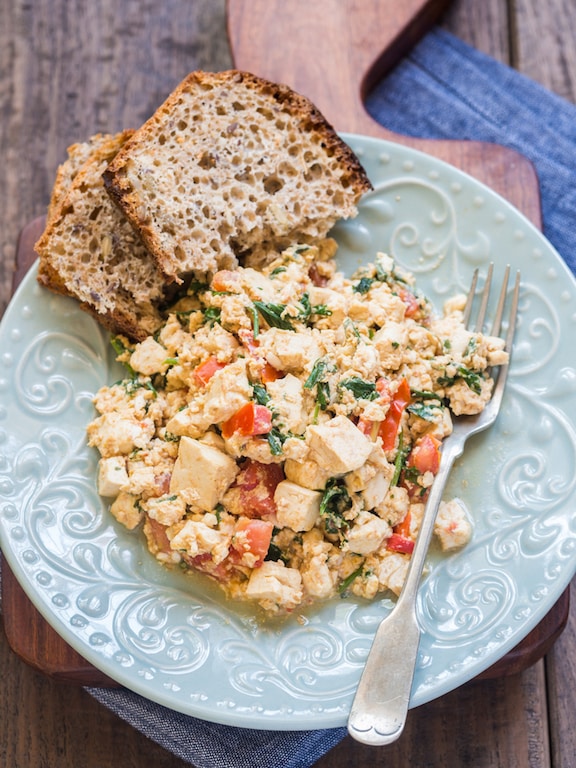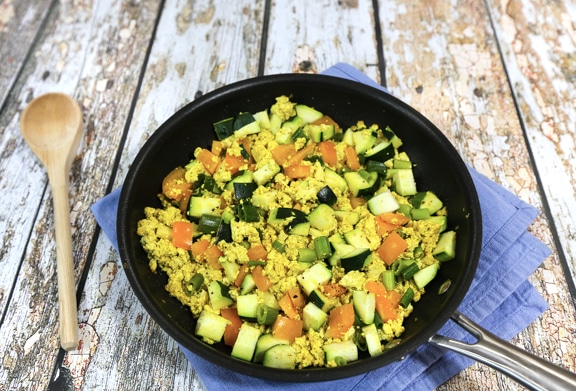 Zucchini and peppers scramble tofu: Shown earlier, this scramble features lots of diced zucchini and bell peppers. Though you can enjoy this year-round, it's especially nice in late summer and early fall, when these two vegetables are abundant in gardens and markets.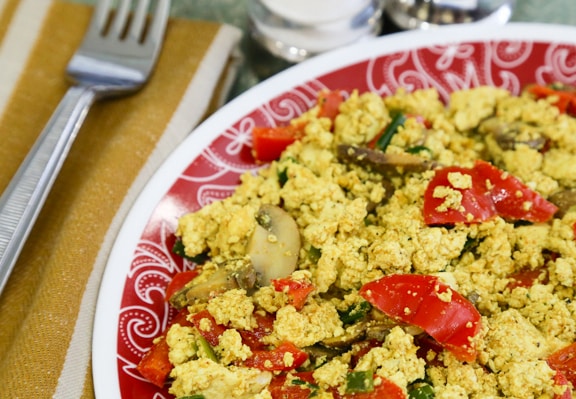 Bell peppers, mushrooms, and scallions: This one simply "scramble" a couple of the combinations above. These trio makes a delicious combo in a scramble.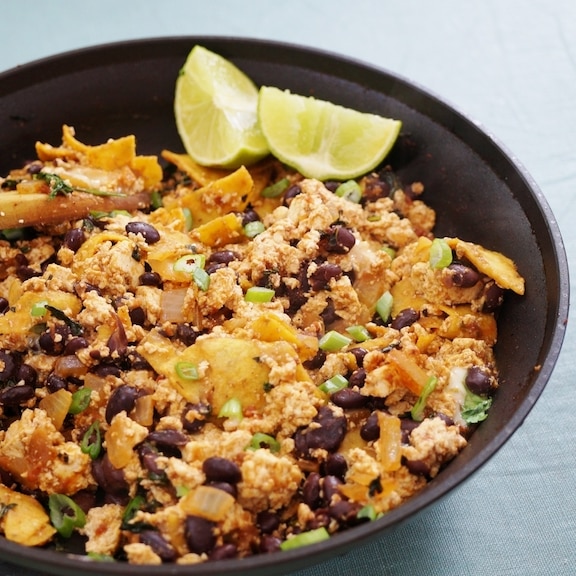 Black bean and tortilla scrambled tofu: Start with an onion and scallion sauté, add crumbled tofu, about a cup of black beans, a cup of your favorite salsa, and 2 to 3 corn tortillas, cut into bite-sized pieces. This is really hearty and filling!
And a couple of great serving ideas ...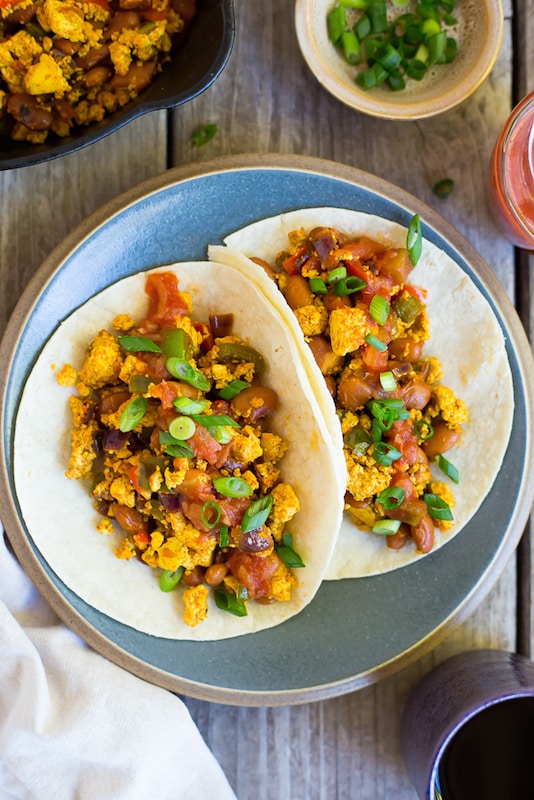 Scrambles in soft tacos: Serve any kind of scramble you make in soft flour tortillas for an even heartier meal.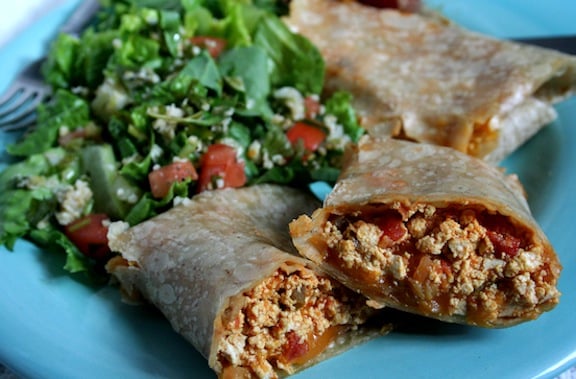 Scrambles in burritos: Similarly, you can wrap a wheat tortilla around your scramble for a burrito. We like to add nondairy cheddar to this kind.