The secret to General Tso's is in the sauce, and I could never quite get the balance of sweet, tangy, and spicy flavors. Now, even the totally lazy can make a vegan General Tso's Tofu dinner in a matter of 20 minutes, thanks to readymade sauce that you may even find at your local supermarket. It has that perfect balance of flavors that have always eluded me.
My son and daughter are longtime fans of General Tso's Tofu. My daughter even had a dream recently in which she and Malcolm X went out together looking for some to order. She was very disappointed when she woke up from this fascinating reverie, because they hadn't sat down to eat yet.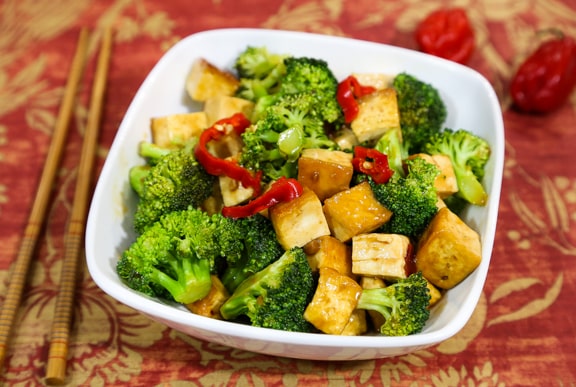 So if I want to be doting mom and make my son and daughter their favorite Asian dish when they visit, no one will blame me for indulging my lazy tendencies with the readymade sauce. To make a full meal, cook some Asian noodles or rice to serve the General Tso's over (I like it over rice vermicelli or bean-thread noodles, which cook very quickly). Brown rice would be good too, but since the main dish is ready so quickly, you'll be in for a wait if you don't already have some cooked on hand.
For me, a meal isn't complete without a little something raw, so I added a simple salad mixing pre-grated  carrots and precut coleslaw (you can use one or the other, or both) to continue the lazy yet healthy theme.
This make 2 generous or 3 to 4 modest servings.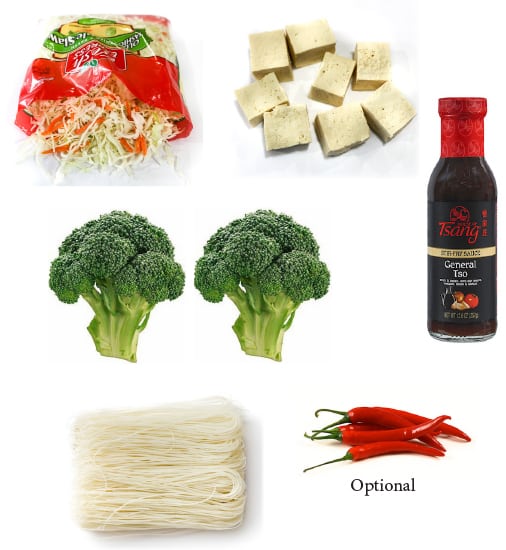 What you'll need
8- to 10-ounce bag grated carrots
or 16-ounce bag precut coleslaw (or both if you'd like a mix)

1 large or two medium broccoli crowns

14- to 16-ounce tub extra-firm tofu

8- to 12-ounce bottle General Tso's sauce

Asian rice noodles (or brown rice if you have more time)

Fresh hot red chili peppers (optional)
You probably already have on hand:
Neutral vegetable oil

Vinegar or salad dressing
What to do
1 Combine a reasonable amount of carrots and/or coleslaw in a bowl with a little vinegar, salt, and pepper, and/or your favorite dressing.
2  Cook the noodles according to package directions.
3  Cut the tofu into 6 slabs crosswise. Blot well on paper towels or clean tea towels, then cut into dice. Heat just enough oil in a large skillet or stir-fry pan. Add the tofu and and sauté over medium-high heat until golden and crisp on most sides, stirring often. This will take from 8 to 10 minutes. Remove the tofu to a plate or bowl.
4  Cut the broccoli into bite-sized florets and steam in the same pan with about ½ inch of water until tender-crisp.
5  Gently stir the tofu back in, followed by some of the General Tso's sauce. Use as much as you need; the tofu and broccoli should be generously coated but not drowning in the sauce. Cook over medium heat until heated through.
6  Spoon the General Tso's tofu over the cooked noodles. Garnish with sliced or minced hot red chile peppers, if you'd like. Serve the salad on the side.