Fruity flavors mingle with broccoli, greens, and sprouts, in this luscious main dish salad, made with firm and chewy baked tofu. An easy chutney mayo dressing give it a nice twist. It's delicious with mango, but since it's not always available, pineapple is a good alternative.
Serves: 4 to 6
Chutney mayonnaise:
⅓ cup vegan mayonnaise
⅓ cup mango chutney, or other fruit chutney
1 to 2 tablespoons lemon or lime juice, to taste
1 medium broccoli crown, cut into small florets
8-ounce package baked tofu, diced or cut into strips
1 medium mangos, peeled and diced (or 1 ½ cups fresh
or drained canned pineapple chunks)
2 large celery stalks, sliced diagonally
¼ cup dark or golden raisins
For serving:
Mixed baby greens, as needed
Green sprouts (sweet pea shoots, broccoli sprouts, or other), as desired, optional
¼ cup chopped walnuts or sliced almonds, optional
Combine the mayonnaise, chutney, and lemon or lime juice in a small bowl and stir until smoothly blended. Set aside.
Steam the broccoli florets in a large saucepan until bright green and just tender-crisp. Transfer to a colander and rinse with cool water until the broccoli stops steaming.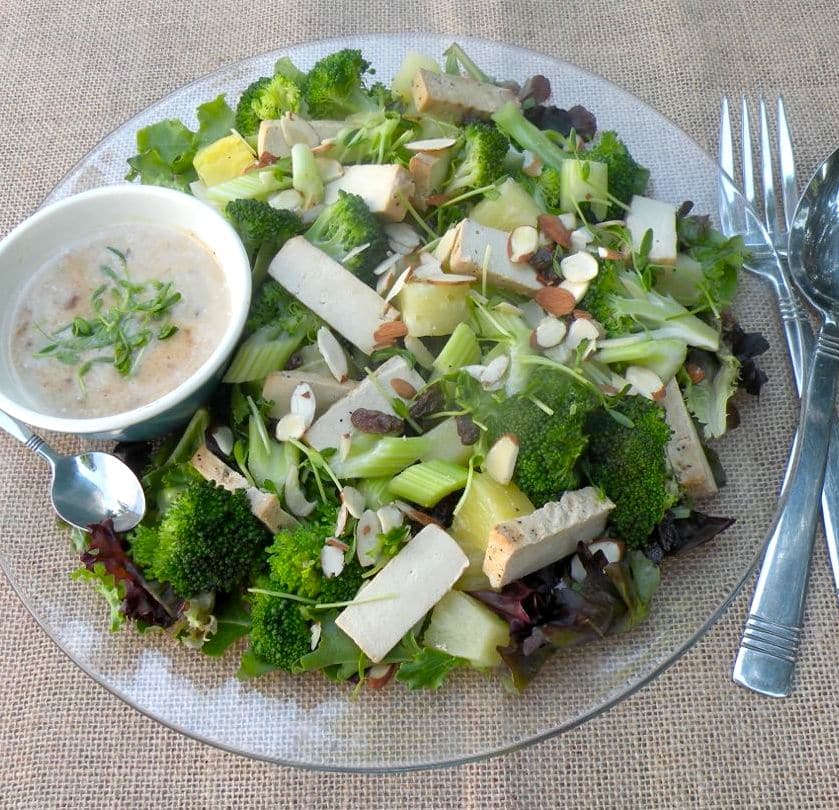 Combine the broccoli with the tofu, mango, celery, and raisins in a mixing bowl. Stir together. You can pour the chutney mayo into the mixture and stir together or pass around for everyone to use on their individual servings.
To serve, line a platter with some baby greens, then mound the salad in the center, and top with the optional sprouts and/or nuts. Serve at once.