This vegan tomato soup is fresh and flavorful. It's packed with fresh tomatoes, garlic, onion, and Italian spices. It makes a delicious and simple plant based meal, and you won't believe how easy it is to put together.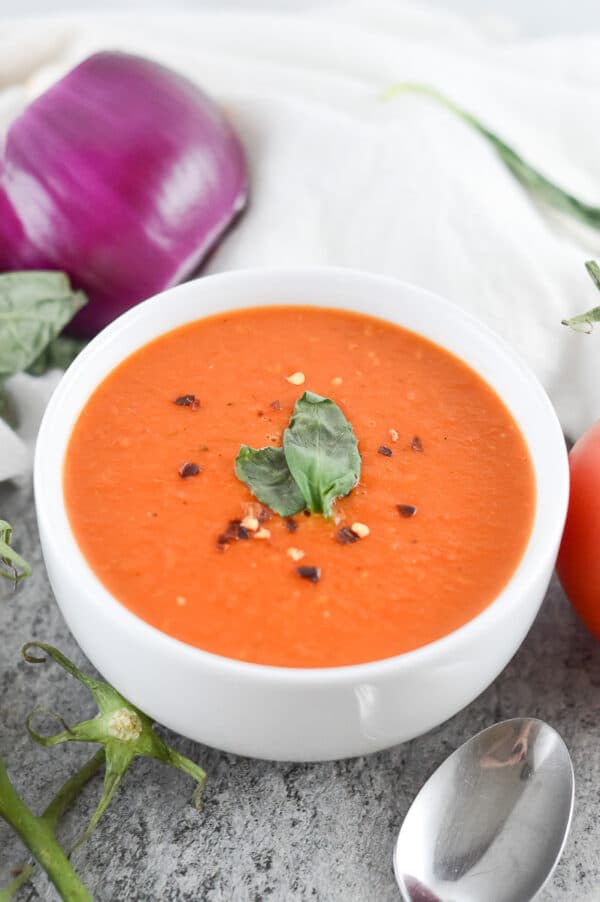 Tomato soup is perhaps my all time favorite soup! Okay, I admit it's a toss up between this and my Vegan French Onion Soup.
Tomato soup is one of the most versatile recipes I know. It can be served hot, cold, spicy, mild, and pairs really well with countless other dishes. (Like grilled cheese!)
Not to mention, it's the absolute best soup for pairing with sandwiches, at least in my opinion.
This vegan tomato soup is perfect for making in large batches and freezing for later, making it a great choice for vegan meal prep.
This vegan tomato soup is:
Warm and comforting!
100% plant based
Perfect for a make-ahead meal.
Totally delicious.
Easy to make with just a few simple ingredients.
If you love tomato soup, be sure to also check out this vegan-friendly Chickpea Tomato Soup and this Smoky Spanish Tomato Soup.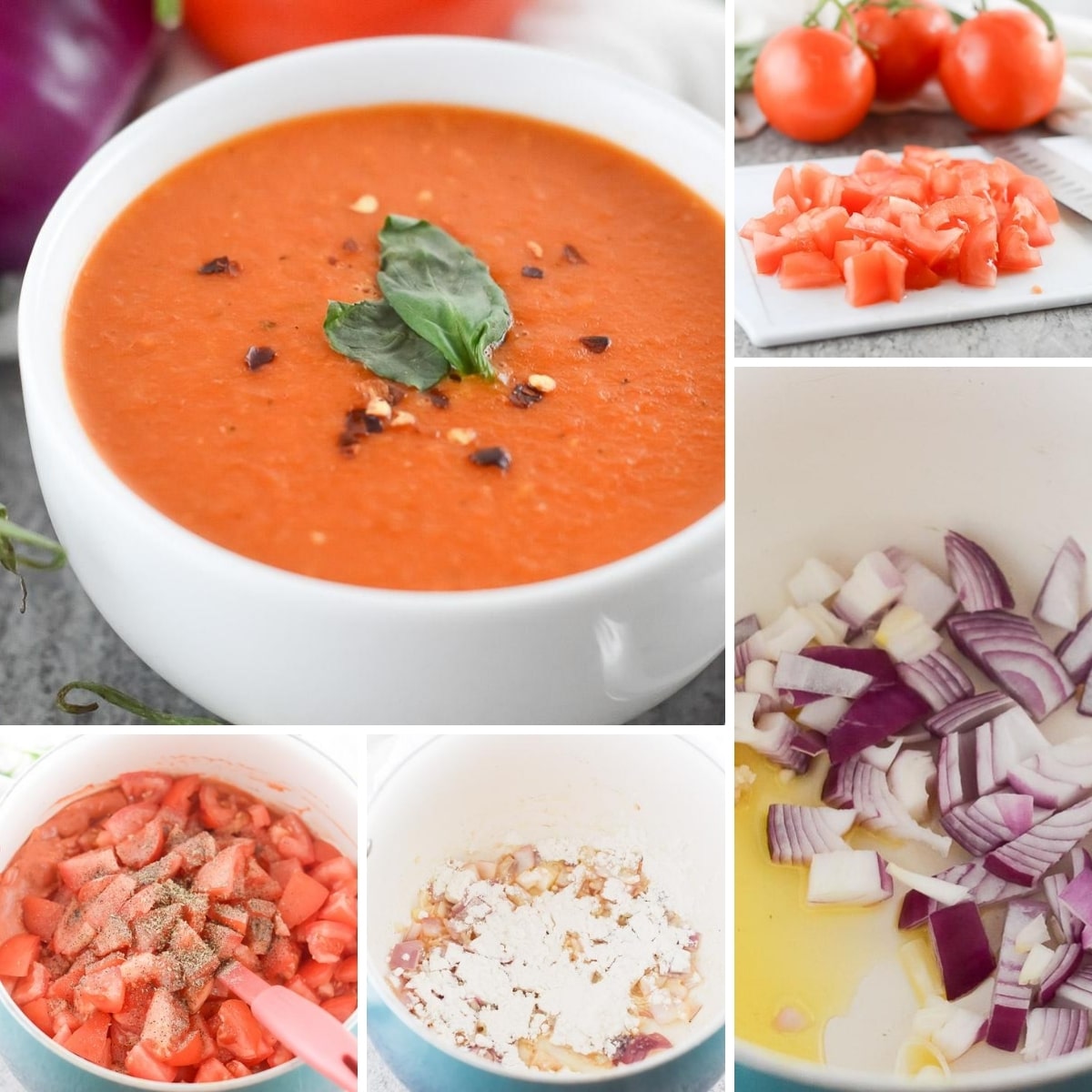 How to Make Vegan Tomato Soup
Make the base - Dice the onions. Saute them with the garlic until softened. Add the butter and flour. Stir in the milk and half the broth.
Add the rest of the ingredients - Once the mixture starts to thicken, add the tomatoes, tomato paste, seasonings. and remaining broth.
Simmer - Let the mixture simmer until the tomatoes soften, about 30 minutes.
Blend and serve - Transfer the soup to a blender and pulse until smooth. Serve immediately and enjoy!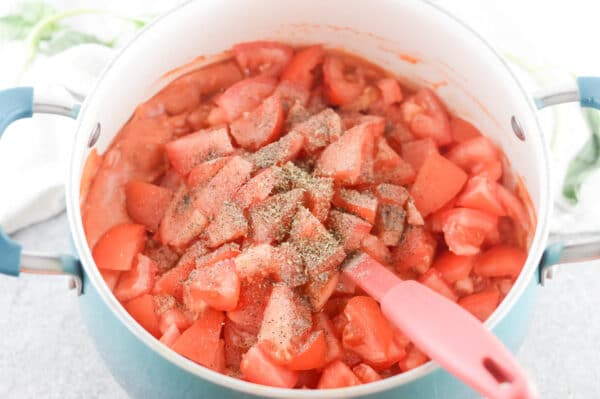 Tips and Variations
Make it milder - If you don't want any spice in your tomato soup, nix the crushed red peppers, and you're good to go.
Make it thicker - If you like your tomato soup a little thicker, reduce the stock by about half a cup. You can also make a cornstarch slurry, and stir in into the soup to help with thickening.
Make it thinner - If your soup has turned out too thick, simply add a bit more vegetable stock, a little at a time, until the desired consistency is reached. Water or more milk will work as well.
Use fresh herbs - If you don't want to use dried Italian seasoning, you can always use some fresh herbs instead. Basil is a perfect match for tomato soup.
Top it with a dash of cream - I love garnishing the top of my tomato soup with a drizzle of warmed coconut cream. It makes a pretty white swirl, for a gorgeous presentation. It also helps cool the soup down quicker, so it's ready to eat right away. Coconut cream (like this one), works better for this purpose than regular coconut milk.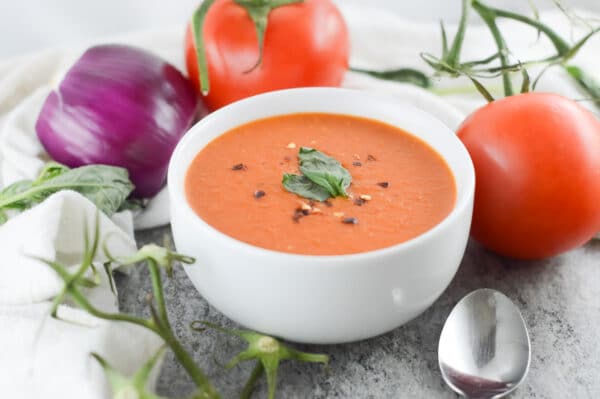 FAQs
How do you store tomato soup?
Keep the soup in an airtight container in the fridge for up to a week, or freeze for up to 3 months. 
How do you reheat the soup?
Reheat in the microwave or over the stove in a small pot. If reheating from frozen, the soup can be left out to thaw a couple hours before dinner, for quicker heating times. 
Do You Need to Peel Tomatoes for Soup?
I have never had to peel my tomatoes for any soup I've ever made. This homemade tomato soup recipe is very easy, which means you won't be stuck peeling just shy of four pounds of tomatoes.

Although I love cooking, I would never make a recipe that involved something so tedious and time consuming!
Is Homemade Tomato Soup Good for You?
Well, it depends on the recipe! But more often than not, tomato soup recipes are pretty healthy when homemade. As far as canned or store bought soups go, the sodium can get pretty crazy along with a lot of processed ingredients. So homemade is best - and it's very simple to make.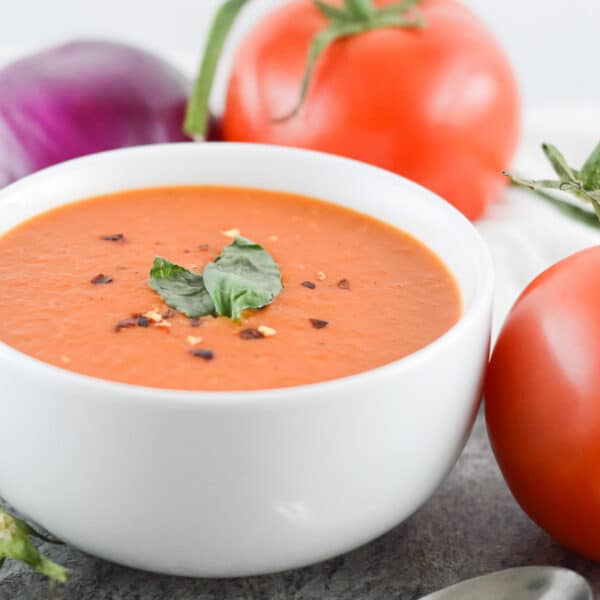 Other Soup Recipes You Might Like:
Recipe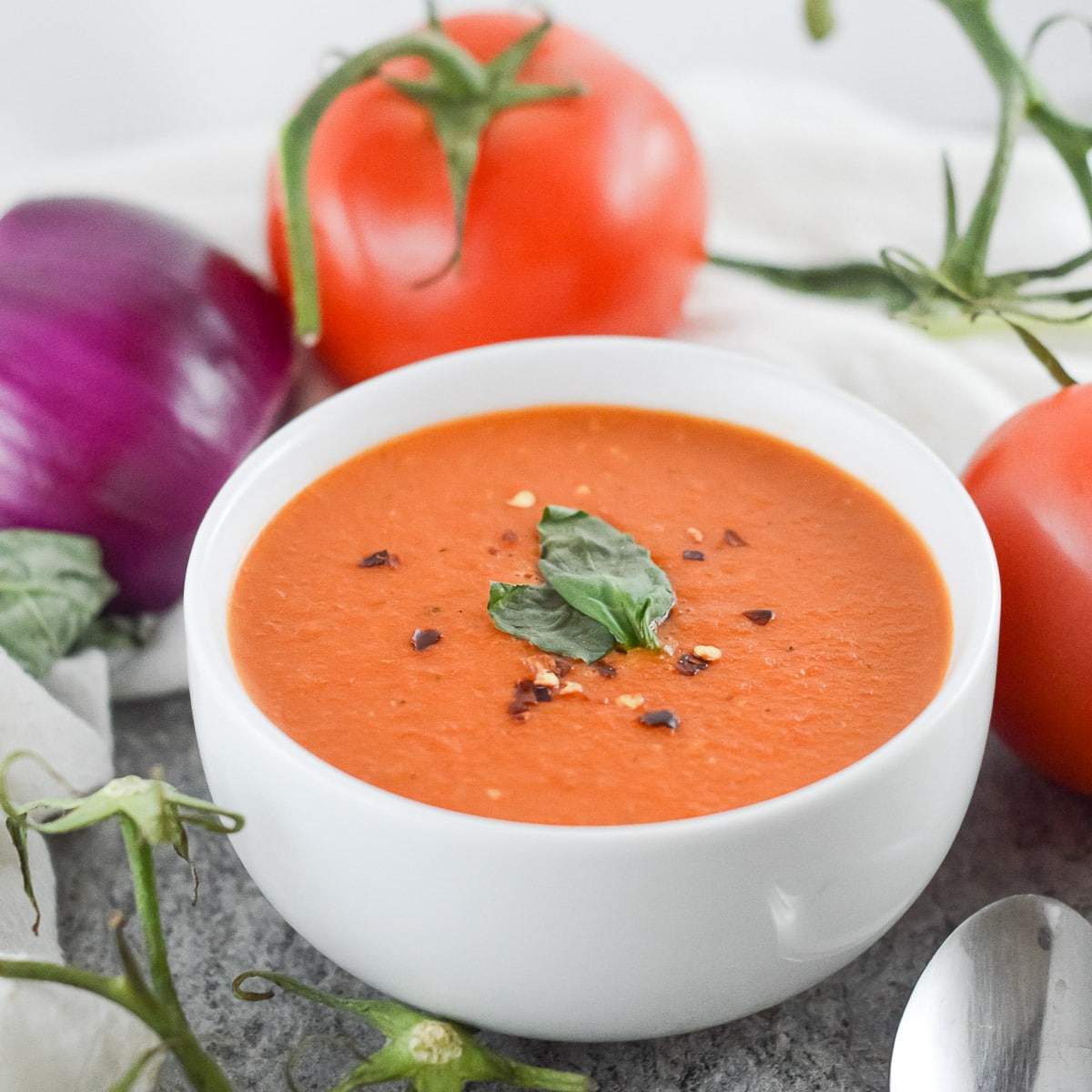 Vegan Tomato Soup
This vegan tomato soup is fresh and flavorful. It's packed with fresh tomatoes, garlic, onion, and Italian spices. It makes a delicious and simple plant based meal, and you won't believe how easy it is to put together.
Print
Pin
Rate
Email
Equipment
Blender - Traditional or Immersion
Instructions
In a large pot, cook the onion and garlic in oil for about 5 minutes, or until the onion has softened.

Add the vegan butter and let it melt before sprinkling the flour over the top, then stir until the flour has soaked up all the liquid.

Add half of the vegetable stock and all of the almond milk. Stir, and let simmer on low/medium for about 5 minutes. Add in the tomato paste and stir well.

Add the remaining stock, tomatoes, crushed pepper, and italian seasoning. Add salt and pepper to taste. Stir, and simmer for about 30 minutes, or until tomatoes have softened.

Place in a blender and pulse until smooth. (Or use an immersion blender to blend it right in the pot.) Tpo with fresh basil, if desired. Enjoy!
Notes
See article above for tips, tricks, and variations!
Nutrition
Calories:
119
kcal
|
Carbohydrates:
20
g
|
Protein:
4
g
|
Fat:
4
g
|
Saturated Fat:
1
g
|
Sodium:
520
mg
|
Potassium:
778
mg
|
Fiber:
5
g
|
Sugar:
9
g
|
Vitamin A:
2471
IU
|
Vitamin C:
34
mg
|
Calcium:
94
mg
|
Iron:
2
mg
Vegan-ize any recipe!
Grab our free vegan cheat sheet, packed with my favorite easy substitutions to make any recipe vegan.