Potatoes are the most widely used vegetable in the U.S., but unfortunately, that's because french fries reign supreme. If your children enjoy this versatile veggie, let them enjoy it as nature intended, fresh out of its skin—not deep fried in goodness knows what! Here are 3 kid-friendly potato dishes the whole family will love.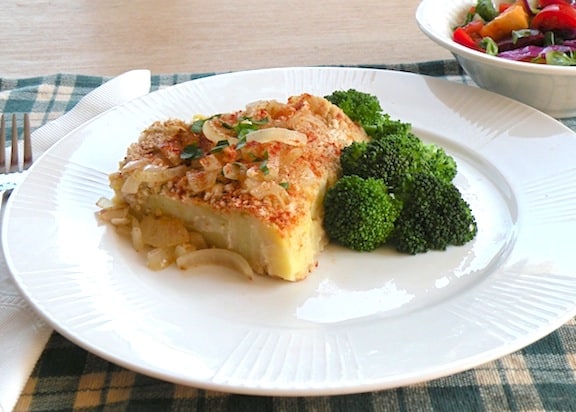 SILKEN TOFU SCALLOPED POTATOES
Here's a deceptively rich-tasting version of scalloped potatoes. It gives you the benefits of soy, minus the bother of making a flour-thickened white sauce.
Serves: 6
6 large or 8 medium potatoes, preferably red-skinned or Yukon gold
2 tablespoons vegan buttery spread
1 large onion, quartered and thinly sliced
12.3-ounce package silken tofu
½ cup unsweetened nondairy milk
Salt to taste
Bake or microwave the potatoes in their skins until done but still firm. When cool enough to handle, peel, and slice about ¼-inch thick.
Preheat the oven to 375 degrees F.
Heat the Earth Balance in a medium skillet. Add the onion and sauté over medium heat until soft and golden.
Puree the tofu in a food processor until very smooth, and drizzle in the milk with the blade still running.
Combine the potato slices, onions, and pureed tofu in a large mixing bowl and stir together thoroughly but gently (don't worry if the potato slices break apart). Season with salt.
Transfer the mixture to a oiled large shallow baking dish. Bake until the top is golden and slightly crusty, about 40 to 45 minutes. Let the casserole cool for 5 minutes, and serve.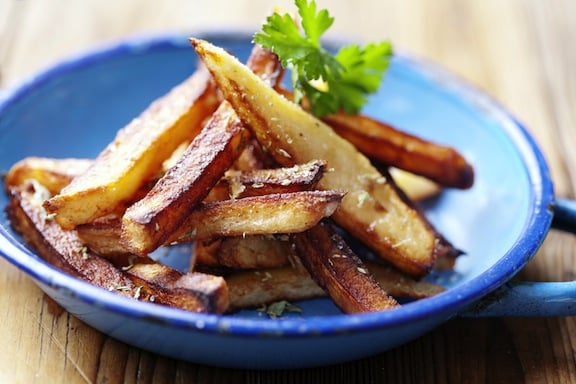 POTATO OVEN "FRIES"
A terrific way to enjoy low-fat "fries," this is a great accompaniment for veggie burgers and soy hot dogs.
Serves: 4
4 to 5 large potatoes, preferably red-skinned or Yukon gold,
or 3 medium-large sweet potatoes, or a combination
(try 2 sweet potatoes with 3 white potatoes)
2 tablespoons olive oil
Salt to taste
Preheat the oven to 425 degrees F.
If the potatoes are clean and organic, you can scrub them and leave the skins on; otherwise, peel them and cut into long, ½-inch-thick fry-shaped strips. Combine them in a large mixing bowl with the oil and toss well to coat. Sprinkle with a little salt.
Transfer the "fries" to a nonstick baking sheet. Bake, stirring gently every 10 minutes, until the potatoes are crisp and lightly browned, about 20 to 30 minutes. Serve at once.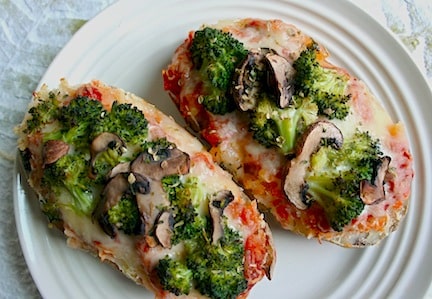 PIZZA POTATOES
Steamed broccoli and a colorful tossed salad complete this simple meal.
Serves: 4 or more
4 large baking potatoes
1 cup marinara sauce, or more as needed
1 to ½ cups grated mozzarella-style vegan cheese
Steamed vegetables of your choice (broccoli, mushrooms, and spinach are especially good)
Bake or microwave the potatoes until done. When cool enough to handle, cut each in half lengthwise. Fluff the inside of each potato half with a fork.
Spread about 2 tablespoons of pizza sauce on each potato half, followed by 2 to 3 tablespoons grated vegan cheese and steamed vegetables. Bake in a preheated 400-degree F. oven for 10 minutes, or until the cheese is bubbly. Serve at once.
Explore the entire Veg Kids and Teens page on VegKitchen for lots of easy, healthy recipes for vegetarian and vegan kids and teens.