An omnivorous colleague and I recently had a good-natured spat about cake. She insisted that non-vegan cake (or "real" cake, as she called it) was superior to the vegan version. Naturally, I challenged her to a cupcake battle.
Without telling them which was which, we had everyone in our office sample her non-vegan chocolate cupcakes and my vegan ones. In the end, only half could tell them apart. People kept asking me, "No butter? No eggs? What did you put in them?"
Vegan baking can be as inventive as hiding zucchini and black beans in desserts or as simple as making a vegan substitution. If you're working off an old family recipe or want to experiment with creating your own recipes, here are 5 simple vegan egg substitutes that are sitting in your kitchen right now.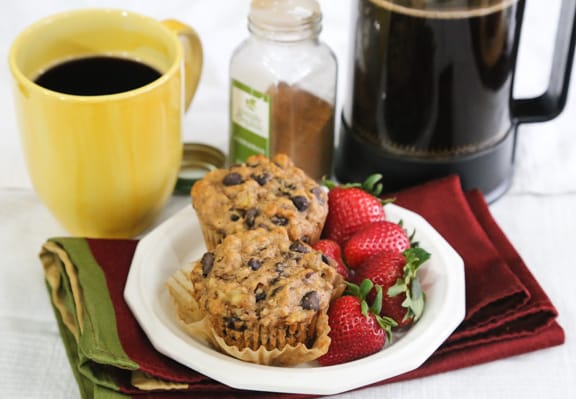 Banana

s

Bananas work as a binder, making them a great vegan egg substitute for baked goods. And—as a bonus—bananas add a dose of potassium too. They're sweet, so you might want to use less sugar than the recipe calls for (or, if you're me, forgo the extra tablespoon!). Using this substitute might add some banana flavor to whatever you're cooking, but with many baked goods, that just compounds the yum factor.

Substitute half a banana for one egg.

Try it in Laura Theodore's Chocolate Chip Banana Muffins.
Cornstarch
Using cornstarch as an egg substitute will thicken your batter, so it's best for recipes like cookies and puddings.
To replace one egg, mix one tablespoon of cornstarch with two tablespoons of water.
White Vinegar and Baking Powder
This combo is a great vegan egg substitute for cakes. It doesn't have a strong effect on the flavor of your cake as long as you also add a pinch of salt.
For each "egg," mix one tablespoon of water with one tablespoon of white vinegar in a separate bowl or glass. Then, stir in a teaspoon of baking powder. Now you're ready to add the mixture to your batter.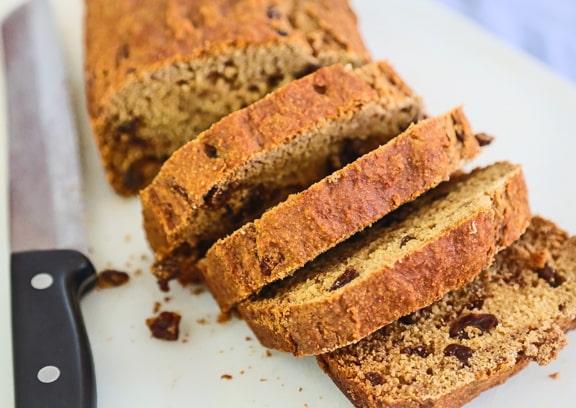 Applesauce
Like banana, applesauce doubles as an egg replacement and a sweetener. But it has the advantage of being an easier flavor to mask.
Opt for one-third of a cup of applesauce without baking powder (for a rich, dense cake or brownie) or one-fourth of a cup with a teaspoon of baking powder (for a light, fluffy dessert).
Try this egg substitute in Quick Cinnamon-Raisin Bread (shown above).
Water, Oil, and Baking Powder
In recipes that call for only one egg, a quarter cup of vegetable oil should be fine.
But for recipes that call for more than one, you can avoid a greasy baked good by whisking together two tablespoons of water, one teaspoon of vegetable oil, and two teaspoons of baking powder for each "egg" the recipe calls for.
For more vegan substitutions: